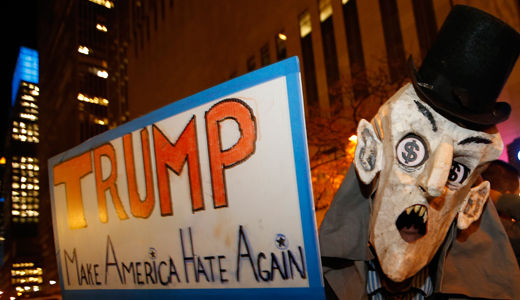 WASHINGTON – There seems to be no limit to the Nazi-like proposals being spewed by billionaire real estate mogul Donald Trump, the front-running GOP candidate for president. Nor does there seem to be any bottom to the pit of hatred into which he is dragging other Republican candidates.
This past week he called for the closing of mosques, singled out the entire American Muslim community for surveillance and proposed that all Muslims be required to register themselves on a nationwide database so that they could be tracked wherever they went.
When asked how his ideas differed from what the Nazis required of Jews, Trump responded, four times, "You tell me."
He has also said that if he were president, he'd bring back the form of torture known as water-boarding.
In a televised interview by George Stephanopoulos, Trump said "We have to – I would bring it back, yes. I would bring it back. I think waterboarding is peanuts compared to what they'd do to us."
Thankfully, pushback to Trump's fear-mongering is growing.
Former Secretary of Labor Robert Reich is circulating a petition calling on all national leaders to "condemn this hateful venom from the leading Republican candidate for president of the United States."
Ari Fleischer, the former press secretary for President George W. Bush, called Trump's remarks "intolerable."
During most of the campaign, Trump has pushed his fellow right candidates even further to the right. Until now, each one has been trying to out-Trump Trump every time he has made some outrageous, hateful remark.
But now, the candidates are distancing themselves from Trump, although they still seem cowed by the threat of his making them the butt of his next insulting joke.
According to the New York Times "Senator Ted Cruz of Texas, who is campaigning on a platform in which 'religious freedom' plays a major part but is also seeking to inherit Mr. Trump's supporters … hit on a gentle way of dissociating himself from the idea [of requiring Muslims to register.] "I'm a big fan of Donald Trump's," [Cruz said] "but I'm not a fan of government registries."
Jeb Bush was more courageous in opposing Trump.
During a TV political talk show, Bush told Trump "You talk about closing mosques, you talk about registering people – that's just wrong."
In a speech in New Hampshire, Chris Christie took on Trump without naming him. He said "The indiscriminate closing of mosques or the establishment of a national registry based on religion will do nothing to keep us safer and shows a lack of understanding on how to effectively prevent terrorist attacks."
Christie also snapped back when Trump claimed to have seen on television "thousands and thousands of people in Jersey City cheering" while the World Trade Center towers fell on September 11, 2001.
"I think if it had happened, I would remember it," Christie said.
Actually, no one remembers seeing anyone cheering on 9/11. No news reports exist of people cheering in the streets, and both police officials and the mayor of Jersey City have made statements implying that Trump must have dreamed what he claims to have seen.
However, after hearing Trump, presidential Candidate Ben Carson said that on 9/11 he, too, saw cheering crowds in New Jersey. It was like a scene in The Crucible where young women in 1692 take a cue from a witness at a Salem witch hunt trial. They claim that they, too, "saw Goody Proctor with the Devil."
Later, Carson said he was "thinking of the protests" he saw "going on in the Middle East."
Trump's anti-Muslim remarks drew condemnation not only from American Muslims but also from Christian, Jewish and interfaith leaders
"We had expected a rise in Islamophobic rhetoric during the election cycle," said Ibrahim Hooper, the communications director for the Council on American ­Islamic Relations, "but we never thought it would hark back to the rhetoric of the 1930s."
Russell D. Moore, the president of the Ethics and Religious Liberty Commission of the Southern Baptist Convention, said "I do think it's scary when we have candidates talking about shutting down houses of worship, about having badges for religious groups. That ought to alarm every American."
Hopefully, condemnation of Trump's despicable public statements will spread.
The full text of the petition being circulated by Robert Reich is:
"We urge President Barack Obama, along with all living former presidents, all presidential candidates, leaders of the clergy, university presidents, heads of every large philanthropy, and editors-in-chief of every major newspaper, to condemn this hateful venom from the leading Republican candidate for president of the United States.
"Together, if we can stand united in defense of America's values, we can turn the tide against Donald Trump and his dangerous bigotry."
To sign the petition, click here.
Photo: A demonstrator dressed in a puppet head with dollar signs in his eyes holds up a sign protesting the scheduled guest appearance of Donald Trump on "Saturday Night Live," Nov. 4, in New York City. Kathy Willens | AP