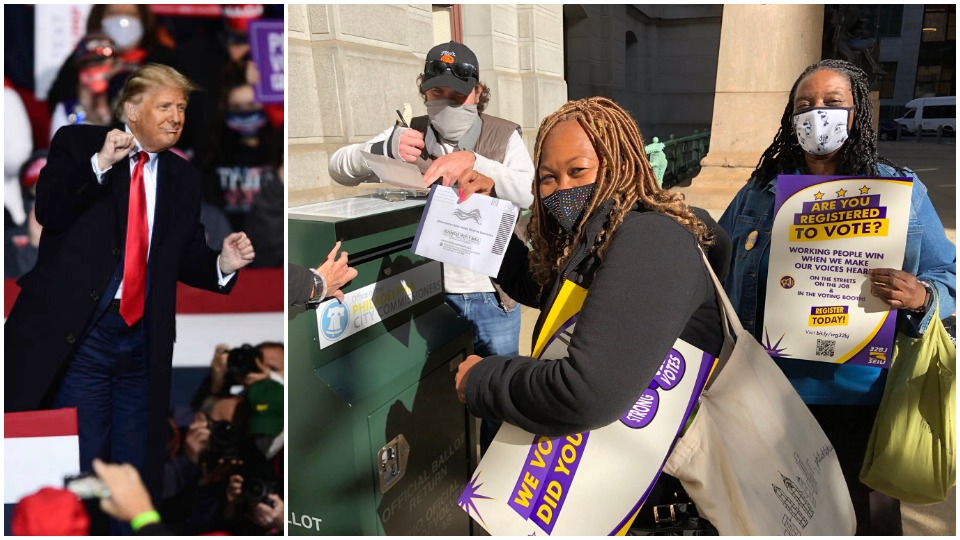 The president may be dancing now at his super-spreader rallies, but if the union representing frontline workers has its way, he won't be dancing on Election Night.
Millions of essential frontline workers have borne the brunt of the COVID-19 pandemic. They are all about ending his presidency as they mount the most massive voter engagement operation ever conducted by their union, Service Employees International Union (SEIU). Their aim is to replace Trump and Pence with Joe Biden and Kamala Harris and along with them, they intend to install hundreds of down-ballot, pro-labor candidates.
"We have the money, we have the means, we have the resources in this country. But we are deeply lacking the leadership and somebody who cares," said Michelle Boyle, an SEIU nurse from Pittsburgh, Pa., who was interviewed during the Democratic National Convention by soccer star Megan Rapinoe.
The union is spending $150 million on voter mobilization because the stakes have never been higher for organized labor and all working people. With the election approaching, voter engagement efforts are in high gear, part of immense grassroots efforts helping generate a record-shattering early voter turnout.
Between Oct. 15-22, SEIU targeted hundreds of thousands of voters, organized public actions near workplaces, canvassed, and phonebanked. On top of that SEIU members have already made 14 million calls and sent 12 million text messages.
People's World Election Town Hall – Oct. 25th – Register here.
The week of action is part of a larger plan to reach 6 million voters in 40 states, especially targeting eight battleground states: Pennsylvania, Colorado, Florida, Michigan, Minnesota, Nevada, Virginia, and Wisconsin. The union has significant membership in each state.
SEIU is aiming to expand the electorate by targeting infrequent African American and Latino voters, and white working-class voters who supported Obama and then voted for Trump but are persuadable Biden voters. The union says its work has resulted in a five-fold increase in early turnout among "infrequent" voters in battleground states.
Over half of SEIU members are women, half are people of color, many are immigrants, and half make less than $15 an hour. SEIU members say their vote is essential to win safety on the job, healthcare for all, $15 per hour, a good union job, justice for Black communities, security for immigrant communities, and climate change action.
"This is such essential work, but I'm only making $10 an hour without basic benefits, job training, or personal protective equipment. I have to work 12-hour shifts five days a week just to survive," said Brenda Williams, a home care worker and non-union activist from Tampa, Fla. "Another reason this election is so important is that we have the opportunity in Florida to vote for a $15 minimum wage, which would be life changing for many of us."
SEIU 32BJ covers 175,000 doorpersons, office and school cleaners, airport workers, and security officers. "Essential workers have borne the brunt of the health and economic toll of the coronavirus pandemic. They understand even better that their vote is essential, and they are committed to use their voice and their vote to bring about change and elect Joe Biden and Kamala Harris," said 32BJ President Kyle Bragg.
According to the SEIU 32BJ, its members in 11 other states "helped 6,000 fellow union members register to vote, sent over 1.1M text messages to voters, called 837,000 voters in Pennsylvania, 64,000 in Virginia and over 5,700 in Florida." Connecticut members have called over 100,000 voters for Biden-Harris and down-ballot Democrats.
"Efforts will continue through Election Day," says the union.
The GOTV efforts prioritize Pennsylvania, which many election observers consider the "tipping point" state, and where the union plans to reach 500,000 voters. There, GOP state legislators are plotting an election "coup" to bypass voters' will and elect Trump electors' slate if the election is close. Recently, the GOP dominated courts ruled those voting by mail must put their ballot in a "naked envelope," which could disqualify thousands of Democratic voters.
In Florida, SEIU filed a lawsuit against Postmaster General Louis DeJoy. The union asked the court to reverse actions that will slow the delivery of mail and disenfranchise voters. The union wants to force the USPS to comply with other court orders to postpone mail delivery changes. Healthcare workers are among millions who will choose to "vote by mail in order to protect themselves and their coworkers, patients, and the broader community," the union argued.
SEIU Healthcare, including Local 1199, covers workers employed in nursing homes and as home attendants. For example, twenty-two SEIU nursing home workers and 2000 elderly residents have died from the virus in Michigan alone.
"This is a country built up by different nationalities. We all mix, and this is American for all, said SEIU Local 1199 United Healthcare Workers East member Yolanda Diaz. "We cannot allow another four years. Otherwise, our country will be destroyed."
---
Like free stuff? So do we. Here at People's World, we believe strongly in the mission of keeping the labor and democratic movements informed so they are prepared for the struggle. But we need your help. While our content is free for readers (something we are proud of) it takes money — a lot of it — to produce and cover the stories you see in our pages. Only you, our readers and supporters, can keep us going. Only you can make sure we keep the news that matters free of paywalls and advertisements. If you enjoy reading People's World and the stories we bring you, support our work by becoming a $5 monthly sustainer today.