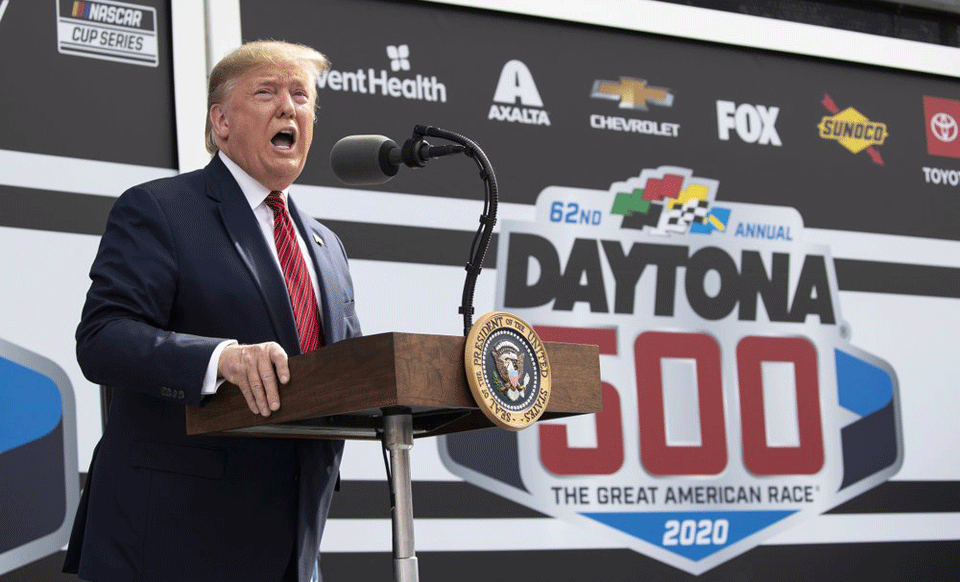 Well, well… We've made it halfway through the infamous year of 2020. To say it's been an "interesting year" would be putting it lightly. Instead, let's just say this year's bouts of utter ridiculousness continue to overwhelm, perplex, and enrage most of us.
It should come as no surprise then that the ringleader of our absurd social, economic, and political circus, Donald J. Trump, still has a few racist tricks up his oversized sleeves. He's made it crystal clear that white supremacists are "some very fine people" whilst Black Lives Matter activists are "homegrown terrorists" hell-bent on "destroying America's heritage" blah blah blah.
When it comes to sports and the Trump doctrine though, the NFL is out. The U.S. National Women's Soccer Team is out. Let's be honest. Any professional sports organization either paying lip service towards the movement to end racism and police brutality (NFL, I'm looking at you) or actually investing and taking the time to listen to players' concerns over these issues (great job, English Premier League) will be condemned by the White House occupant as an anti-American institution, and one which Trump will not support. Instead, he'll work to actively undermine it.
NASCAR was truly his last bastion of influence. But even stock car racing saw through the BS— encouraged to do so by its only Black driver, Bubba Wallace—and began to make organizational changes. Biggest of them all was banning the Confederate flag from all tracks, cars, uniforms, and merchandise.
On Monday, Trump took a petty swipe at NASCAR for banning the flag and made the idiotic accusation that Wallace was guilty of perpetrating "a hoax" after a crew member found a noose in the team garage.
Trump went on to say that Wallace should apologize after the sport rallied around him, following the noose discovery, which federal investigators found to be not a hate crime. But even so, a noose is a noose, and out of the 1,684 stalls at 29 inspected tracks, it was the only pulldown rope fashioned as a noose.
NASCAR's president, Steve Phelps, strongly objected that the noose was a hoax. And a cellphone photo clearly showed it was a noose.
"Has @BubbaWallace apologized to all of those great NASCAR drivers & officials who came to his aid, stood by his side, & were willing to sacrifice everything for him, only to find out that the whole thing was just another HOAX? That & Flag decision has caused lowest ratings EVER!" Trump tweeted.
It's always about ratings with him, isn't it?
Of course, this adds just one more piece of confirmation of Trump's already well-documented unabashed racism. Over the Fourth of July weekend, he used a pair of speeches to further divide Americans by insinuating protesters pushing for racial justice are engaged in a "merciless campaign to wipe out our history."
It's the desperate last gasp of a despot failing to regain a now lost base of support, meant to serve as a direct appeal to the remnants of disaffected voters, mostly white, with less than four months before Election Day.
Wallace responded to Trump's accusations graciously and succinctly. Posting a note on Twitter, Wallace said, "Always deal with the hate being thrown at you with LOVE! Love over hate every day. Love should come naturally as people are TAUGHT to hate…Even when it's HATE from the POTUS."
Wallace urged "the next generation" and the "little ones following my footsteps" to use their platforms to stand up for change and never give in to those throwing hate and causing harm.
NASCAR did not directly respond to Trump's tweet in a Monday statement.
"We are proud to have Bubba Wallace in the NASCAR family, and we commend his courage and leadership," NASCAR said. Racing officials said they continue to "stand tall with Bubba, our competitors, and everyone who makes our sport welcoming and inclusive for all racing fans."
Meanwhile, White House press secretary Kayleigh McEnany defended the president's words and unnecessary waddling over into the Wallace case, while criticizing the White House press pool and calling Trump's tweet "a complete indictment of the media's rush to judgment."
She declined to explain why the president thought Wallace should apologize, given he wasn't the one who found or reported the noose. McEnany also refused to say whether or not the president supports NASCAR's Confederate flag ban—no surprise there.
Oh, and about those ratings…they actually went up.
Michael Mulvihill, executive vice president at Fox Sports, tweeted that Fox viewership is up 8% since the sport returned from the pandemic hiatus on May 17. NBC took over the broadcast rights this past weekend and said its ratings for Sunday's race were up 46% from last year's event at Indianapolis.