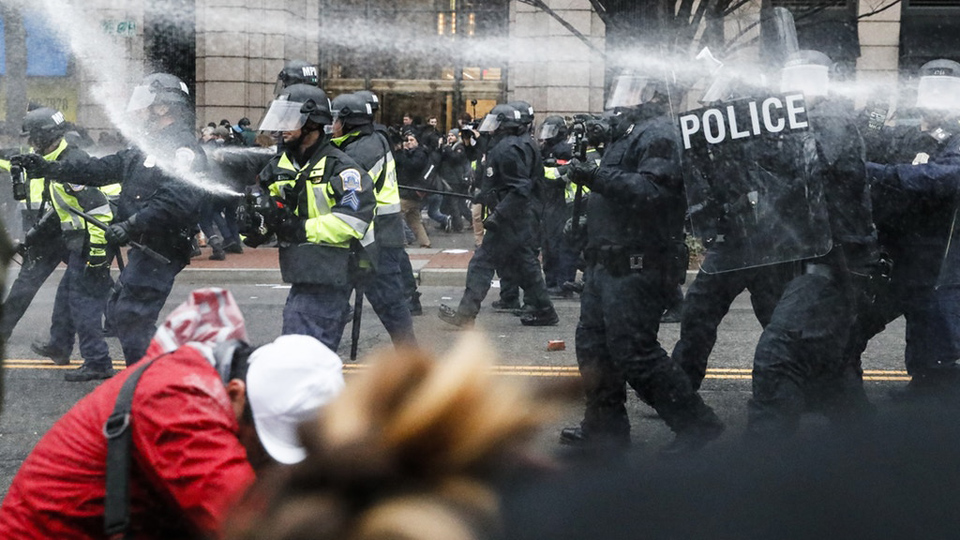 WASHINGTON—The Trump administration's Justice Department finally threw in the towel in its cases against anti-Trump Inauguration Day protesters, dismissing all 39 remaining cases against them.
The move came after repeated defeats in court when the U.S. Attorney for D.C., at the orders of right-wing Trump Attorney General Jefferson Beauregard Sessions, brought cases against 234 people, including four journalists.
Police arbitrarily rounded them up on Jan. 20, 2017, and charged them with rioting and property destruction. But the police couldn't identify most individuals. Protest J20, an anti-Trump group – which right-wingers secretly infiltrated – organized the protests.
In prior court proceedings against those the police arrested, one person pled guilty and 21 others lost their cases. The rest saw charges against them first downgraded to misdemeanors. Then, last December judges either threw out cases against several dozen or they won outright acquittal.
After those losses, the prosecutors dropped charges against 124 more people earlier this year. Prosecutors dumped the cases against this last batch, including against one of the reporters, on July 6.
Supporters of the protesters, and their attorneys, said the initial arrests showed Trump administration plans to chill dissent, violating the Constitution's free speech guarantees.
"We are extremely pleased with the court's dismissal of the charges against our client Aaron Cantu," the remaining journalist, tweeted his lawyer, Ted Boutros of Los Angeles. "He is a very promising journalist with a bright future, and we are gratified the baseless charges against him have been dismissed." Cantu did not comment.
"These cases were always about right-wing police and prosecutors following Trump's lead to go after left-wing protesters using a broad theory of liability," said Mark Goldstone, an attorney for many J20 defendants, told The Intercept. The cases, Goldstone added, "never should have been brought."
Despite admitting defeat, the U.S. attorney still claimed "evidence shows that a riot occurred on January 20, 2017, during which more than $100,000 in damage was caused to numerous public and private properties."
But that evidence included at least one videotape from a right-wing group, the so-called Project Veritas, allegedly showing protesters trashing cars and breaking windows. Veritas is the same group other courts have sentenced and fined for fake and doctored videotapes libeling Planned Parenthood.
And in D.C. Superior Court, where the trials and hearings occurred, judges kept criticizing prosecutors for withholding and mishandling evidence, notably evidence that would show the defendants were not guilty.