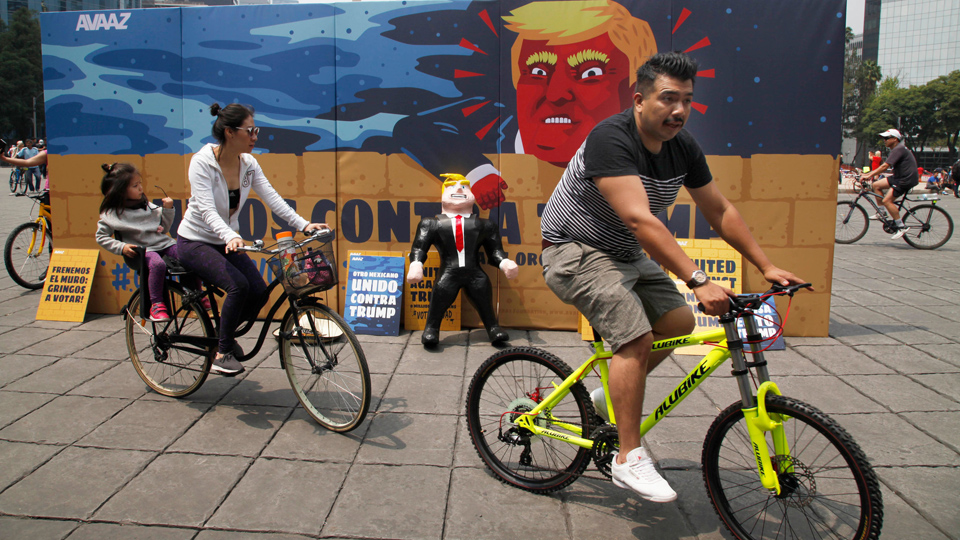 Donald Trump's first few months in office have sent shockwaves across the globe, from a worldwide women's protest to a 1.8 million-strong petition to the British Parliament, but as his anti-Latin rhetoric becomes reality, Latin Americans have been left wondering what their northern neighbors will turn to next.
While his threats and insults may have been aimed at bordering Mexico, his promise – and subsequent executive order – to build a wall to keep the supposed "drugs, crime, and rapists" out of the U.S. elicited a region-wide response.
The resistance
Bolivia's President Evo Morales called on Mexico "to look more towards the south, to jointly build unity" with Latin America and the Caribbean.
Ecuador's President Rafael Correa assured that "the solution to stop migration is not the construction of walls and frontiers, but solidarity, humanity, and the creation of peaceful solutions for all of Earth's inhabitants." Venezuela's President Nicolás Maduro questioned how Trump could "attack our brothers from Mexico, who have already been persecuted and exploited enough."
These leaders were joined by statements from both the Community of Latin American and Caribbean States (CELAC) and the Union of South American Nations (UNASUR) criticizing Trump's attacks.
One reason for this strong and unified response is the latent threat that Trump poses to those nations, both individually and collectively.
With the U.S.'s history of brutal intervention in Latin America, the appointment of more military officials to security positions than any other government in 60 years is an alarming development.
Statements from Trump and his administration have done nothing to alleviate these fears. For example, comments made by the now disgraced former security adviser General Michael Flynn are chilling.
"We're in a global war, facing an enemy alliance that runs from Pyongyang, North Korea, to Havana, Cuba, and Caracas, Venezuela," adding that "along the way, the alliance picks up radical Muslim countries and organizations such as Iran, al-Qaida, the Taliban, and Islamic State."
This statement serves as an indicator of the warped views that Trump has chosen to surround himself with.
Secretary of State Rex Tillerson has cast doubt on Colombia's peace deal, breaking with the international consensus. He's also expressed a desire to reverse Barack Obama's rapprochement policy towards Cuba.
Trump has spoken openly of making Mexico pay for his wall and of fighting "oppression" in Venezuela, though his comments about Brazil's first female President Dilma Rouseff ("Who is he?") show that he is not very well versed in the area.
More recently, Trump's administration placed sanctions on Venezuela's Vice-President Tareck El Aissami for alleged links to Colombian drug cartels and terrorist groups in the Middle East.
No evidence or charges were provided for these claims, and El Aissami's work in extraditing 21 suspected drug traffickers to the U.S. went unacknowledged.
Remarkably, one of the drug traffickers the vice-president is allegedly linked to was arrested and extradited to Colombia in 2012 by El Aissami himself.
Although Venezuela and the U.S. have had a turbulent history, this is a clear indicator that Trump will ramp up intervention in Latin America and that he will use Islamophobia and fear of terrorism to justify his actions.
The collaborators
Not all of Latin America's nations are standing up to Trump's isolationism and attempted Muslim ban. Some governments have seen an opportunity to pursue hard-right agendas in line with the U.S. administration.
Argentina's President Mauricio Macri, elected on the promise of a smooth transition from the progressive Kirchner governments, has since switched to a regressive neoliberal agenda leading to mass layoffs, price hikes, and demonstrations.
Seemingly buoyed by Trump's success, Argentina's conservatives took the opportunity to super-charge their immigration debate by labelling immigrants, predominantly from neighboring Bolivia, as criminals and drug dealers.
Macri's administration clearly took note of Trump's use of "alternative facts" and executive orders when passing an executive order of their own to rein in immigration, justified by warped data that overestimated the number of immigrants in jail by nearly 400 per cent.
The latest xenophobic measure being considered by Argentina, and publicly supported by right-wing members of congress, is – you guessed it – building a wall.
In Brazil, the extremely controversial impeachment of President Rousseff, labelled by neighboring governments and international bodies as a "soft coup," saw the appointment of President Michel Temer, a conservative who has shifted the country's focus from tackling inequality to pleasing foreign investors.
The implementation of harsh austerity measures, including a 20-year freeze on healthcare and education spending, public-sector layoffs, and vast privatizations without a mandate cannot be attributed to Trump's impact.
However, the rise of flamboyant, far-right Congressman Jair Bolsonaro – a Trumpesque character who openly uses homophobic and sexist remarks (saying of a female congressional colleague that: "Not worth raping; she is very ugly") – draws numerous comparisons with the U.S. president, not least because he's a millionaire drawing supporters from a reactionary base.
Whether the world has taken a very worrying regressive turn or Trump has simply normalized behavior like this remains to be seen.
Countries like Argentina and the U.S. may be turning their backs on their rich histories of immigration, but many Latin American governments are taking a stand against xenophobia in the face of Trump's threats.
President Correa called for a regional stand in "defense of human rights'" and reminded the U.S. "that they have been a country of migrants," while President Morales reiterated this message, stating: "We can't be following the example of the north and its policies, building walls to divide us."
These progressive voices show there is a global movement building against the discriminatory policies of Trump and his far-right advisers.
This is an edited version of an article which earlier appeared in Morning Star.