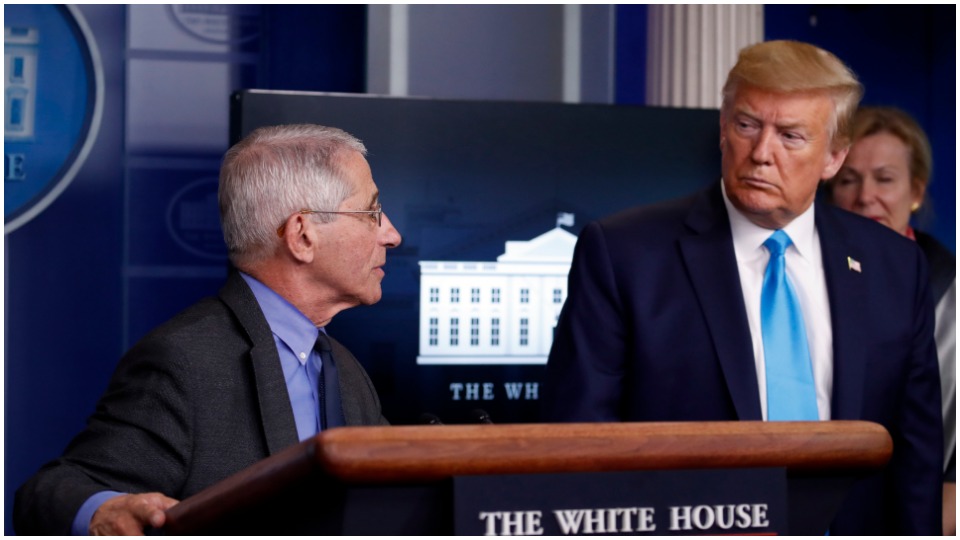 President Donald Trump warned the nation's governors this weekend that they had better "get their act together" and make arrangements for the testing and just about everything else their people need because he is determined, come hell or high water, to re-open the economy on May 1. Implied also in his warning is that they should not expect any real additional help from the federal government.
Driven by a combination of pressure from his Wall Street corporate backers, his ego, and what he calls his "gut instincts," the president is risking the health and lives of the American people with a threat that he is about to make "the most important decision of my life."
The president, who did not decide to close down a single thing and instead chose to shove that decision down onto state and local authorities, now says he has the power to "re-open the country with a big bang." The nation's governors and top health officials are signaling already, however, that their thinking is not in sync with the "gut instincts" of the president.
Governors in state after state this weekend said the health of the people of their states was their number one priority. They were the ones who made the decisions to close down non-essential workplaces and enforce social distancing, and they expect to be the ones who will decide, based on science, when to re-open.
On Sunday, Trump, with an attitude of "let's get back to work regardless of the cost in lives," added Dr. Anthony Fauci, the nation's top infectious disease expert, to the list of people he is attacking via Twitter. Trump's attack came after Fauci said that more lives could have been saved from the coronavirus if the country had been shut down earlier.
Trump reposted a tweet by a right-wing lawmaker that said, "Time to #FireFauci." The tweet came in the midst of a storm of tweets in which the president blamed everyone—China, the World Health Organization, former President Barack Obama, state governors, Congress, the Democratic Party, the media—except himself for the horrific handling of the pandemic in the U.S.
Fauci said on CNN Sunday, "I mean, obviously, you could logically say that if you had a process that was underway and you started mitigation earlier, you could have saved lives. Obviously, no one is going to deny that…If we had right from the very beginning shut everything down, it may have been a little bit different."
What has become a campaign by the West Coast states of Washington, Oregon, and California to send aid to hard-hit areas like New York, New Orleans, and Detroit is perhaps the best proof of Fauci's claims about the benefits of earlier mitigation. All those states were among the first to initiate full-scale mitigation efforts and thus far, at least, have been less ravaged by the virus.
On another front, confirming the fears many have about Trump's push to return to crowded workplaces was news this weekend of massive infection at a meat plant that produces 5% of the nation's pork products. Some 300 workers at the Smithfield plant in Sioux Falls, S.D., tested positive for the virus, and the facility has been shut down indefinitely.
Every day now, another meat processing plant across the country seems to be affected, threatening the supply of products to the shelves of supermarkets.
In addition to blaming everyone but himself, Trump also continues to push untested "cures" for the coronavirus, especially hydroxychloroquine. On Sunday, he was still retweeting right-wing Twitter personalities claiming "the Democrat Party" was "fighting…hard" to keep the American people "from getting hydroxychloroquine."
Trump's advertising efforts for the drug suffered a major blow this weekend, though, as studies of the medication were shut down after evidence that they cause heart problems, sometimes resulting in fatalities.
Studies of hydroxychloroquine were halted in both France and Brazil after test recipients began to experience dangerous heart problems. Some 40 patients in Brazil were prescribed 600 milligrams of the drug for 10 days. Within that period, 11 died of arrhythmia.
"What do you have to lose?" Trump has asked repeatedly at press conferences as he urged Americans to get prescriptions for the drug that now appears to have deadly potential. Those running the studies say that hydroxychloroquine should never be used to treat coronavirus outside a hospital setting.