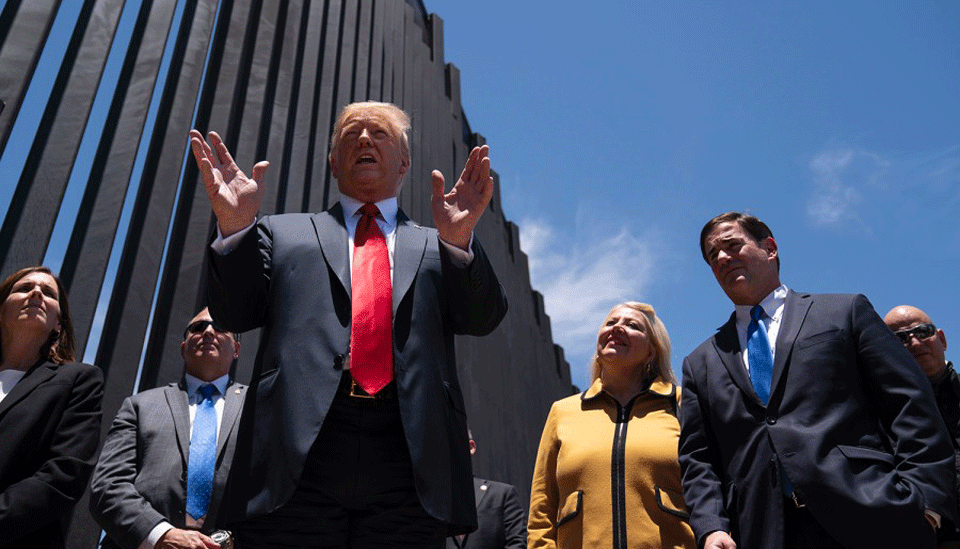 On Tuesday in Arizona Trump had his picture taken at the phony prop he calls his "beautiful wall," one of the props along the border with Mexico that he runs to every time he wants to stir up fear of immigrants. While he was doing that the European Union was drafting plans to establish a real wall that will bar Americans from leaving this country and heading to any one of their nations.
In what might be called poetic justice – but is actually concern for the health and lives of their more than 420 million people – the European Union has put the U.S. on a draft list of nations whose residents it will ban from entry because of the Trump administration's failure to curb the coronavirus pandemic.
The poetic justice occurs because GOP President Donald Trump, on March 12, banned travel, except for returning U.S. citizens, from continental Europe, due to the coronavirus. Now, Europe has controlled the virus which, in the United States, continues to rage out of control.
The walling off of Americans from travel to Europe, reported by the New York Times, NBC News and other outlets, comes as Dr. Anthony Fauci, the nation's top epidemiologist as Director of the National Institute of Allergies and Infectious Diseases, told lawmakers he worries about "a disturbing surge" of coronavirus cases in the U.S., especially in states that re-opened too early.
EU officials are still discussing which nations to ban, but the U.S. was on the list because its case count of 107 infections per 100,000 is way too high, the diplomats said. The EU figure is now only 16 cases per 100,000 people. An influx of Americans, they fear, can set back the progress they have made in curbing the spread of COVID-19.
The U.S. daily case count is even higher where the spike which Dr. Fauci warned about is already occurring, in states like Texas, Florida, Arizona, and Oklahoma. Trump held a rally of 6,000 – in a half-filled hall – in Tulsa, Okla., on June 20, even as new infections in Oklahoma tripled, to 478 daily, from June 14-21, Johns Hopkins University coronavirus trackers reported.
And on June 23, Trump traveled to Arizona for another rally, in a right-wing megachurch whose 3,000 seats were completely full with people not practicing social distancing and many not wearing masks. He then toured several miles of his "great big beautiful" Mexican Wall in southern Pima County.
Meanwhile, Arizona hit an average of 2,750 cases per day on June 22, Hopkins data show, compared to 1,268 eight days before. Maricopa County (Phoenix) has 768 cases per 100,000 people, and Pima County (Tucson and the wall) has 586 per 100,000.
Data like this, plus the overall case count in the U.S.—2,347,593, or one-fourth of the world total—led to the E.U. memo. The coronavirus has also killed more than 130,000 U.S. people, just over a quarter of the deaths around the world.
The 26 countries Trump's March 12 ban covered were those – all on the continent itself – with no internal passport checks from nation to nation. His reason: The World Health Organization, which Trump now dismisses and whose U.S. money he has yanked, had declared the coronavirus a world pandemic the day before. Trump's ban did not cover the United Kingdom and Ireland.