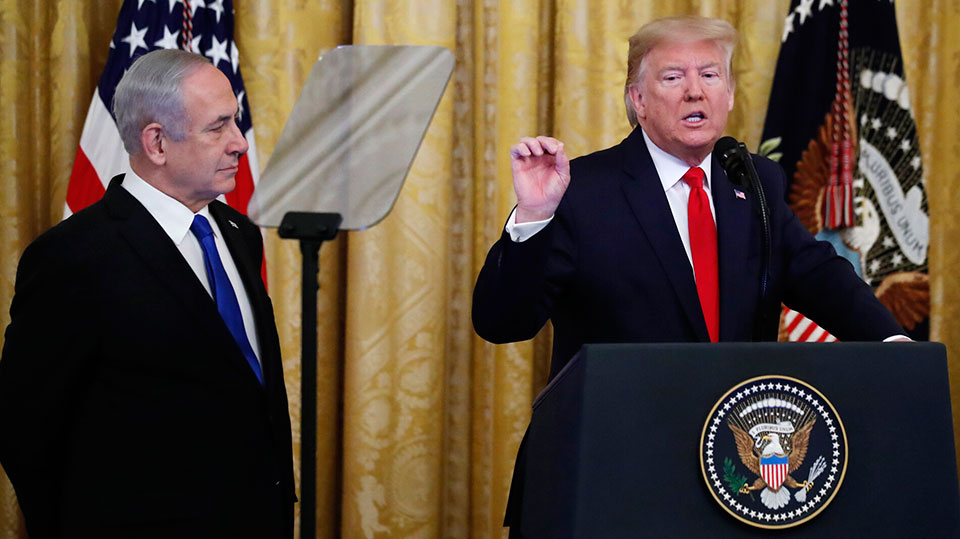 GOP President Donald Trump's "peace plan" for Israel and the Palestinians, unveiled with support from the leaders of both big Jewish Israeli political parties, is "imperialistic" and would lead to resumed and continued military occupation of the entire West Bank for the foreseeable future, the Israeli Communist Party says.
And since Trump unveiled his plan while embroiled in an impeachment trial in the U.S. Senate, and since Israeli Prime Minister Benjamin "Bibi" Netanyahu did so on the day he was formally re-indicted for financial crimes, the plan is also designed to divert attention from the two leaders' political troubles, added Ayman Odeh, the CP's leader in the Israeli Knesset (parliament).
The Israeli Communist Party's critique was among many strong dissents from Trump's plan. Others included opposition from the progressive movement J Street – a pro-peace U.S. Jewish coalition – and Sen. Bernie Sanders, Ind-Vt., a top Democratic presidential hopeful who is Jewish.
"The United States can bring unequaled leadership to resolving the Israeli-Palestinian conflict, but we must use that leadership to promote a just and durable agreement," said Sanders, who is pro-peace and who told J Street the U.S. should condition aid to Israel on Israeli negotiation with the Palestinians over a viable Palestinian state, and the U.S. should ban any dollar diversion to Israeli West Bank settlements.
"Any acceptable peace deal must be consistent with international law and multiple UN Security Council resolutions. It must end the Israeli occupation that began in 1967 and enable Palestinian self-determination in an independent, democratic, economically viable state of their own alongside a secure and democratic state of Israel," Sanders, the only senator who has ever lived in Israel, for a year on a progressive kibbutz, said.
"Trump's so-called 'peace deal' doesn't come close, and will only perpetuate the conflict, and undermine the security interests of Americans, Israelis, and Palestinians. It is unacceptable."
The CP was even more caustic. It also predicted Trump's plan would force Mahmoud Abbas, president of the Fatah-controlled West Bank, to resign in protest and dissolve his government. Trump's plan, the CP said, would effectively leave nothing there to govern.
And CP Knesset Member Hadash Ayman Odeh, leader of the Joint List – a coalition of Jewish and Arab parties which fields the third-largest parliamentary bloc — also emphasized Trump's and Bibi's timing in releasing the plan. So did the CP.
"A prime minister charged with corruption and a president in the midst of an impeachment trial are trying to save one another while carrying out a dangerous political move that would subject the Palestinian people living in the [occupied territories] to Israeli military control for years to come," Odeh said.
Abbas's spokesman said Trump's plan would require Israel "to assume its full responsibilities as an occupying power," by re-establishing total Israeli military rule on the West Bank. The main Palestinian opposition, Hamas, controls Gaza. The CP statement did not mention Hamas's reaction.
"The true 'Deal of the Century' is a prime minister accused of corruption and a president under an impeachment trial attempting to save each other through a dangerous political maneuver that will set military rule over the Palestinian people in the occupied territories for generations," the CP said.
Repeating its consistent and prior stand, the party added: "Only recognition of a Palestinian state, its people and its borders, and the end of the occupation is a long-overdue international obligation and a positive step towards peace."
"All states must now formally recognize a sustainable Palestinian state being established contiguous with the 1967 borders with East Jerusalem as its capital, demanding the end of the settlements policy and a just resolution of the Palestinian refugee question."
Rep. Rashida Tlaib, D-Mich., who is of Palestinian descent, made the same political point Odeh did about Bibi and Trump.
"It's fitting the Trump-Netanyahu plan was released by a forever-impeached president on the same day that Netanyahu was indicted for corruption," the first-term lawmaker from Detroit tweeted. "This political stunt gets us no closer to peace or justice."
After repeated delays, Trump on Jan. 28 unveiled an 80-page blueprint which basically endorses the Israeli-controlled status quo in the West Bank and the Gaza Strip and sometimes makes it worse. After past Trump moves catering to Bibi and the U.S. and Israeli right – such as moving the U.S. Embassy in Israel to Jerusalem and closing the U.S. East Jerusalem consulate — Abbas halted talks with the U.S.
In the plan, Trump would permanently cede the Jordan River valley, now technically the eastern border of the West Bank, to Israel, a position endorsed not just by Netanyahu, but by chief Israeli opposition leader Benny Gatz, who toured the valley the week before. Gatz also came to D.C. to talk with Trump.
Trump also proposed that neither Israeli nor Palestinian West Bank residents be "uprooted from their homes" during a four-year transition period to creation of the Palestinian state.
That conveniently overlooks Israeli ejection of tens of thousands of Palestinians from their homes and lands since Israel won the West Bank and Gaza, plus other territory, in the 1967 Arab-Israeli War. Right-wing Israeli "settlers" replaced them, in violation of federal law.
And Trump declared Jerusalem would remain Israel's eternal and undivided capital city, even while stating East Jerusalem would become capital for the Palestinian state – a contradiction he didn't explain. He also endorsed Israeli annexation of the formerly Syrian Golan Heights, mountains which overlook northeastern Israel.
Bibi, standing next to Trump, promptly adopted Trump's map as his bargaining position, even though he now leads a caretaker government in the runup to Israel's third general election in less than a year, scheduled for March. The day before, he dropped a bid for parliamentary immunity from indictment for his financial crimes, because he lacked the votes, even from his own party, to gain it. Israel's Attorney General announced the formal indictment of Bibi as Trump and the Prime Minister announced the plan.