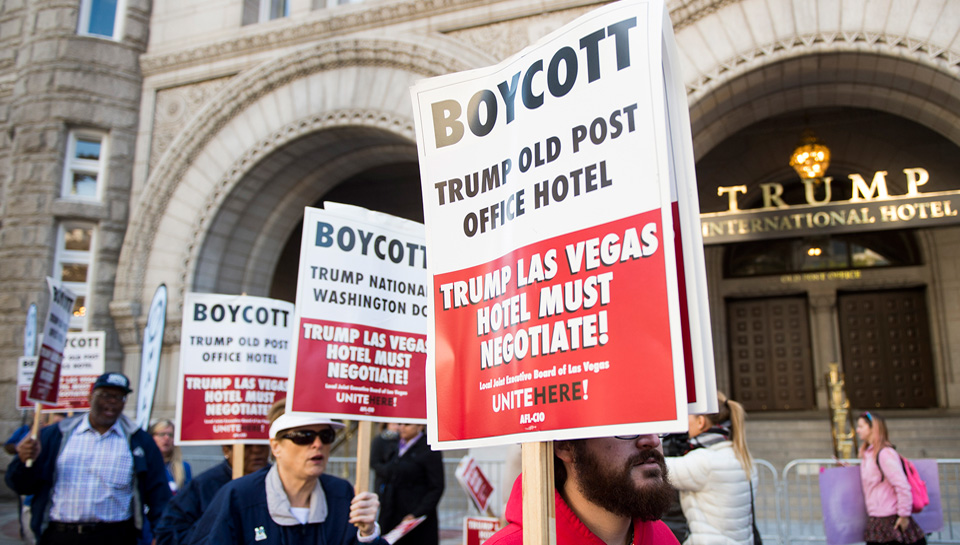 WASHINGTON – It took years of demonstrating, negotiating and lobbying, but workers at the Trump International Hotel here have finally won the right to join a union and bargain collectively.
When recognizing the workers' right to join a union, Eric Danziger, the chief executive of Trump Hotels, said in a statement "We share mutual goals with the union, as we both desire to ensure outstanding jobs for the employees …".
Nonsense!
Trump recognized the workers' union because he was forced to do so.
Unlike many hotel developers here in the District, the Trump organization fought unionization as long as it could.
Because tourism is central to the economic health of D.C., the District government gives many hotel developers subsidies to build or renovate. The subsidies come with a condition, though. thanks to tough, persistent lobbying of UNITE HERE Local 25, the union to which many hotel workers belong, hotel managements must not interfere if their employees want to join a union and bargain collectively.
However, the subsidy Trump received to turn an old federally-owned building – Washington's old Post Office – into a hotel carried no such condition.
Because he could, during his hotel's construction, he refused to promise that he would allow his permanent hotel employees to organize.
So about three years ago, hotel workers began almost weekly demonstrations in front of the construction site. One of their leaflets read:
"This is how inequality happens. Trump wants us to be dazzled and distracted by his promises of ultra-luxury for the super-wealthy. But he hasn't told us how he's going to create middle-class jobs for residents of the Nation's Capital. He hasn't committed to middle-class wages or fair working conditions for the men and women who will clean rooms and cook meals at his hotel.
"Wonder why we have growing inequality? This is how it happens: billionaires who are more concerned with posh than with people, and expect the rest of us to play along."
Still, Trump refused to pledge he would recognize a union if his employees chose on.
Then he decided to run for President.
Throughout the campaign, he repeatedly made clear how anti-union he is and even went so far as to insult leaders of the Steelworkers.
Shortly before the election, the National Labor Relations Board (NLRB) found Trump guilty of violating federal labor laws by refusing to recognize a union at his Las Vegas hotel, another UNITE HERE local.
Still, Trump refused to bargain with the union. Instead, his corporation appealed the decision.
Late this past December, however, the Trump corporation abruptly change course. It agreed to recognize the union its employees had voted to join in Las Vegas, UNITE HERE's Culinary and Bartenders local and agreed to allow its employees at its new Washington hotel to conduct a union election without interference.
A few weeks ago, the DC workers, about 40 housekeepers and guest-room workers, voted to join UNITE HERE Local 25.
Why did Trump do such a fast about face?
John Boardman, executive director of Local 25, was quoted in the Washington Post as saying "I have been trying to parse out in my own mind on what might have motivated the Trump Organization to do this and I haven't quite figured that out."
Most observers, however, say that Trump changed because of two reasons: now that Trump can appoint his own members to the NLRB he wanted to settle his own case to avoid what would be an absolutely obvious, undeniable conflict of interest.
But first and foremost, Trump recognized the right of his DC workers to join a union because they and their allies from unions across the country forced him to do so.