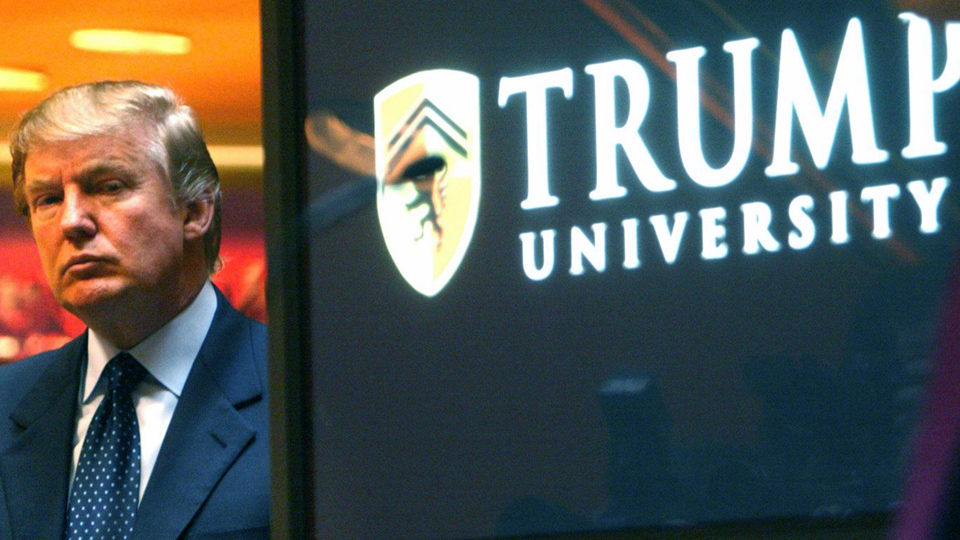 WASHINGTON – It's hard to tell if Donald Trump has been planting the seeds of sleazy business practices around the world or if he's attracted to existing sleaze-purveyors.
One thing is certain: where there are real illegal scams, there is Trump.
Trump University is just one, relatively minor, example. If he becomes President, Trump could drag our entire nation into the morass of messes he has made world wide.
You might think that putting together a major real estate development deal takes so much time that no one developer could be involved in more than a few deals – sleazy or not – at any given time.
You're right. But like everything else about Trump, his business is not based on the brick and mortar of reality, but on his narcissism.
For over a decade, Trump has depended on his international fame as a reality TV personality to strike quick deals – lots and lots of deals – with overseas developers "who pay his company for the right to slap his name on their buildings," according to a Newsweek magazine cover story by Kurt Eichenwald, How the Trump Organization's Foreign Business Ties Could Upend U.S. National Security.
These overseas developers are for the most part Trump's kindred spirits, people who, like him, screw other people to make a buck.
For example, in the late 1990s, Trump signed a deal with Daewoo Engineering and Construction involving building a number of condominiums in South Korea. Shortly after the deal was signed, says Eichenwald, the parent company collapsed into bankruptcy due to the chairman having embezzled $43 billion.
Daewoo reorganized and Trump continued his business relationship with it. By the way, remember when Trump called for South Korea to develop its own nuclear weapons? If that should happen, it would be mean a huge windfall for Daewoo Engineering and Construction.
Then there's the deal in India that Trump struck with a large developer called Panchshil Realty that agreed to pay millions for use of the Trump brand on two 22-floor towers. According to Eichenwald, the state government and local police have evidence the company used illegal means to obtain the land on which the buildings were constructed.
Eichenwald's list goes on: in Turkey, in 2008, the Trump Organization struck a branding deal with the Dogan Group. Then an Istanbul court accepted an indictment of the company's chairman, Aydin Dogan on charges he engaged in fuel smuggling.
A similar scenario played out in the United Arab Emirates. The Trump Organization struck a branding deal with the Nakheel development company. In 2008, two Nakheel executives were charged with fraud.
In Azerbaijan, Trump has set himself up as the president of two entities called OT Marks Baku LLC and DT Marks Baku Manaaina Member Corp. These companies formed a partnership with Anar Mammadov, whose family is part of what the U.S. State Department calls "politically connected elites" rife with "corruption and predatory behavior."
There's more, but you get the idea.
Meanwhile, David Corn reports in Mother Jones that Trump owes the Deutche Bank at least $295 million. This outfit is based in Germany but has several U.S. subsidiaries that regulators have found guilty of Dodd-Frank Act violations. The Act outlaws banks speculating with the savings of everyday customers.
If Trump becomes President, Corn asks, wouldn't it make sense for him to "help out" his favorite bank?
If Trump becomes President, there is nothing anybody could do to stop him from putting his own financial interests ahead of the nation's.
Don Lee and Jim Puzzanghera, writing in the Chicago Tribune, explain that "There are well-established conflict-of-interest rules for other executive branch officials and less-strict ones for members of Congress … [but] in a 2004 report on conflicts of interest in the executive branch, the non-partisan Congressional Research Service noted that the criminal statute requiring officials to recuse themselves from government matters in which they have a financial interest 'expressly excludes the President and Vice President.'"
Conflict of interest laws would ban Trump from doing things with his businesses to take advantage of legislation, but there is nothing that would prevent a President Trump from promoting legislation that would benefit his businesses.
To avoid the appearance of conflict of interest, Presidents have generally put their investments in blind trusts, but that's only a tradition; not a law.
The idea of a blind trust is to have stocks and other assets managed, bought and sold by an independent third party without the knowledge of owner.
Trump has said he will have his children manage his enterprises if he became President, although according to Lee and Puzzanghera, the Office of Government Ethics specifically states that a blind trustee cannot be a relative.
Furthermore, a blind trust would not work in Trump's case. Too much of his wealth is tied up in properties and ventures bearing his name. Even if Trump turns his many Trump Towers over to a blind trust, how can he forget he owns them?
"He cannot put businesses he owns in a blind trust and suddenly get a case of amnesia," attorney Kenneth Gross, an expert in such matters, told the Chicago Tribune.
"The potential conflict would come," Gross said, "if a future Trump administration, for example, declared a parcel next to a Trump golf course as public land, causing the value of his golf property to triple."
Or what if, Gross asks, "a President Trump had dealings with a leader of a foreign country where businessman Trump operates a casino?"
Eichenwald concludes, "If Donald Trump wins this election and his company is not immediately shut down or forever severed from the Trump family, the foreign policy of the United States of America could well be for sale."
And the sleazy business people Trump deals with would be more than happy to buy.