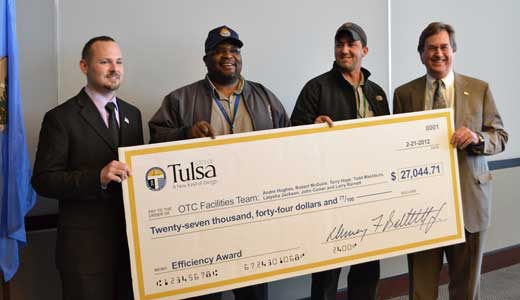 TULSA, Okla. – The unionized Tulsa municipal workers of AFSCME Local 1180 chose to fight back against privatization by taking over their department in a very unusual way.
In June 2011, city operations and maintenance workers were threatened with privatization. These workers handle electrical, mechanical, plumbing and carpentry duties for the municipality. Not only could privatization of these jobs reduce quality of services and workplace safety, but also private contractors often cut jobs to lower costs, giving the appearance of greater efficiency. In reality, such cuts only intensify the exploitation of workers, making the work more taxing, dangerous and lower quality.
Union organizers and workers were confident that the employees themselves knew more about how best to run their department than their bosses, so they prepared a plan of their own outlining ways to improve services, reduce costs and save the taxpayers money.
They went directly to the city government and presented their findings and proposals. They would eliminate unnecessary expenses, relinquish two vehicles that were not regularly used, and upgrade their technology to use more efficient software and web-based solutions wherever possible. Not only did their plan save the people of Tulsa money while maintaining quality services, they included a "gain sharing" program in which unionized operations and maintenance workers would be rewarded for their extra effort.
On Feb 21, Tulsa's Mayor Dewey Bartlett met with the president of AFSCME Local 1180 and the operations and maintenance workers to recognize their efforts. The mayor announced that the workers' extra initiative not only saved their jobs from privatization, but saved the city $224,000 since July 2011. In a statement, Bartlett, who is generally anti-union, said: "Our own employees beat out local and national firms to do the job, and for the first time ever, were able to participate in the savings."
As part of the "gain sharing program" each worker in the building and maintenance department received a check for $3,863.53. The additional savings will be retained in public funds for the benefit of the people of Tulsa, instead of going into the pockets of CEOs from the private sector. AFSCME Local 1180 President Michael Rider summarized the magnitude of this achievement in a statement to the local press:
"AFSCME Local 1180 members wish to congratulate gain-sharing award recipients on the building maintenance team. In many cities and states across the country, privatization has been seen as a quick-fix solution to inefficient, government-run systems. But in Tulsa, Oklahoma, we have learned that by simply involving front-line employees in the management process, outdated and inefficient systems can be improved in a way where everyone wins: dedicated employees are rewarded for their hard work and innovative thinking … and citizens win because profits go back to the public, not big business, keeping the local economy strong."
The seven city workers to receive the first-ever "gain sharing" award are Andre Hughes, Robert McGuire, Terry Hope, Todd Mashburn, Latysha Jackson, John Comer, and Larry Barnett.
In what appeared to be just a single elegant stroke of a worker-led initiative, the operations and maintenance workers of Tulsa disproved several anti-union myths. Rank-and-file driven unions are not a drain on municipalities. When given a greater voice in managerial decisions they can actually enhance efficiency and save taxpayers money. And unions don't simply take money from workers. In fact, union workers in Tulsa got organized and asserted their dignity, expertise and creativity in their workplace. As a result, workers found themselves with an unprecedented pay increase and the thanks of the public, management and local elected officials.
Photo: Union members with Tulsa Mayor Dewey Bartlett at press conference, Feb. 21. PW