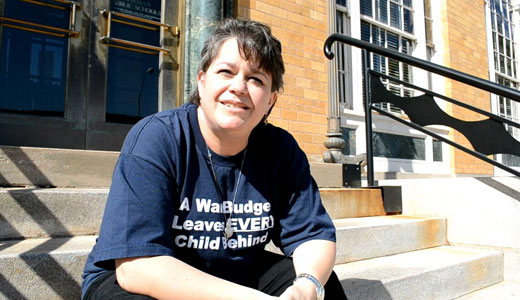 TULSA, Okla. – In the last year, the city of Tulsa has consistently pushed to cut funding for projects that benefit the taxpayers. As reported by People's World public parks and recreation centers – specifically in working-class and minority areas – have been scheduled for demolition. Before that, the city closed 19 public schools, laying off hundreds of teachers and forcing students into conditions that are proven to reduce the quality of education. Right-wing proponents of this agenda claim that they are working to serve the taxpayers, but a closer examination of the funding for their agenda reveals that they are taking their campaign contributions and marching orders from more insidious forces.
Last year, Cliff Ogle, a long-time classroom teacher and active member of the American Federation of Teachers in Oklahoma, provided research showing a lobbyist organization known as the American Legislative Exchange Council, or ALEC, to be the driving force behind efforts to fight public education spending in Oklahoma and throughout the nation. According to Ogle, "Most of the Republican politicians across the country are courted by ALEC and given the legislation to write."
Ogle says internal documents reveal ALEC's plan to use Republican politicians to abolish public education. At a meeting with ALEC-supported lawmakers, some even openly referenced their plans. "We thought, surely they're joking that they're wanting to get rid of public education," Ogle said, "But then we realized, they're not laughing."
Ending public education in America is alarming not only to students and teachers, but to others who are not traditional union supporters. Even a local Oklahoma tea party leader told the People's World, "Public education is the foundation of this country. Our forefathers fought to create a system of education available to all. Without public education, you can't have a functional democracy. And that's just what the one-percenters want. They want to buy your democratic rights." A teacher, Elise Robilard of the Moore Association of Classroom Teachers, said in an interview, "When we're saying, 'in order for business to be successful we have to remove the guarantees to workers' … when we deny [rights] that is a huge step on a road to a type of social system that resembles fascism."
A closer look into the legislative agenda of ALEC reveals even more dubious ties. The infamous "Koch Brothers" of Koch Industries have been shown to be a key player in the ALEC's extremist agenda. Some object to labeling them fascists. Still, a study of Koch Industries reveals that the label "fascist" may be far more accurate than some would care to admit. Fred C. Koch, founder of Koch Industries, was also a founding member of the John Birch Society along with Revilo P. Oliver. Oliver, a devoted Nazi, went onto form another organization with William Pierce known as the National Alliance – an organization that the FBI has described as the most well-funded and well-organized white supremacist organization in the U.S.
For Oklahomans, the National Alliance agenda should be of particular interest since it was co-founder Pierce who wrote the manual "The Turner Diaries" that provided the inspiration and information used by Timothy McVeigh for the bombing of the Alfred P. Murrah Federal Buildng in Oklahoma City on April 19, 1995. In addition, the Oklahoma Conservative Political Action Committee (OCPAC) is a veritable Who's Who of right-wing extremists and John Birch Society members, including former state Sen. Randy Brogdan, who openly endorsed the formation of right-wing paramilitary organizations in Oklahoma while in office.
Perhaps it is premature to label the Koch-supported ALEC group and its lawmakers fascists, but it is not hard to see a definite right-wing extremist bent to their agenda. Specifically, in their effort to abolish public education, one cannot help but look to the history of other similar efforts for precedents. One parallel in particular seems to stand out in the 20th century. During the Nazi occupation of Eastern Europe, Erich Koch, Reichskommissar and director of Buchenwald death camp, made it his first priority to abolish public education in the occupied Ukraine that was under his control, stating that these racially inferior children "need no schools. What they'll have to learn will be taught them by their German masters."
Photo: Elise Robilard of the Moore Association of classroom teachers.