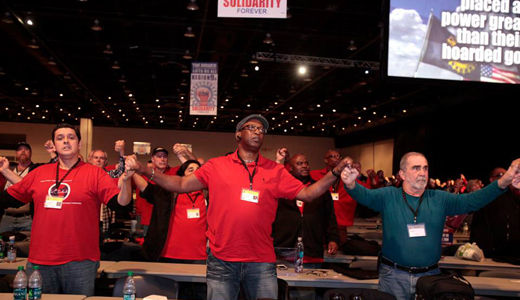 DETROIT – Eliminating two-tier wage systems – higher wage tiers for veteran workers and lower tiers for new hires – at the "Detroit 3" auto companies will be a key issue in coming bargaining between Ford, GM, FiatChrysler, and the Auto Workers.
That's the message from new union President Dennis Williams at the union's Auto Bargaining Conference in Detroit in late March. Delegates represented the 137,000 UAW members whose contracts at the auto makers expire in September.
"In the dark days of the Great Recession, UAW members from all sectors accepted concessions as many companies were threatened with bankruptcy and profits evaporated," Williams explained.
But the companies recovered and are profitable again and "now it's our time" to share in the gains, he declared. When he pledged to eliminate the two-tier wage systems, Williams got a standing ovation.
When the auto firms hit rock bottom during the financier-caused Great Recession, the UAW negotiated the two-tier wage systems. The concession virtually halved entry pay for new hires, to around $15 an hour. It was one key to the federal loans, stock purchases and loan guarantees which helped then-bankrupt GM reorganize and then-bankrupt Chrysler be sold to Fiat. Ford also got the two-tier scale even though that firm stayed out of bankruptcy court.
In another key move, the auto firms turned over their health care plans to a Voluntary Employee Benefits Association the union now runs – in return for substantial investments.
Williams was optimistic that the union and the firms could reach agreement on new contracts later this year. "I truly believe that the companies we deal with know that we can be creative and thoughtful. But they also know that sharing in bad times must be equally shared in good times," he said.
"A society built on low-wage jobs does not deliver purchasing power," he warned. It only increases the number of workers in poverty, he added.
The union may face a problem though: Earlier this year, the chairman of FiatChrysler acknowledged the UAW's and unionists' key role in keeping the #3 Detroit carmaker alive. Fiat's CEO said he, too, wants to eliminate the two-tier wage system – but he wants to push all the workers to the lower tier.
Besides wages, the UAW's bargaining resolution covers health care, group insurance, profit sharing, temporary work, work schedules, health and safety, non-discrimination, discipline and grievance, member orientation and veterans' issues.
In a few cases at small GM plants around Detroit, there's a third, even-lower wage tier. GM had threatened to move those jobs to Mexico. Williams vowed to kill that tier, too.
UAW "has a history of finding ways to what people perceive to be the impossible," Williams said of car company opposition.
Speaking to the conference on Mar. 24, Obama Labor Secretary Thomas Perez backed their cause and the importance of collective bargaining, not specific demands.
"The American auto industry has come roaring back. The president believed in you. He refused to heed the advice of those who said we should cut and run. He went all in, he bet on the American auto industry and the UAW, because he knew we had a winning hand," Perez declared. "The resilience of American workers and businesses, and the steady leadership of our president, carried us through to the other side of the worst economic crisis in generations. And now the wind is at our backs. But it's not time to spike the football.
"I'm not here to endorse specific contract provisions or to tell you what you should ask for at the bargaining table. I'm here simply to support the collective bargaining process. I'm here to support your right to have a voice. I'm here to support the notion that when we come together in good faith, we can reach agreements that benefit employers, workers and customers.
"This isn't about us versus them. There are companies that understand workers are an asset to be valued, rather than a cost to be minimized. They reject the notion they have to choose between their workers and their shareholders – they know that's a false choice. They know their employees are their partners in success. They recognize that collective bargaining isn't an exercise in doing whatever they can to deny worker gains, but rather an opportunity to come to mutually beneficial resolutions.
"Forward-looking employers know that investing in their human capital pays off in the long run," Perez said.
Photo: 2015 Collective Bargaining Convention, March 25 at Cobo Hall, Detroit. Facebook