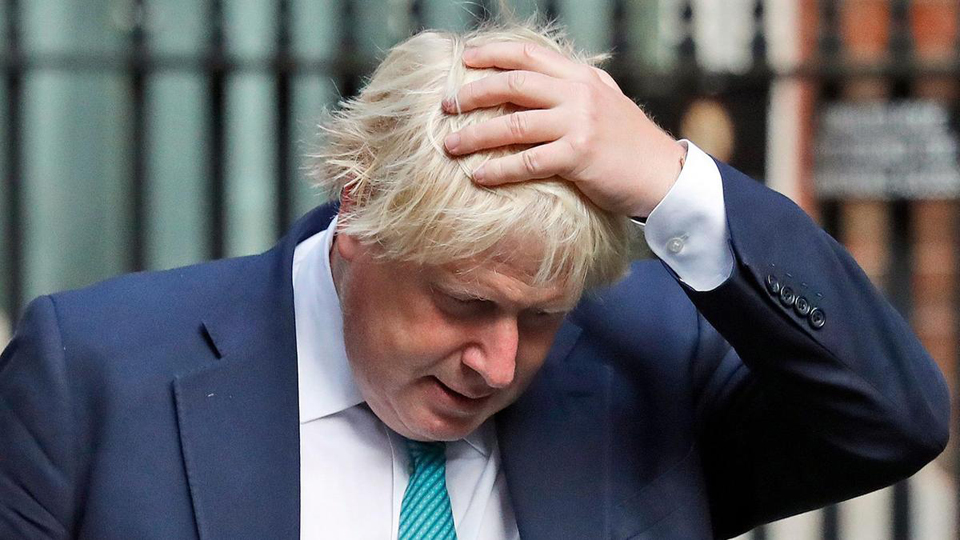 A sense of brevity is absent behind the iconic, six-paneled, Georgian style, front door of Number 10 Downing Street: The prime minister's office.
With only 23 days left before the U.K. is—once again—scheduled to depart from the European Union, the future of Brexit remains unclear. Voters are divided, political parties seem incapable of setting aside institutional ego for democracy's sake, and both London and Brussels are shimmying to avoid blame for another delay or chaotic no-deal Brexit.
Brexit negotiators launched ill-tempered barbs across the table Tuesday, indicating the chances of a Brexit deal materializing were fading fast.
The EU has accused Britain of playing a "stupid blame game" over Brexit, while German chancellor Angela Merkel made it clear a deal, based on the proposals presented by British prime minister Boris Johnson, is "overwhelmingly unlikely" unless Northern Ireland remains in a customs union with the EU
A statement from Downing St. said, "If this represents a newly established position, then it means a deal is essentially impossible not just now but ever."
"This is yet another cynical attempt by Number 10 to sabotage the negotiations," said Keir Starmer, the Labour Party's Shadow Secretary on Brexit. "Boris Johnson will never take responsibility for his failure to put forward a credible deal. His strategy from day one has been for a no-deal Brexit."
A spokesperson for the German chancellor confirmed the conversation between Merkel and Johnson but declined to comment further.
"Boris Johnson, what's at stake is not winning some stupid blame game," European Council President Tusk tweeted. "At stake is the future of Europe and the UK as well as the security and interests of our people. You don't want a deal, you don't want an extension, you don't want to revoke, quo vadis?"
Throughout Tuesday's negotiations, EU leaders demanded more "realism" from Britain in response to Johnson's proposed solution to the Irish backstop issue. The 27-country block said the proposals don't fulfill the U.K.'s commitment to a frictionless border between Northern Ireland and the Republic of Ireland.
Irish deputy prime minister Simon Coveney said it "was hard to disagree" with Tusk's earlier assessment of Johnson on Twitter, and that it reflected "frustration across EU and the enormity of what's at stake for us all."
Johnson, meanwhile, has urged the EU to compromise
Of course, based on the Conservative government's release of its detailed plans for a no-deal Brexit scenario, compromise is not expected nor wanted.
The "No Deal Readiness Report" shows significant government preparations while acknowledging its limits. Britain says it will attempt to keep goods flowing into the country by not immediately imposing border checks on EU imports, but acknowledged there will be new tariffs on 60 percent of British exports to the EU.
The report further outlined:
Signed or secured continuity Trade Agreements with non-EU countries, as well as continuity agreements across key sectors, including aviation, civil nuclear power, and trade.
Announced more than £4 billion for Brexit planning before 24 July 2019.
Recruited up to 1,000 new staff to help maintain security and support flows at the border.
Continued to work with the Scottish and Welsh Governments and, in the absence of an Executive in Northern Ireland, the Northern Ireland Civil Service, to make preparations for leaving without a deal.
There is a healthy dose of public skepticism that the U.K. will indeed leave on Oct. 31. With Parliament's passage of the Benn Act, Johnson will be forced to seek delay if no deal is agreed to by October 19.
Johnson says he will obey the law, but continues to say he will not ask for the delay—making it impossible to reconcile his conflicting sentiments.
It's clear Johnson's strategy will place blame solely on the EU, and the U.K. Parliament, allowing for his campaign to tout him as a champion of Brexit and the people in a general election likely to be called soon—a national vote is the only thing the government and opposition parties can agree on, and both believe it the only way to break the Brexit deadlock.
Parliament will be suspended at the end of business Tuesday, and a new session will begin with the Queen's speech Oct. 14.
Like free stuff? So do we. Here at People's World, we believe strongly in the mission of keeping the labor and democratic movements informed so they are prepared for the struggle. But we need your help. While our content is free for readers (something we are proud of) it takes money — a lot of it — to produce and cover the stories you see in our pages. Only you, our readers and supporters, can keep us going. Only you can make sure we keep the news that matters free of paywalls and advertisements. If you enjoy reading People's World and the stories we bring you, support our work by becoming a $5 monthly sustainer today.