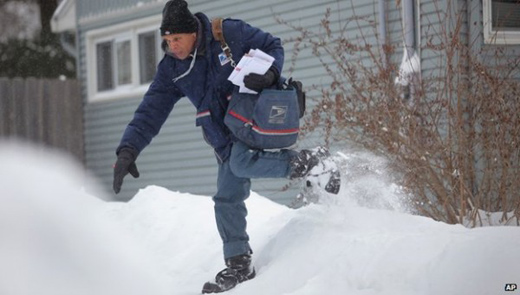 Today was nothing but slog. A complete burden not just on the body, but a spewing of my entire soul. A steady crunch-crunch-crunch with every footstep. It's that crunching that's driving me mad: I can't move my feet without that racket bouncing through my simple brain. The day started with a driving snow; two inches before the clock hands struck noon. The snow turned into needles of hail, then sleet. The icy crust of precipitation on top of the layer of thick snow created my hell for the day. With each insertion of my foot into this sludge it took an equal amount of labor to release my foot into the frosty air. The ground seemed to have demons reaching up with death-grip talons hell-bent on stopping me from completing my appointed rounds. The steady crunch ringing through my skull with each footstep was my squashing of another succubus hindering me from getting to the next mailbox. Damn you evil creatures, and damn this evil weather!
We get through these days; we letter carriers. The body keeps moving, but only because the mind stays focused. "Keep on playing those mind games." I imagine myself always on the next street, one step ahead of the game. I imagine riding the Great White Steed through the Florida Keys, maybe on the Seven Mile Bridge. I imagine having that first beer when I take off my layers of winter wear after coming home. I evoke the distant memory of only last night, when my best friend and retired letter carrier wife said, "Welcome home, baby!" I can have that again. But I got to keep moving through this slog.
I take this job seriously. I have a mission every day for my community. My coworkers feel the same way. Until my route is completed, I feel my job is not done. Tonight, I did not finish delivering the last mailbox till 6:50 pm. That does not make me happy, but the assignment was finished and everyone got their mail for the day. Our start time was moved from 7:30 to 8:00 am, which just makes my job harder. I want to deliver your mail as early in the day as possible. Some offices in our district have start times as late as 9:00 am. I guess that explains why the new postal caps have built-in headlights.
Another thing happened on Jan. 5 of this year with nary a peep from United States Postal Service (USPS) headquarters. Service standards for first class mail were "relaxed." That sounds soothing, doesn't it? Kinda like a massage. In the "old days" if you mailed a letter, let's say within a fifty-mile radius, it would get there overnight. A good example would be from a Detroit address to a suburban Detroit address. Now it takes two days. A letter that normally took two days, for example, from Cincinnati to Detroit, now takes three days.
The thought behind this from the Postal Service management is to "relax," i.e., delay the US mail so that the closure of 82 mail processing facilities can happen within the next year. The effect of these closures would be the loss of 15,000 jobs. But the loss of good paying "middle class" jobs is only the tip of this massive iceberg.
Ruth Goldway, Postal Regulatory Commissioner since 1998, criticized the latest service cut, which "threatens the very integrity and concept of Universal Service – the Postal Service's primary obligation…. Under the law, the Postal Service is required to give the highest consideration to the requirement for the most expeditious collection, transportation, and delivery of important letter mail." This is the reason letter carriers all across this land labor in all types of weather conditions to complete their appointed rounds six days a week. We want the American public to get their mail and parcels in a timely, efficient manner. No delays, no excuses.
Postal management is making a business decision to cut service on first class mail. They believe it will "save money." That is the elephant in the room. The United States Postal Service is moving more and more to a business model than a service to the American public. My supervisors and postmaster have been using the words "company" and "business" lately in my conversations with them in regards to the USPS. The word "service" is never emphasized by them, but We the People have a mechanism to shift the dialogue.
The American public needs to demand that the Postal Service remains a service that continues to serve the American people. Instead of a slash and burn approach to cutting services, the USPS could and should be expanding services to our communities. The greatest example would be establishing "public banks" in all post offices to help those who are excluded from participating in "for profit" banks. Many of these folks rely on predatory lenders who rob you not with a gun, but with a fountain pen. Our network expands into every street, in every city. We could do great things, if given the chance. And still deliver your mail!
The four postal unions formed an alliance last year to "Help Save America's Postal Service." We quickly realized that more was needed. In recent years we valiantly tried to frame our message to the American public, with limited success. We have staved off attempts to kill Saturday mail delivery and more recently door-to-door delivery. We tried to stop the "relaxing" of first class mail standards and the closure of mail processing facilities, but these policies seem to be moving forward. We have a Congress that is reluctant to address our issues and a president who at best seems indifferent to the plight of the public Postal Service. We are reaching out to each and every one of you now.
A grand alliance to save our public postal service
On the national level, close to 70 organizations have signed on to help in our mission: To preserve the United States Postal Service as a public trust, a national treasure that serves all citizens of our country equally. This public good must not be sacrificed for the sake of private investment and profit. The organizations now affiliated are not just labor unions, but community groups as well as faith-based, social justice, and environmental groups. We want to see small business associations, senior citizens' advocates, and Chambers of Commerce. We all have a stake in this battle!
When the unions fight this battle alone, it is seen as a war to save our jobs. This has never resonated with the majority of the American people, most of whom do not hold union jobs. That is why America has to see this struggle in a different light. That is why America has to know what can be lost here if we do nothing. If we don't fight back, if we don't lock arms and stand in solidarity, young and old, union and non-union, rich and poor, we will lose an American institution. Older than the Constitution itself, the Postal Service will become just another company.
And I will lose any motivation for climbing to your mailbox on a miserable winter day.
Sign the pledge today here.
Photo: AP