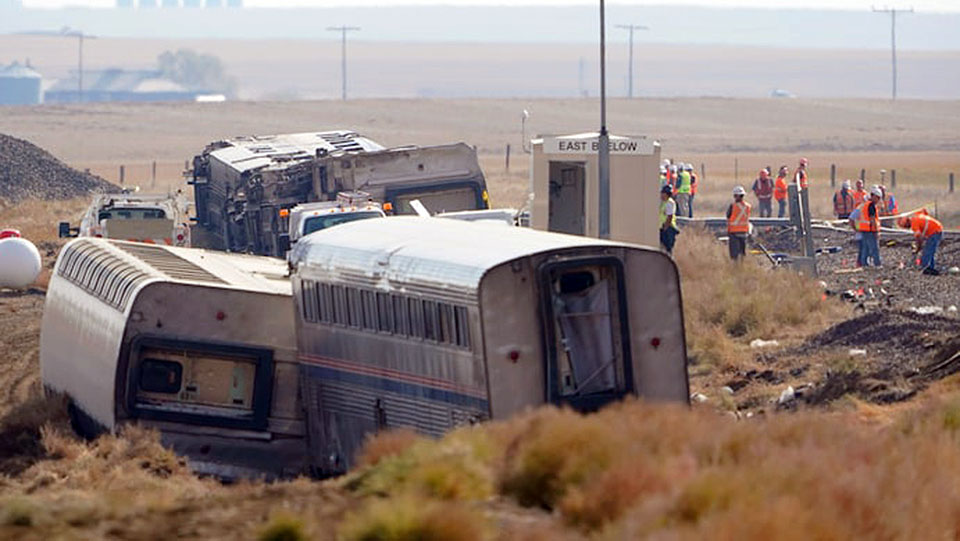 WASHINGTON —To worker cheers, the Federal Railroad Administration (FRA) proposed mandating two-person crews on U.S. freight railroads in almost all cases.
If the rule becomes final, rail unions, workers, and communities around freight rail lines would win with two-person crews almost always aboard freight trains to enhance safety. The exceptions are "Certain low-risk operations" and "circumstances where mitigating measures are in place to protect workers, the public, and the environment." FRA said.
The proposal also mandates where to station conductors on the extremely long freights that now run on the nation's railroads, thus improving coverage of each whole train.
Railroads could seek waivers of the two-person rule, FRA Administrator Amit Bose said, but they'd have to justify them by "a rigorous, thorough, and transparent risk assessment and hazard analysis." The public would get a comment period to object to the waivers, too.
And if a train has only one crewmember, or none, it couldn't transport "large amounts of certain hazardous materials," flammable liquids, such as oil, or hazardous liquids.
In all other cases, freight railroads, especially the big ones such as Burlington Northern Santa Fe (BNSF), CSX, the Union Pacific, and the Illinois Central, would have to obey and have an engineer and a conductor, at least, on every freight train, for safety's sake.
"For the past few years, our rail workers have worked hard to keep people and goods moving on our railroads, despite a global pandemic and supply chain challenges," Biden Administration Transportation Secretary Pete Buttigieg said. His department includes the FRA.
"This proposed rule will improve safety for America's rail passengers—and rail workers—across the country," his statement added.
FRA also said the two-person crew national rules "would also enhance safety nationwide by replacing the existing patchwork of state laws regarding crew size with a uniform national standard." Eight states, notably Illinois, the nation's rail hub, and Nevada, which most freight rail traffic for California traverses, now mandate two-person crews.
The two-person crew rule is designed to prevent another Lac Megantic disaster when the brakes failed on an oil train parked on a slope in Quebec while the lone crew member, the engineer, was not present. Then, Transport Canada did not require two-person crews.
In the crash, nine years ago, the train rolled downhill, gathered speed, jumped the tracks, and plowed into the city's downtown. The oil cars exploded, completely destroying it, killing 47 people—and highlighting how a second worker could have spotted the problem beforehand.
Railroad Workers United, the grass-roots group of rail workers from all crafts which has vocally campaigned and lobbied for two-person crews, responded with a "We like this rule but…" statement warning the freight rail bosses could find ways to manipulate the exceptions.
"We applaud the proposed rule" but "we have concerns the carriers will be able to exploit" its current form, "enabling them to operate numerous trains with a lone employee," said RWU Co-Chair Ross Grooters, a Brotherhood of Locomotive Engineers & Trainmen/ Teamsters Local 4778 member and a Union Pacific engineer from Des Moines, Iowa.
"We will encourage our members, railroad workers, and their families to utilize the public comment period between now and September 26"—the deadline for comments—"to make our concerns known. We want a strong two-person crew rule at least as definitive as what the various states have adopted legislatively," he said.
The first 44 commenters in the Federal Register unanimously approved two-person crews. Some were quite specific about why.
"As a railroad employee for the past 15 years, 11 of which have been as an engineer, I believe this rule should be in place no matter the type of train, and no matter the type of technology," James Estle wrote. "Operating a 10,000-foot and 20,000-ton train, sometimes on as little as two or three hours of sleep makes for a long day or night.
"Factor in having to talk to a work zone foreman or a signal maintainer, then having the dispatcher talking also, despite all the checks and balances, numbers can be crossed or missed, and a devastating event could occur. Having a second crew member in the leading locomotive to ensure things are done properly and by the rules is in the best interest of the public, employees, and the railroads.
"Things could turn disastrous in a heartbeat…In the event of locomotive issues, having a second person to monitor the radio while the engineer is trying to rectify the issue improves safety. The railroads preach safety, yet the railroading I have seen since I hired on has been reactionary rather than proactive."
Mikhail Milyavsky was even blunter. "The only reason the rail carriers want one-person crew size is so they don't have to pay that extra person," he wrote. "It also just benefits Wall Street and their shareholders.
"If the RR carriers cared about the country and economy they would invest their billions in profits into their employees for safer and smoother RR operations. But instead, they are increasing profits for their shareholders and leaving the employees in the dust."
Jason Doering, a Union Pacific worker and Smart-TD Local 1117 member in Las Vegas, said in RWU's statement that for six years, "momentum for minimum train crew size built up among the rank & file and the general public. No fewer than eight states have two-person minimum train crew laws on the books, while others are considering such legislation." Doering is RWU's General Secretary and his union's Nevada Legislative Director.