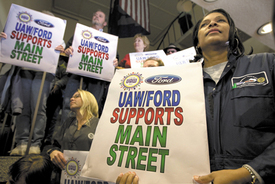 DETROIT — Gibraltar Trade Center in Taylor, Mich., stood to make a lot of money Dec. 12 with the scheduled appearance there of ex-Tiger pitching great and Hall of Famer Jim Bunning. Michigan residents were supposed to pay $35 apiece for Bunning's autographed baseballs.
But the whole plan fell apart when people realized that Bunning, now a Republican senator, conspired with his right-wing buddies to kill the auto loan. Hours before his scheduled appearance, Gibraltar management cancelled the gig, issuing a statement about how they could not, in good conscience, provide a forum to someone who had participated in an attack against the people of Michigan.
And that's how the killing of the auto loan is seen from here: an attack on the state and the whole Midwest.
Waking up in a cold sweat
Like many moms with daughters in elementary school, Jolyn Gismond is thinking hard about how she can give her family a good Christmas this year.
Her two daughters need new clothes and wouldn't mind getting things they probably don't need as much. "Maybe we can't afford everything they need. No, definitely we can't," she says.
Cities and towns in Michigan are filled with families, like the Gismonds, saying, "Not right now, not just yet" every passing day to all kinds of purchases. For them, the auto industry's survival will determine their survival.
They wake up at night, sweating over questions that intrude on their thoughts round the clock.
The Gismonds and many other families ask questions like these: "Now that the GOP senators killed the loan for the Big Three, will President Bush act? What if Ford or General Motors end up bankrupt? All of our friends are UAW. We help each other. What will we do if they cut us all?
"It's going to be bad even if loans to the Big Three are approved. Just how many more thousands of us will lose our jobs, no matter what kind of bailout they get? What would happen?"
"We have two kids," Jolyn said. "A lot of our friends have kids."
Bankruptcy could mean industrial wasteland
Deep down, they really know the answers to their questions. If the Big Three go bankrupt in just days or weeks, certainly no later than the beginning of January, there will be an avalanche of plant shutdowns and layoffs by automakers and suppliers that will, like a neutron bomb, turn Michigan and much of the Midwest into an industrial wasteland.
Many economists say the destruction won't stop until 3 million more people join the ranks of the unemployed. Many of those millions will have to prepare for foreclosure.
Regardless of whether the companies get a government loan, Chrysler LLC has already said it is closing 29 plants, laying off 53,000 workers and defaulting on $7 billion it owes to suppliers.
Detroit's hardship holiday
Jolyn's husband, Rich, is fourth generation UAW. He worked at the American Axle plant in Hamtramck. After a long strike earlier this year the company slashed positions by buying out a big chunk of the workforce, Rich included. Those who stayed on the job took a 50 percent pay cut – from $27 to $14. We couldn't afford that," Jolyn told the World during an interview Dec.12.
In the midst of what has become Detroit's "hardship holiday," she says the family isn't on the brink of disaster yet because "we paid off our equity with the buyout money but the good-paying auto job is gone forever." The family is worried because Rich is disabled now due to a severe back injury sustained while at work in the Hamtramck plant and the insurance company is now refusing to pay his medical bills. "Not exactly the life of an overpaid UAW family," Jolyn noted.
"We've cut back on everything. A trip we were dreaming about, home improvements and even Christmas presents have to wait. But there is a silver lining to that cloud. We've been able to sit down with our daughters and discuss with them how there are a lot of things more important than material goods and credit card purchases. They understand and we're closer than ever these days.
"What we really hated was having to face not having the annual Christmas party we have thrown for our friends. For 11 years now, 80 or more friends, almost all of them UAW, many for generations, look forward to that party."
Media myth: $72 an hour
Jolyn talked to the World a day after the $14-billion lifeline to Detroit's automakers was killed in the U.S. Senate by right-wing Republicans refusing to back down from their attempt to force wage concessions on the UAW by the end of next year. The UAW resisted the trashing of its current contract because, unlike the companies, it was the only party to the talks that was asked to make immediate concessions.
"Make sure you let everyone know we're not the $72 an hour greedy folks much of the media says we are," Jolyn said. She was referring to widespread acceptance by the media of the recent statement by a New York Times columnist that autoworkers make that much money and that they would have to give back a lot if the auto industry is to be saved.
The reality is that autoworkers get $28 an hour and that under the recently instituted two-tier wage system, new hires get only $14. Many autoworkers, including those at American Axle, have suffered 50 percent wage cuts to $14 an hour.
Republicans declare class war
All over Michigan people see the refusal by GOP senators to agree to an auto loan as an attempt to break the UAW and, along with it, destroy the entire labor movement.
"You don't think for one minute that they are really worried about $14 billion dollars when they just gave $700 billion to Wall Street with almost no strings attached, do you?" asked William Alford, president of UAW Local 235. His local represents American Axle workers at the Hamtramck plant where Rich Gismond worked before he was bought out.
Alford was interviewed by the World at the union hall near the plant. "The Republicans were firing a shot against the UAW," he said. "They are willing to see the American car companies die if that's what it takes to destroy this union. They see this as their last best chance to kill this union, stop the passage of the Employee Free Choice Act next year and then kill the labor movement all together. After Obama's election they are worried. Workers are getting stronger and more organized." The Republicans "don't want this so they'll do everything they can to stop us," Alford said.
At the Local 22 union hall in Detroit, Huck Atterberry, the benefits administrator, used even stronger language. "This is class war they have declared against us. People have to wise up. We are just the first domino. Their purpose is to knock down the entire labor movement."
He said that the nation needs to hold onto the industry and that it could easily be retooled to play a major part in production for improved mass transit systems across the country.
Atterberry's local represents workers who make the Cadillac and Buick Lucerne. It's the second largest local in the country representing GM workers.
"There's a lot at stake here," he said. "If you destroy the labor movement you also destroy what, in effect, constitutes the civil rights movement. When those layoffs hit, Black workers will get hit extra hard."
'What will I do if I lose my job?'
Only a day earlier, General Motors, which employs 96,000 workers at 47 plants in the United States, announced drastic cuts in both production and workforce. Twenty one plants will be on furlough for the month of January. The company admits it has already hired bankruptcy attorneys.
The Steelworkers union reports that, already, only nine of the 29 basic steel plants in the nation are operating.
Jane McDermott, an African-American worker leaving the Warren Truck plant at the end of her shift choked back tears as she told the World, "It's Christmas. I have kids. What will I do if I lose my job?"
Atterberry pointed out the importance of labor and civil rights unity and GOP efforts to divide these key forces. He described Sen. Richard Shelby (R-Ala.) and others who led the effort against the auto loan as "people who haven't stopped fighting the Civil War. The labor movement up north was a big part of the effort to help out in New Orleans after that hurricane. This is no way to pay us back. We have to come together as a nation to get through this thing."
It just may be that people are coming together in the way Atterberry hopes. Statements of solidarity and support for the UAW are coming in from all over the country.
Post-election hope, and a new (small) victory
And Jolyn Gismond says that "after the election we are hopeful. At first I voted for Obama because I felt he understood us better. Now, after seeing McCain vote against us after all his trips to auto plants, I am happier than ever that I made the right decision. Obama understands that we are not going to be bashed around anymore."
It's that working class resiliency and tenacity that get families of all colors and backgrounds through these tough times.
And on their annual Christmas party, Jolyn said, "We didn't have to cancel. The whole crew is coming together. Each one is bringing over food, drinks, dessert or whatever, so, economic storm or not, we're going to have our Christmas."