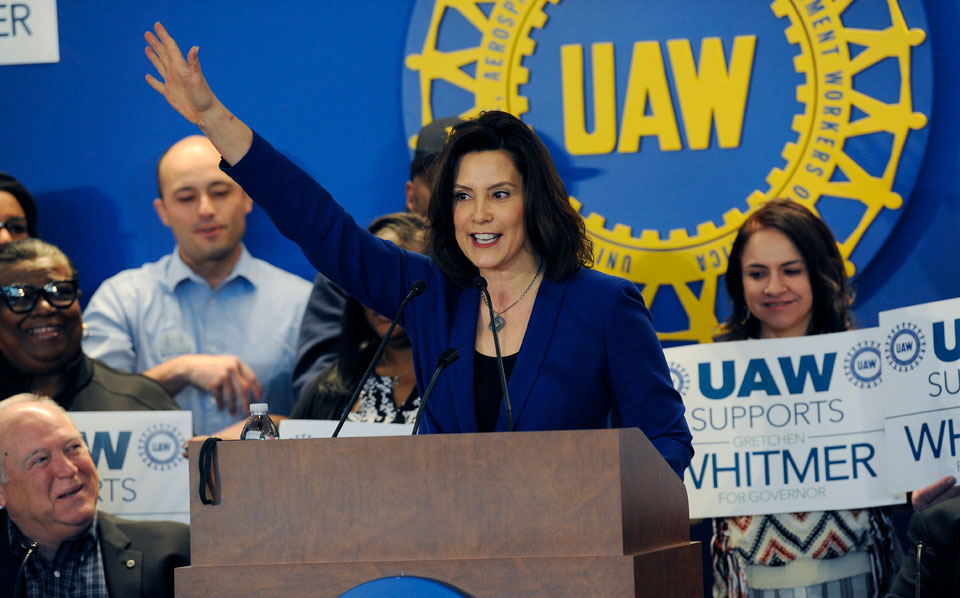 DETROIT—The battle lines are clearly drawn in statewide elections in Michigan. Working people are looking for a change. Eight years of Republican Gov. Rick Snyder has given us:
— "Right-to-work" legislation: Michigan, the home of the UAW, became a right-to-work state five years ago when Snyder and the Republican-controlled legislature orchestrated passage of "right-to-work" by adding it on to a spending bill. Pressure to pass right-to-work had come from the Koch brothers, who heavily funded Republican legislator candidate campaigns in the state.
— Elimination in June 2018 of the law requiring prevailing wage in public construction, i.e. roads and bridges. Michigan has some of the worst roads in the country; repairing them is a major source of jobs. Losing prevailing wage will turn over construction work to non-union contractors and force down wages.
— The criminal water crisis in Flint. Enabled by an act of the Legislature, the governor imposed an emergency manager in 2010 who took over management of the city of Flint. Employees of the Michigan Department of Environmental Quality lost their jobs and, in a "cost-cutting" move, the emergency manager diverted the heavily polluted Flint River to Flint's water supply, killing dozens of people and leaving thousands with long-term health problems.
— Reduction in funding for K-12 public schools by moving nearly $5 billion dollars from the education fund to other areas. Some funding went to private schools that went belly up mid-year, leaving parents and students hanging.— A tax on pensions which hit hardest on retirees on a fixed income.
Unions, however, are leading the fightback. In response to all this, they are highlighting the program of Gretchen Whitmer, Democratic candidate for governor and her lieutenant governor running mate, Garlin Gilchrist. It is a program that begins to meet the needs of working people.
In a mailing to UAW members, there is a picture of an outstretched hand and arm rising from a lake with the caption: "UAW families are DROWNING under anti-union 'Right-to-Work' laws." Whitmer and Michigan Democratic Sen. Debbie Stabenow both oppose "special interest-backed right-to-work" laws, the mailing points out. "CEOs make 361 times the pay of average workers, while workers in 'right-to-work' states make almost 14 percent less and the rate of workplace deaths is 41 percent higher." Whitmer calls for restoring the prevailing wage law in Michigan and eliminating the "retirement tax."
Another mailing to UAW members features a photo of an African-American woman autoworker with her statement: "I work hard on the job. My kids work hard at school. Who's working hard to give us a chance at a better life?" Inside the flyer, Whitmer and Gilchrist oppose school voucher schemes and call for full funding for Michigan schools, increased teacher pay, and investment in vocational education.
Whitmer and other Democratic congressional leaders have been hammering away at Republican efforts to eliminate provisions of the Affordable Healthcare Act that guarantee coverage for pre-existing conditions. Whitmer has also pledged to find a way to reduce Michigan residents' auto insurance rates, which are among the highest in the nation.
People are mobilizing. UAW phone banks and door-knocking are going on every day. Teachers have been out in force, also going door to door. SEIU has a special effort aimed at reaching people in Detroit who are registered but didn't vote two years ago.
In Michigan, it is the issues of economic justice that are driving the campaigns.
– A Detroit autoworker