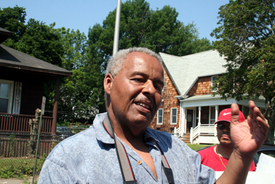 TAUNTON, Mass. — When Esterline Haskon Aerospace Corp. here tried to force members of United Electrical Workers Local 204 to pay huge, up-front health care deductibles, increased co-pays, and higher premiums during contract negotiations, the workers fought back. They held regular negotiating report sessions on all three shifts that lasted for more than an hour, they wore stickers and posted signs throughout the shop against management's proposal.
On Aug. 3 more than 100 workers and their supporters from the Greater Southeastern Massachusetts Labor Council, Massachusetts Jobs with Justice and other UE locals from Vermont and Salem, Mass., rallied in front of the shop. They learned from UE District 2 President Peter Knowlton that the company had changed its position and had put a new proposal on the table. Local 204 President John Fernandes emphasized, "When we stick together we win."
They were joined by Rep. Barney Frank (D-Mass.) who denounced the fact that workers in the U.S. are "producing more and more but getting less in benefits and wages."
Frank pointed out that the battles waged by the labor movement help people who aren't covered by union contracts. He challenged the corporations to join with unions and lawmakers in Congress who are fighting for a single-payer health system that will benefit every worker in this country, instead of joining with the present administration to put the brunt of the health care crisis on the back of workers with health savings accounts.
Frank also called for a pullout from Iraq, stating that the money saved would help fund this type of health plan as well as finance other needed programs.