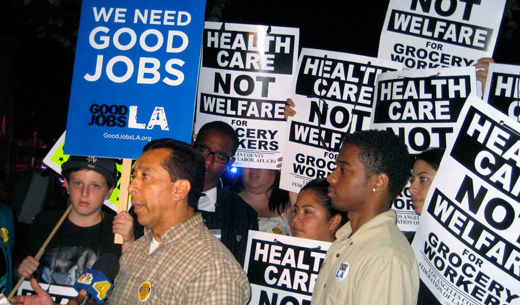 LOS ANGELES (PAI) – May 31 was a big day for the United Food and Commercial Workers in Southern California: Local unionists ratified a new contract with the area's big food chains, and Local 770 passed the 100-store organizing mark at CVS, adding 2,000 members.
The developments were welcome news to Ricardo Icaza, Local 770 president. His members were one of five locals that ratified new 2-year contracts with the grocers: Ralph's. Albertson's and Vons. The contracts cover an estimated 60,000 workers.
And when CVS signed a company neutrality (plus election) pact months before with the local, "They didn't expect us to be so successful" in organizing its workers, either, he said in an interview. Membership from CVS doubled within six months.
The wins are important not only because they increase UFCW's density in the Golden State, but also because they mark a notable change from past confrontations with the grocers. This year, with looming mergers involving Albertson's and Safeway – parent of one of the other two chains – management was anxious to reach a pact, he told PAI.
But uncertainty over which stores would stay and which would be sold restricted the contract to two years, not five. It also led the locals to bring federal mediators into a week of marathon round-the-clock talks that culminated in the new agreements, he said. And he met with state Attorney General Kamala Harris to discuss the merger's impact.
"We'd have to recover the hours lost" if the mergers occur and stores close, because fewer hours for workers the contract covers translates to lower revenues to fund health insurance, Icaza explained. "So I met with Harris about that. The agreement requires that any store that is sold will remain a union store."
The 2-year pact between the five UFCW locals and the three grocery chains includes "no cuts in pensions or health and welfare benefits," Icaza says. The grocers sought cuts. There were also "substantial increases" in compensation, including a 30-cents hourly raise in the contract's first year and a 25-cents-an-hour bonus in the second. "The members were really thrilled," he added.
An "In Unity There Is Strength" theme won the 100-store drive at CVS, Icaza said. Unionists from other CVS stores also campaigned among their Southern California colleagues.
"They told" the prospective members "how the current contract gave them substantial increases" in pay and benefits, he explained. The result was the huge increase in UFCW's membership at CVS stores since last August, when the drive had signed up around 50 stores.
"In this day and age, when it's so difficult to organize, that success" by his members "was remarkable," Icaza said.
Photo: cesinaction.org