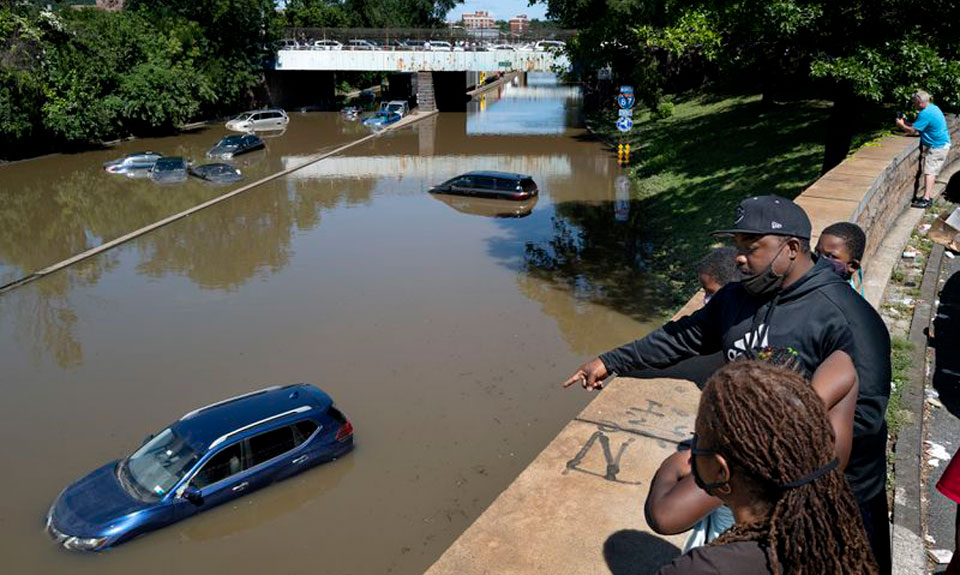 The planet is on track to warm by 2.7 degrees Celsius above pre-industrial levels if major emissions-slashing measures aren't taken soon. This was the finding of a new report by the UN Framework Convention on  Climate Change, and it's far beyond what level scientists say should be the acceptable limit of global warming. It's an increase that would mean rising oceans, vanishing permafrost, and homelessness and devastation for millions.
According to scientists, the planet needs to cut at least 45 percent of its greenhouse gas emissions by 2030 to reach carbon neutrality by the mid-21st century. However, under recent plans and commitments by 191 countries, emissions will only worsen, with an expected 16 percent increase in 2030 compared with 2010 levels, putting the globe on a path to warm by 2.7 degrees compared with the end of the 1800s.
"The world is on a catastrophic pathway," said UN Secretary-General Antonio Guterres. "This is breaking the promise made six years ago to pursue the 1.5-degree Celsius goal of the Paris Agreement. Failure to meet this goal will be measured in the massive loss of lives and livelihoods." He added via Twitter, "Unless there are immediate, rapid, and large-scale reductions in greenhouse gas emissions, we will be unable to limit global heating. There is no alternative if we are to achieve a safer, more sustainable, and prosperous future for all."
The UN report noted it had received 86 new plans for emissions reduction, called nationally determined contributions (or NDCs). Yet by the end of July, nearly as many nations had not come forward with their own strategies, with China and India among those that did not submit new plans, according to the Washington Post.
UN Climate Change executive secretary Patricia Espinosa called the possible 16 percent emissions increase "sobering," and remarked, "It is not enough, what we have on the table. It's a huge cause for concern. It is in sharp contrast with the calls by science for rapid, sustained, and large-scale emissions reductions to prevent the most severe climate consequences and suffering – especially of the most vulnerable – throughout the world."
The consequences of climate change have long since been right on our doorstep, with chaotic weather conditions in the U.S. only increasing in intensity. This year, Hurricane Ida exemplified that destruction, sending rainfall that caused massive flooding coursing through subways and streets. A failure to reduce emissions is directly tied to this; the sea absorbs over 90 percent of excess heat from greenhouse gas. As the earth heats up, the atmosphere contains more moisture, and with the exceedingly warm oceans feeding hurricanes, storms now have the potential for much more rainfall – during Ida alone, Manhattan's Central Park received 3.15 inches of rain under just an hour.
Alok Sharma, President of COP26, stated, "The [UN] report is clear. Ambitious climate action can avoid the most devastating effects of climate change, but only if all nations act together. Those nations which have submitted new climate plans are already bending the curve of emissions downwards by 2030. But without action from all countries, especially those with the biggest economies, these efforts risk being in vain."
The criticism of other nations' failure to take action is an important one, as 70 countries have still not put forth pledges to reduce emissions, while those submitted by countries including Russia, Brazil, and Mexico have weaker emissions targets than pledges they had put forward in previous years.
On Sept. 17 President Biden urged the leaders of other nations to sign onto the agreement to cut emissions by 2030, remarking, "Without adequate commitments from every nation in this room, the goal of limiting warming to 1.5 degrees slips through our hands, and that's a disaster." Hoping to build momentum ahead of an international summit on climate change in October, he added, "This is the decisive decade; the decade that we must make decisions to avoid the worst consequences of the climate crisis. This is a moral imperative, an economic imperative, a moment of peril, but also a moment of extraordinary possibilities."