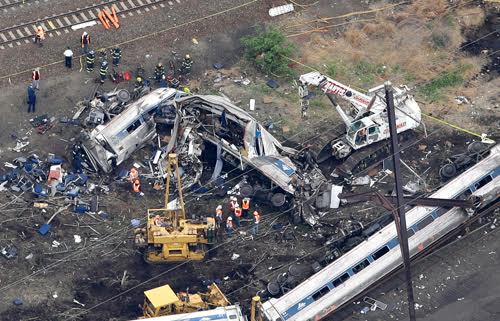 WASHINGTON (PAI) – Congressional underfunding of safety measures that would have slowed a speeding Amtrak train and the railroads' decisions to impose one-person crews on those passenger trains share the responsibility for the fatal Amtrak crash in North Philadelphia on May 12, the president of the union representing locomotive engineers told Congress.
At a June 2 House Transportation Committee hearing on the crash, Dennis Pierce, president of the Brotherhood of Locomotive Engineers & Trainmen, a Teamsters sector, cited those other factors – besides speed – in the crash. There's always a tendency to blame "human error," Pierce warned.
The accident saw the northeast bound train, traveling up to 106 mph around a curve marked for 50 mph, completely derail, killing eight passengers and injuring 200 more.
Christopher Hart, chairman of the National Transportation Safety Board – an impartial agency that investigates accidents – reiterated that the crash would have been avoided if Amtrak had installed an automatic Positive Train Control (PTC) system on that curve by the end of this year, as federal law mandates for all railroads.
PTC would have slowed the train soon enough, regardless of what the engineer did, to prevent it jumping the tracks, Hart said.
NTSB has campaigned for PTC systems nationwide for 45 years, but U.S. railroads, with the notable exceptions of Amtrak and Metrolink, a California commuter line, have not installed it. Some are resisting doing so, witnesses told the lawmakers. But one of the few Amtrak Northeast Corridor stretches that doesn't have PTC is that northeast bound curve. It will by year-end, Amtrak's president testified. The feds have ordered interim safety measures.
Lawmakers took no action on the safety issue, but several members of the House GOP majority, heeding demands of other railroads, have introduced legislation to delay nationwide PTC until 2020 or 2025. Pierce roundly denounced those efforts, saying they would harm passengers and crew members and penalize the two railroads that
Pierce said the Amtrak crash should raise questions about why railroads haven't installed PTC, why they want to cut down to one-person crews, questions about crew fatigue due to erratic scheduling, whether in-cab cameras would really help safety, and underfunding. And while high technology in U.S. locomotives is often used to save money, it comes at the expense of safety, Pierce said. When engineers object, the railroads discipline them.
"When I was a young locomotive engineer, the old timers used to tell me, 'If you think you need to use your emergency brakes to avoid a problem and don't do it immediately, you're already too late,'" Pierce said. "Today, I am convinced that preventable train accidents and incidents are occurring due to the fact that engineers have been trained under threat of discipline to never apply the emergency brake.
"When they do, even if it is to avoid an unsafe situation, engineers are routinely charged
with a violation of railroad policy. In other words, the foundation of today's operation leads to accidents in situations where they wouldn't have happened in the past.
Putting a second person in the cab with the engineer is an added measure to seek out hazards on the line and take effective action inside and outside the railroad cab, he noted.
And while NTSB hasn't raised the fatigue issue yet in the Amtrak crash, Pierce said fatigue could be a cause of prior rail accidents. "A typical workday for today's freight locomotive engineer consists of up to12 hours of monitoring and operating multiple train control systems, all the while doing his or her best to avoid the pitfalls presented by fuel saver and event recorder technologies, all of which distracts the engineer from focusing on the external environment in which the train is operating."
Commuter and passenger train engineers suffer similar distractions, he said.
"But Congress shares the blame for safety problems on the nation's railroads, both by letting Amtrak get away with 1-person crews – under a 33-year-old law that applied to Conrail – and by underfunding repairs, including PTC, Pierce said.
"Amtrak was forced to prioritize ATC installation the way it did because the railroad did not have sufficient resources to implement ATC on a faster scale, including financial resources," Pierce chided legislators.
"Did the decision to not appropriate sufficient funding to implement ATC on a faster scale constitute a human error that contributed to the accident? Our attention is currently focused on the engineer's actions or inactions on May 12. While those may have been the last link in a chain of events leading to the tragedy, they are far from being the only link.
"All U.S. transportation modes are federally supported but – relatively speaking – passenger rail receives crumbs. When compared to the rest of the world, federal support for Amtrak in the #1 economic power on the globe is nothing less than shameful. Last year, 5.8 percent of China's government spending was on rail, and one-half of one percent of the U.K.'s spending was on rail. The U.S. share? A minuscule three one-hundredths of one percent.
"We cannot continue to demand that Amtrak operate a first-class railroad while at the same time funding it at Third World levels. We cannot expect reliable performance from the portions of the Northeast Corridor infrastructure that are 75…or 100…or 125 years old. And we shouldn't turn our noses up at a transportation mode that pays 85 percent of operating costs out of the fare box because of a retreat by some from the consensus in favor of federal support of transportation.
"It strains our collective memory to think of a case where we attack a problem by defunding it when we want a positive outcome. Programs or institutions defunded by Congress are defunded for one reason and one reason alone: so that they wither on the vine and die….Some things do come down to dollars and cents, at least for Amtrak," Pierce said.
Photo: In this aerial photo, emergency personnel work at the scene of the deadly Amtrak train wreck, May 13, in Philadelphia. | Patrick Semansky/AP