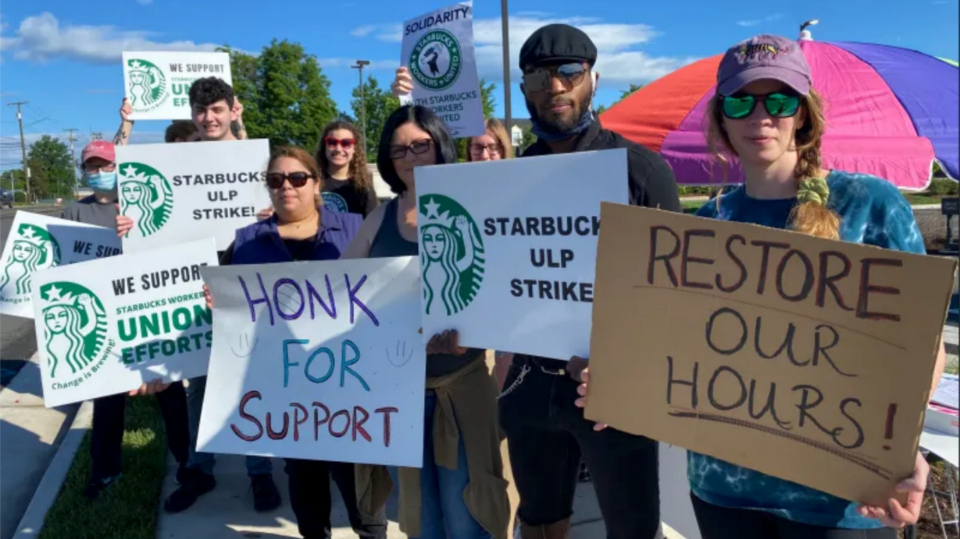 Across the country and in every industry imaginable, workers are getting together and forming unions to fight for a better future on the job. Employers are responding with a variety of union-busting strategies to keep workers divided. One tactic bosses use is cutting labor hours in the hopes of starving out workers so that they will either give up on the union or quit their jobs. That's exactly what's happening at a Starbucks coffee shop in Leesburg, Va. Workers there voted to go union and almost immediately started experiencing what they see as retaliation. People's World correspondent Joel Cornell interviewed three workers at the Leesburg store who are leading the unionization drive. He talked with them on the picket line during a strike on May 28. Among the groups showing their solidarity were the Northern Virginia Federation of Labor (AFL-CIO) and its president, Virginia Diamon, and the Northern Virginia Communist Party.
Joel Cornell, People's World: So tell me, what led to this strike?
Stephanie Jackson: In February our [collective] hours were cut by 100 hours—that was the start of union-busting at our store. Then the manager who cut the hours was gone, but now we have a new temporary manager. She came in and cut our hours again by another hundred hours, saying that our store is overstaffed and we need to earn our hours back.
We've emergency-closed several times for being understaffed. We're constantly having to turn off mobile [orders], close the cafe, or close the drive-thru just to be able to function in our store. But they're continuing to say we're overstaffed and over-scheduled.
I've gone personally from 40 hours [per week] to 20 hours. I know plenty of people have lost similar amounts of hours. A lot of partners are going to be ineligible for benefits from the cut hours. Our store hasn't been deep-cleaned since February because they cut all of our cleaning hours. Our new manager has hardly even been in our store.
Richard Griffith: She's come a few times, but there's no sense that there's an actual manager. She's temporary, she's running two other stores. We don't have someone who can actually commit time to managing the store, so it's impossible to do an effective job.
And we reach out, we've had the supervisors (of which there are four, I'm one of them) have meetings with the district manager and the temporary store manager. When I ask about the cut hours, I was told we need to get things back up and running first before that happens, and that's just not possible. We need to invest in labor for things to improve because we can't run the store on this skeleton crew that they're trying to run it on.
Stephanie: They told us we had to earn our hours back, and by "earning our hours" is having all modes of operation open in the store. We are unable to do that because we are understaffed and our hours have been cut so badly. We're constantly having to close. So it's kind of ridiculous to say we have to "earn our hours."
Jaimee Brooks: Meanwhile, they're shutting off mobile [orders] at the stores around us to put more pressure on us, because we get all that business.
People's World: And this is in response to organizing?
Jaimee: Yep, that's what we believe. It really feels like they're trying to put us through such bad working conditions that we all quit, it really feels like that.
Stephanie: When I asked my temporary manager the other day why my hours were cut, and I told her it felt like retaliation against me, she said, and I quote, "This schedule was made before any retaliation or anything like that happened."
People's World: So there is retaliation?
Stephanie: Yes, there is.
Jaimee: Absolutely.
People's World: How many hours have each of you lost?
Stephanie: I've personally been cut 20 hours.
Jaimee: I was cut 15 hours.
Richard: 10 hours.
People's World: Do you guys have a strike fund?
Richard: We have a GoFundMe strike fund set up. We're looking to post that wherever we can.
People's World: What are the best ways neighbors and customers can help?
Richard: Coming by and just vocalizing your support. Donate to the GoFundMe, financial support is good. Call Starbucks corporate.
Stephanie: Tell them we want to restore our hours. Tell them to sign the fair election process.
Richard: Complain to corporate in any way you can. Tell them to stop union-busting. Tell them to actually be fair and to try and bargain with us. We voted to unionize, but now they're stalling. Now they're trying to dissuade us. They're trying to make us quit.
Stephanie: It feels like they want us all to quit so they can bring in new people.
Janette and TN Long contributed to this interview.
An earlier version of this interview was published here.