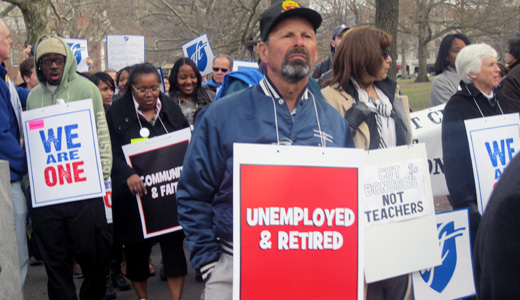 Republicans in the U.S. House of Representatives and in a number of states are out to kill, or at least cripple, unemployment insurance.
The House Ways and Means Committee passed a bill that allows states to take unemployment insurance funds away from jobless workers and use them to repay federal loans instead. If enacted, the bill will break the agreement Republicans made last December, when they agreed to an additional year of extended unemployment benefits in return for two years of tax cuts for the rich. The Republican sponsors of this attack on unemployed workers call it the JOBS Act.
In Utah more than 20,000 unemployed workers will lose benefits, because the legislature refused to enact an additional 13 weeks of extended unemployment benefits – benefits that would have been paid for by the federal government.
In Michigan, whose unemployment rate of 10.3% is among the highest in the nation, state-funded benefits (regular unemployment) will be reduced from 26 weeks to 20 weeks beginning next January. In each case, the savings will go to cut taxes on business. Arkansas and Missouri have passed similar laws.
Florida's legislature is moving forward with a combination of the Utah and Michigan actions-cutting regular benefits by 6 weeks, and cutting extended benefits by 13 weeks. At the same time, Republican Governor Rick Scott plans to cut corporate taxes by $700 billion Florida is one of two states with higher unemployment than Michigan.
Florida, Michigan, Utah, Arkansas and Missouri have the most extreme response (so far). But most states are facing a problem with unemployment insurance. Regular unemployment (the first six months of benefits) is paid for by state funds, financed by a small tax on employers. When unemployment was lower, business lobbied successfully to keep the tax low, so the unemployment insurance funds couldn't build up large reserves But the deep, long recession – the worst since the 1930's – quickly wiped out the funds and forced states to borrow from the federal government to continue paying benefits. The recession has gone on so long that states are required to start repaying those loans – even while high unemployment rates continue.
The Republican response is to make the unemployed pay for the crisis – by cutting state-paid benefits and by using funds earmarked for federal benefits to pay down the states' debts.
There are better ways. Sens. Dick Durbin (D-IL), Jack Reed (D-RI) and Sherrod Brown (D-OH) introduced a bill to relieve states of Unemployment Fund interest payments and avoid raising UI taxes on employers Representatives Barbara Lee (D-CA) and Bobby Scott (D-VA) introduced a bill to add an additional 14 weeks of extended, federally-funded benefits More fundamentally, the Center for American Progress has a comprehensive proposal for unemployment insurance reform that would provide for a larger federal role for funding UI in times of high unemployment, and mandate more consistency (and improvement) of benefit levels and eligibility rules across states. A Center on Budget and Policy Priorities study shows that the UI funds can be rebuilt while maintaining benefit levels, and without adding to the deficit.
The GOP leadership that controls the House of Representatives and the majority of state governments are not interested in these solutions. They are taking money from the unemployed to pay for tax cuts for business. But it's not just about tax cuts.
In Utah and Florida, they are throwing people off compensation even when those benefits are fully paid by the federal government. So the motive couldn't be saving money for state businesses. In fact, this will hurt local businesses. In addition to causing hardship to the families of the unemployed, many of whom will lose their homes or their cars, local businesses will lose customers.
Federal funds used for unemployment benefits are spent immediately in the recipient's community – for food, gas, utilities, rent, mortgage payment, taxes. These all strengthen the local economy (and help keep other people employed). It doesn't seem to make any sense for a state to turn down federal funds for unemployment benefits.
Why do they do it?
"People need to be weaned off of the government paying for everything," according to Utah Senate President Michael Waddoups, who added that denying unemployment benefits "is a motivation for people to get back to work." (Quoted in the Desert News).
This has become standard fare for the tea-party wing of the Republicans. Over a year ago, Sen. Jon Kyle (R-AZ) argued that "Continuing to pay people unemployment compensation is a disincentive for them to seek new work."
Average unemployment benefits are less than $300 per week, and at best are half of a worker's wage. With at least 5 job seekers for every job opening, the unemployed don't need "motivation" – they need jobs. Ultra-right commentator Glenn Beck replies, "Go out and get a job. You may not want the job. Work at McDonald's. Work two jobs."
That's the point. McDonald's hired 62,000 people in April, after receiving more than a million applications. Years ago, McDonald's had to run TV ads recruiting retirees to fill vacant positions. Now they issue a press release to announce job openings, and they get 20 applicants for every part-time, low-wage job.
The attacks on unemployment insurance, like the recent federal spending cuts including heating assistance and community block grants, are not primarily about deficits or saving money. The effect of these actions is to make all workers – starting with the unemployed – so desperate that they will work for McDonald's wages and be thankful for the chance.
But the upsurge this year in Wisconsin and around the country shows that the working class is fighting back. There is a growing consciousness that attacks on one group -unemployed, union workers, retirees, students, public workers – is an attack on the whole working class.
When the Great Depression began in 1929, there was no unemployment insurance, and millions of working class families suffered and even died. But jobless workers fought back – they organized, marched, and voted. They won unemployment insurance, large-scale federal jobs programs, and union rights, and laid the basis for three decades of rising living standards. The same formula – unite, organize, fight back in the streets and at the ballot box – can win today.
Photo: Signs at the March 30 "We Are One" Rally in New Haven emphasized the unity of all parts of the labor-community coalition, including unemployed workers. Art Perlo/PW