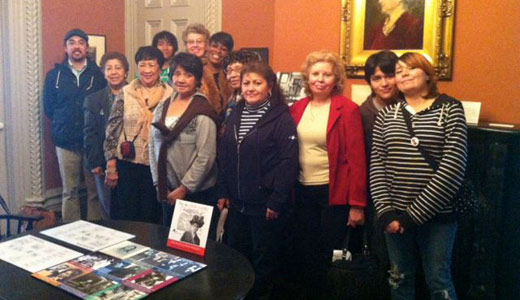 CHICAGO – She needed a notebook more than food. It would save her sanity and soul.
The notebook and the story behind it is just one artifact in a unique exhibit here at the Jane Addams Hull-House Museum entitled, "Unfinished Business: 21st Century Home Economics."
The exhibit is about – and by – domestic workers and caregivers. The notebook on display is a simple composition book you can buy at any grocery store. But the writer, Myrla Baldonado, and her experience are anything but simple.
Her multi-layered story of providing crucial, daily and tender care to an aging couple, while living on low wages and in tough conditions, could be repeated by millions. There are 2.5 million domestic workers in the United States.
"Unfinished Business" attempts to tell the complicated and true stories of those who toil so others can toil elsewhere (usually for much better pay) by means of carefully chosen "artifacts" each of which represent a worker's experience, coupled with the story behind it in that same worker's words. A bath sponge, a photo album and a foreclosure notice are some of the artifacts that line the exhibit's wall.
The stories of these women – and yes caregivers/domestic workers are almost always women, usually women of color and/or immigrants – are often complex. That is particularly so on the emotional level, when they are entrusted to care for children or grandmother, are considered in many cases part of the family, yet struggle with their own family issues and most of the time, financial problems.
Other parts of their stories seem straightforward – and simple – like better, liveable wages. But achieving their hopes and dreams is not: "Fair pay for domestic work. Access to safe and healthy food. Childcare for all. Urban gardens. Community kitchens and laundries," are some of those listed in the description of the exhibit.
Caregiving doesn't happen just in homes. One of the women depicted, Julia O'Grady, makes it her business to provide safe and healthy food to the students of the Academy for Global Citizenship, a public charter school here. O'Grady is the school's lunchroom manager. Under her life-size photo is her quote, "I don't like when people call me lunch lady." An audio recording of her caregiving experience at the school shows a more complicated portrait of what her job entails than the reductive "lunch lady" would imply. O'Grady organizes healthy lunches from organic and locally-grown food and serves it to children some of whom are more familiar with eating fast food hamburgers and french fries every day than home-cooked broccoli or sweet potato fries. O'Grady educates the children and their families on why they should eat healthy.
Museum exhibits rarely happen without a larger purpose, especially at a museum that prides itself on keeping alive the history of the most radical reform movements and one of those movement's best known leader, Jane Addams. "Unfinished Business" is part of a nationwide movement of domestic workers, who are demanding that their work be recognized, that they are entitled to rights and that they need livable wages, health care and safe working conditions.
Coming on the heels of the 2010 New York passage of a domestic workers bill of rights, domestic workers groups joined together to create a national survey that would delve into the issues and composition of this often-invisible industry. Some 2,100 nannies, caregivers, housecleaners, etc., in 14 metropolitan areas and in nine languages responded. Those surveys are stacked in piles on the floor of the exhibit.
Peoplesworld.org reporter Marilyn Bechtel summarized the findings published in a groundbreaking report, "Home Economics: The Invisible and Unregulated World of Domestic Work," released by the National Domestic Workers Alliance on Nov. 27. Read the article here.
In Illinois, a coalition of groups that includes Latino Union, SEIU and Jobs with Justice is working to get a domestic workers bill of rights introduced into the upcoming state legislative session. Most labor laws exclude domestic workers from their purview.
"Unfinished Business" opened Dec. 10, International Human Rights Day, and is ongoing. Immediately after the opening, Latino Union hosted a celebration of women's rights in honor of the day and the exhibit. Speeches, food and traditional Filipino music were among the program highlights. Café Chicago, a fair trade worker cooperative, showed a brief documentary clip about the Nicaraguan women who organized an association that provides the cooperative with the coffee, showing how the work improves their lives in the process.
Photo: Latino Union domestic worker activists pose in front of a portrait of Jane Addams, one of the Hull House's founders. Few know that a domestic worker named Mary Keyser was also a founder along with Ellen Gates Starr. (Latino Union/FB)