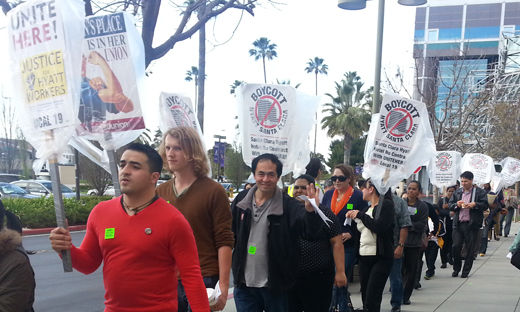 SANTA CLARA, Calif. – Cries of "No justice, no peace" and "Escucha, escucha, estamos en la lucha!" rang out across the front entrance of the Hyatt Santa Clara April 4 as around 200 workers and community members rallied to protest the Hyatt Corporation's union busting and other abuse of workers.
The rally was one of a series of actions at Hyatt hotels throughout the San Francisco Bay area.
Unite Here Local 19, which sponsored the protest, has been struggling for union recognition at the Hyatt Santa Clara for four years. The hotel has a long history of harrassing union supporters and workers in general. Among the abuses reported are arbitrary firings, including the firing two years ago of two women for protesting bikini pictures posted with workers' faces pasted on them in the hotel.
Just this past week, union supporter Felipe Parga was fired on trumped-up charges of violating company policy. Maritza Wong, who has worked as a banquet server at the Hyatt for six years, told this reporter that managers often follow union supporters around as they do their work. Since coming out in support of the union, she said, the hours of work she gets have been sharply curtailed. Her husband, Daniel, a banquet server for 12 years, has also been harrassed.
Maritza Wong spoke out in front of the entire rally in support of the union's "Someone Like Me" campaign. It is a full fledged effort to put a worker representative on Hyatt's board of directors: "Someone like me needs to be on the Board of Directors, so someone like me can speak out" for workers' concerns.
Cathy Youngblood, a Hyatt housekeeper in Los Angeles who is leading the national "Someone Like Me" campaign, captured the spirit of the rally when she said, "We're going to get our justice. It's a long fight but we are going to win. If we stick together we can get what we want." She recalled the victories of the civil rights movement, won with strong labor support. "You have power when you speak back," she told the crowd.
The rally drew an impressive number of community supporters. Fr. Bill Leininger, a retired Roman Catholic priest, and the Rev. John Fresemann, a Lutheran pastor, joined the action as members of the local Interfaith Committee for Economic Justice. When I asked Fr. Bill what moved him to come, he said, "The justice dimension of religion has been my primary focus for fifty years. I walked with Cesar [Chavez]. I've been with the unions for a long time."
The Hyatt workers appear to have that kind of long-term determination. To loud cheers, Kathy Youngblood gave it voice: "If you see a good fight, get in it!"
Photo: Henry Millstein/PW