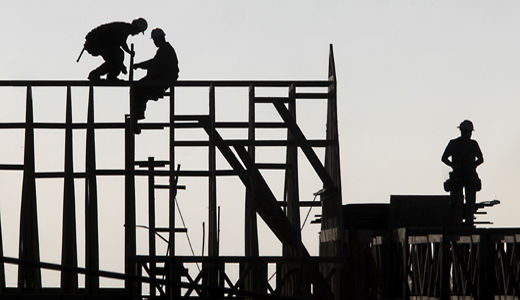 Midterm elections are next week and union construction jobs are up for grabs in California. Nonunion building contractors in the state, hungry for a bigger share of public sector projects in the wake of the building bust, have taken their fight with labor to the ballot box.
San Diego County residents will be voting in November on a county ballot measure banning Project Labor Agreements (PLA), after voters in Chula Vista and Oceanside earlier this year approved measures barring the cities from adopting similar union required construction projects.
Jennifer Badgley, political director of the International Brotherhood of Electrical Workers Local 569 in San Diego, said the local ordinances are a "blow that will reverberate across the nation," according to the North County Times.
The measure was put up by a majority of the county's board of supervisors and would bar PLA agreements in county projects.
The supervisors' ballot initiative would not affect project labor agreements required by federal or state law, or in construction projects receiving federal or state funding.
One of President Obama's first acts in office was to repeal a ban on project labor agreements in federal contracts that had been enacted by former President George W. Bush.
Under the PLAs, project owners – in the private or public sectors – negotiate with unions first to set rules on benefits, hours and other matters before contractors can bid for the work in exchange for which the unions agree not to strike or disrupt the work.
The agreements require that workers be hired through the union hiring hall, regardless of whether the contractor is union or non-union, and that all workers join the union and pay union dues during the project.
It is estimated that nationally construction projects totaling $100 billion have come under PLAs in the past two years.
Some 24 percent of California's 543,000 construction workers are unionized, but on projects with PLAs 75 percent are, the New York Times reported.
"They're good for the workers because they guarantee that everyone has health and pension coverage," said Tom Lemmon, union Business Manager of the San Diego Building and Construction Trades Council.
Contractors fighting the PLAs often do not provide benefits and workers' compensation coverage, in violation of state law.
If voters approve the county measure, the nonunion Associated Builders and Contractors says it plans to promote similar bans across the state and eventually the nation.
For both sides the stakes couldn't be higher.
On top of the housing bust, nonresidential construction in California has fallen by 33 percent from its peak in 2006 resulting in a loss of 400,000 construction jobs, according to the NY Times.
Photo: Workers are seen on the frame of a building under construction in Folsom, Calif. Rich Pedroncelli/AP