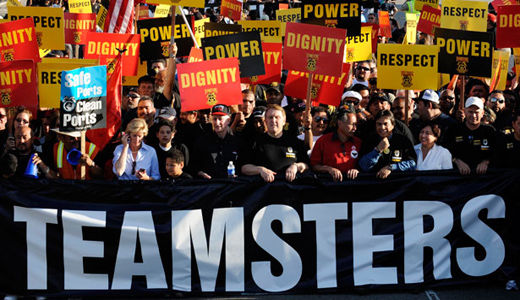 Rank and file members of the International Brotherhood of Teamsters have ensured that their right to vote for International Union officers will be protected under fair rules in independently supervised elections.
The International Union and the U.S. Attorney's office, after months of negotiations, agreed on Wednesday, January 15, 2015, to a joint proposal for the transition to new procedures when monitoring and investigating internal union corruption and the elections of International Union officers. The Settlement agreement summary, filed in the U.S. District Court for the Southern District of New York, will be reviewed by Chief Judge Loretta A. Preska. With an initial hearing scheduled for February 11, 2015.
The joint proposal is the end result of a national campaign launched by Teamsters for a Democratic Union, a rank and file organization, and union members in response to the Hoffa Administration's efforts last year to dissolve the Independent Review Board and end fair election standards by returning voting power to Convention Delegates.
For the Teamsters this action marks another step members have taken to move their union away from its sordid past and towards a powerful democratic future.
Highlights of the Settlement agreement:
– The 2016 and 2021 IBT elections will be conducted under the same rules, independent supervision and procedures as 2011, with the improvement that all candidates will be entitled to a free mailing to the entire membership.
– Through 2021 a candidate for International Union office can be nominated by a vote of five percent of Convention delegates. Beginning in 2026, the threshold for nominating candidates can be changed by a vote of the delegates at the Teamster Convention.
– The Independent Review Board will continue for another year from the date the judge signs the order. Following that, the IRB's anti-corruption functions will be assumed by an Independent Investigations Officer and Independent Review Officer who are jointly-appointed by the U.S. Attorney and the Union. Five years from now, the IBT will assume the sole authority to appoint these officers.
– The government will retain the power to enforce the settlement agreement if it shows by a preponderance of evidence the agreement has been violated. The anti-corruption injunctions of the consent order are made permanent.
Photo: Kevork Djansezian/AP