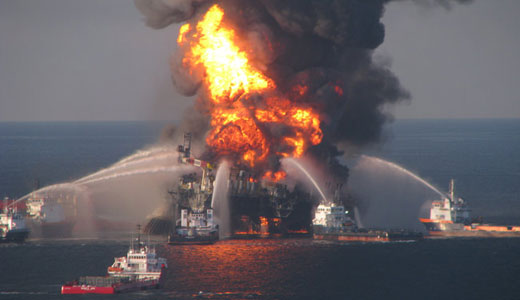 PITTSBURGH – The head of the nation's unionized oil industry workers, Steelworkers Vice President Gary Beevers, hopes the record fine and criminal charge pleas by British Petroleum will finally force the oil industry to take safety seriously.
Whether his hope plays out successfully or not will be seen in coming months and years, as other oil companies react to the $4 billion fine that BP will pay and the 11 guilty pleas to counts of felony manslaughter it agreed to in federal court in New Orleans in late January.
"Hopefully this judgment and the others levied against BP will prove to be a deterrent to other refiners that ignore signs of safety problems in favor of production and profits. BP executives got off easy, however," Beevers said.
"The executives in charge at the time of the spill should serve prison terms because their actions and decisions set the stage for this disaster to occur. If CEOs were held accountable when their decisions and actions caused worker deaths, maybe we'd see corporations pay better attention and give priority to safety."
The Justice Department and BP agreed to the settlement. The fine was for damage from the massive Deepwater Horizon oil rig explosion, fire, blowout, and huge oil spill in the Gulf of Mexico in 2010. The manslaughter charges cover each worker who died in the blast. Two BP supervisors still face manslaughter charges.
The Deepwater Horizon disaster is only BP's latest instance of short-changing safety. The explosion several years ago at its Texas City, Texas refinery killed 15 people, injured more than 100 more and caused millions of dollars in damage. It also exposed BP's culture of disregard of safety – a culture Beevers has found in contract negotiations with the nation's oil industry and its lobbyists, not just individual oil firms.
Photo: The Deepwater Horizon oilrig, where 11 workers died in 2010. U.S. Coast Guard/AP