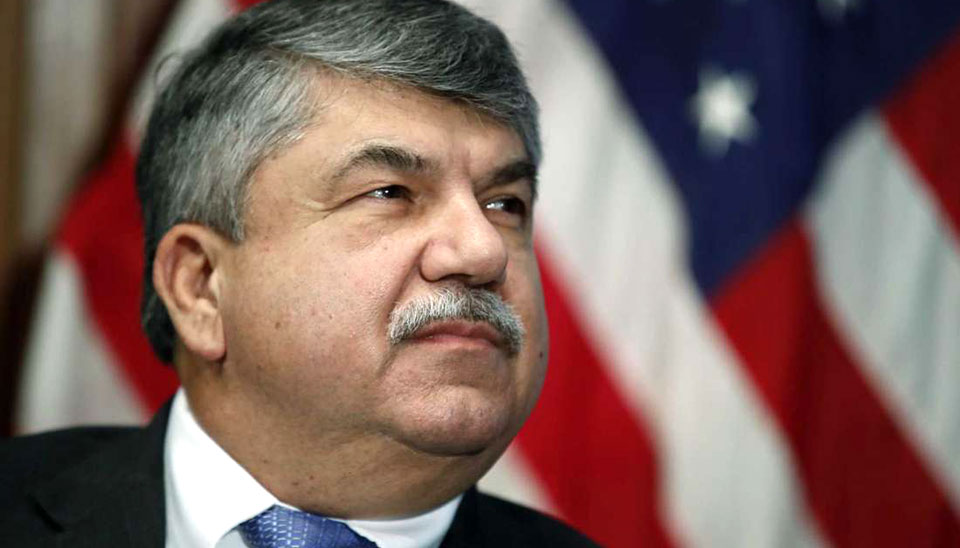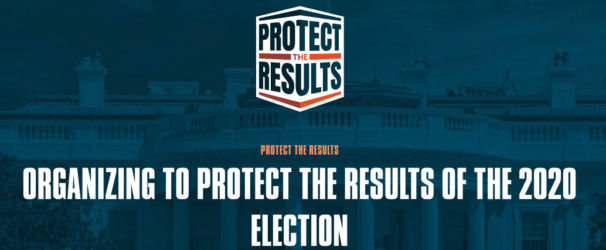 When it comes to workers' reaction to the outcome of the 2020 election, where you stand seems to depend on where you sit.
If you're a national union leader, such as AFL-CIO President Richard Trumka, Communications Workers President Chris Shelton, Teachers President Randi Weingarten—-beforehand—-and Office and Professional Employees President Richard Lanigan, you demand states count every vote.
If the votes aren't counted, unionists will hit the streets, peacefully, they promised, with demonstrations in Chicago, D.C., New York City, Albany, N.Y., Los Angeles, and elsewhere.
"Democracy is rising in America. Despite the worst pandemic in a century, voters came out in record numbers to exercise our rights as citizens, and now those ballots must be counted," Trumka declared.
And if you're a national union leader, you look forward to a pro-worker president, Democratic nominee Joe Biden, in the White House, replacing union-hating worker-hating GOPer Donald Trump. But you also didn't mention that Biden has only a slim chance for a Democratic pro-worker majority in the U.S. Senate next year.
But if you're eight Chicago unions—-including the city's Teachers, AFT Local 1—-you hit the streets and, if necessary, you call for a general strike if Trump tries a coup. That follows the prior demand for a general strike that started in mid-October, from the Rochester, N.Y., Central Labor Council, and spread to Seattle and western Massachusetts.
The varied reactions to the election's results came as votes kept coming in the day after the Nov. 3 balloting. Delayed counting of mailed-in ballots apparently swung two up-for-grabs states, Michigan and Wisconsin, to Biden and away from Trump. They also gave Biden, vice president under Trump's predecessor, Barack Obama, a widening popular vote lead of over 3 million votes and growing over the divisive, racist and anti-worker incumbent.
"As we said in our statement with business and faith leaders today, this is a moment 'to exercise patience with the process and trust in our system, even if it requires more time than usual,'" Trumka explained.
Trumka is convinced Biden will win. The former VP's "growing national lead reflects a country ready to turn the page on the dysfunction and division of the Trump era, and we are confident that when all the votes are counted, the Electoral College will render the same verdict."
It hasn't yet. As of midday on Nov. 4, Biden had taken narrow popular vote leads in Wisconsin and Michigan, with hundreds of thousands of mail-in ballots, especially in Detroit and Wayne County, yet to be counted—and federal Judge Emmet Sullivan in D.C., hauling Postal Service officials into court to explain what happened and why.
Meanwhile, Biden won swing state Arizona, but his lead in Nevada was smaller than expected, and counting Pennsylvania may take through the entire week. If he wins Nevada he will not need Pennsylvania, North Carolina, or Georgia, the other states still counting to reach the magic electoral vote number of 270.
"In the days to come, America's labor movement will defend our democratic republic and ensure our next president will be the person who is the choice of the citizens of the United States," Trumka concluded.
Other union leaders had similar reactions:
Even before the election, the nation's largest union, the independent National Education Association, got all of its affiliates to join in a "#CountEveryVote Pledge" campaign.
"As educators, we know that our democracy only works if every vote is counted," union President Becky Pringle, a Black teacher from Philadelphia, said. "Whether we are Black or white, Native or newcomer, Latino or Asian, we know that for democracy to work for all of us, it must include us all…That is why, on behalf of" its three million members, they released the pledge, "making clear our commitment to protecting our democracy by ensuring every vote is counted in this election."
"This has been an election like no other, and we may need to wait longer than usual for a result. We must be patient and make sure that every eligible ballot is counted accurately, just as we do each election cycle," said CWA's Shelton.
"In the coming days, we may see attempts to stop the vote count or otherwise interfere from those who are desperate to win at all costs," he warned, even as Trump issued such a stop-counting demand at his Nov. 4 White House shout before his administration's insider crowd. "That's unacceptable. Election officials must be allowed to fulfill their responsibility to count and verify every ballot in order to uphold our democracy," said Shelton.
"OPIEU reaffirms its commitment to mobilizing its members to safeguard our democratic institutions from anti-worker attacks by President Trump and his allies," OPEIU's Lanigan said.
"For more than a year, Trump has been setting the stage to contest the outcome of the election. His team will do all they can in the courts and on the ground to throw out votes, attack ballot counters, and intimidate those who wish to see the election decided by the voters–not by the president.
"Our union will join the effort to monitor the situation in key states, particularly those with governors with a demonstrated track record of voter suppression and strong-arming and do all we can to ensure all votes are counted and that those votes determine the winner.
"We have confidence not only in the hard-working vote counters but the entire labor movement in our shared fight to ensure our already fragile democratic institutions remain sound. We must stand up against all attempts to undermine the fair and democratic election process and ensure every vote is counted and the voices of all Americans are heard."
"Good morning! We got this!" the Steelworkers tweeted. "With several states still counting, this is a moment to exercise patience with the process and trust in our system. The votes WILL be counted, and the voters WILL decide. #counteveryvote #1u"
The Chicago union coalition was more direct about its 5 p.m. Central Time demonstration in the Loop.
AFGE Local 704, Chicago Teachers Union, the Cook County College Teachers Union Local 1600, the United Electrical Workers, Service Employees (SEIU) Healthcare Illinois Indiana Missouri and Kansas, SEIU Local 73, and UE's Warehouse Worker Organizing Committee issued the demonstration call and the general-strike-if-needed demand.
"Unions commit to take whatever non-violent action is required—-up to and including a general strike—-to ensure a free and fair election in which all votes are counted, and that ensures peaceful transition of power," CTU Local 1 Communications Director Chris Giovannis said in a statement.