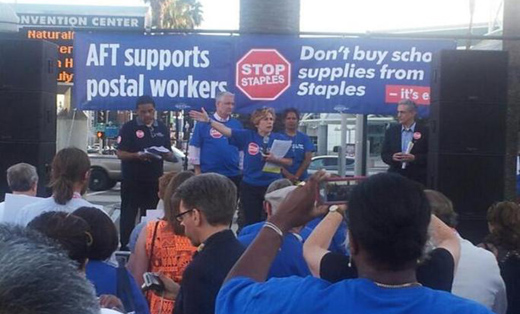 Mark Dimondstein, president of the American Postal Workers Union, said a Staples announcement this week that it was ending its no-bid deal with the U.S. Postal Service is a ruse.
Staples made the announcement saying it was replacing the mini-post offices with an "approved shipper program" already in place at thousands of other retailers the postal service uses to do a variety of deliveries.
"Staples and the USPS are changing the name of the program, without addressing the fundamental concerns of postal workers and postal customers," Dimondstein said, adding, "If it looks like a duck and quacks like a duck, it's a duck."
A USPS spokesperson all but confirmed the union claims when he told the Boston Globe: "We look forward to continuing the partnership (with Staples) whether its called Retail Partner Expansion (the name given to the post office program in Staples) or approved shipper. We just want our customers to know they can continue to get postal services at these 82 (Staples) locations."
Dimondstein said "the country has a right to postal services provided by highly trained, uniformed USPS employees who are sworn to defend the mail" and that the attempt to "trick" people shows the recent "Don't Buy Staples" movement is having an impact.
In the state of Massachusetts, the home state for Staples, prominent political figures have been backing the boycott, among them gubernatorial candidate Martha Coakley.
Earlier this week the American Federation of Teachers and its 1.6 million members joined the anti-Staples boycott.
Unions oppose the privatization of postal services because programs like the one in place at Staples undermine the role of post office and shift postal worker jobs to lower paid and less experienced retail store staff.
"We intend to keep up the pressure until Staples gets out of the mail business altogether," Dimondstein said.
Photo: The American Federation of Teachers on Monday backed the boycott of Staples. AFL-CIO blog