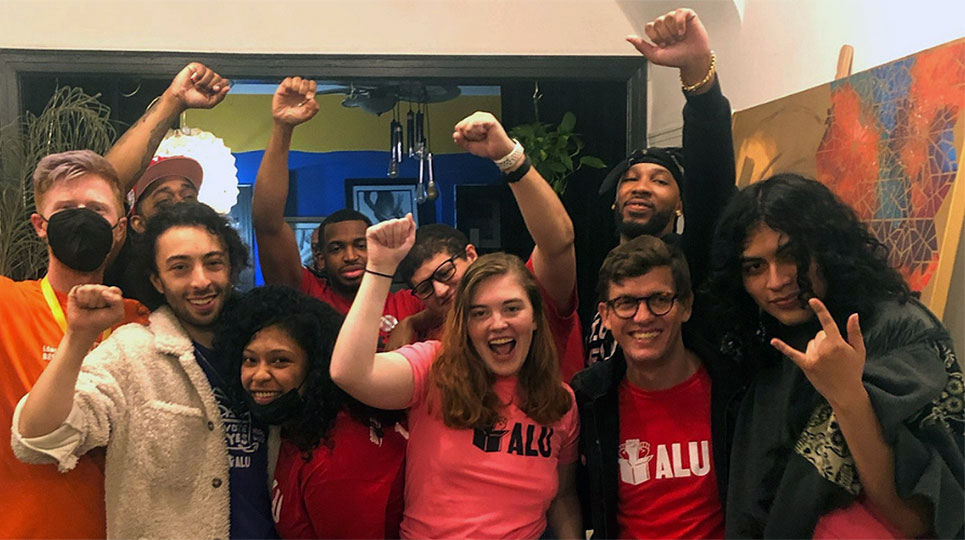 BROOKLYN, N.Y.—Workers at the Staten Island Amazon warehouse scored a historic victory today by winning their vote to unionize with the independent Amazon Labor Union.
Meanwhile, the vote at the Bessemer, Alabama, warehouse is too close to call because of the large number of challenged ballots.
The NLRB Brooklyn office covers elections at Amazon's JFK8 warehouse in Staten Island. There, the independent Amazon Labor Union aimed to win among approximately 5,000 workers. ALU tweets showed the union's margin steadily grew through the afternoon of March 31. The NLRB also has ordered a vote for or against ALU at another Staten Island warehouse, date to be set.
The final numbers: yes (for union) 2654, no 2131, challenged 67, eligible voters 8325.
The Amazon elections are important for workers for a variety of reasons. Both unions aimed to overcome rampant hostility and expensive union-busting tactics by Amazon. Jeff Bezos, one of the nation's three richest people, created the rapidly growing and highly exploitative retail warehouser, distributor, and monster. It employs 1.1 million workers.
RWDSU's try, its second in Bessemer, also symbolizes organized labor's attempt to break through government and corporate hate in the nastily anti-union South. It shows, too, the weakness of U.S. labor law, which workers are campaigning in Congress to strengthen.
The NLRB ordered the Bessemer rerun, which occurred a year after rampant company labor law-breaking skewed the first vote and made a fair decision impossible. The board ordered Amazon not to interfere with RWDSU's second organizing drive.
But NLRB didn't ban a big law-breaking tactic the firm used in Bessemer. Amazon again placed a mailbox for ballots in the warehouse parking lot. But it had to move the mailbox away from the main entrance. The first time, its presence at the front door, under an Amazon logo and company cameras, gave workers the impression that Amazon, not the NLRB, ran the vote.
And the NLRB can't ban Amazon from hiring union-busters, which it did in both plants.
In Bessemer, Amazon also tried replacement workers, especially due to the 150% worker turnover. Appelbaum noted that between the time the NLRB set the rerun date and the actual vote, hundreds of workers quit. "They voted with their feet" against corporate exploitation, he said.
One "replacement" who spoke, Braxton Wright, is one of 1,100 locked-out United Mine Workers from Alabama's nearby Warrior Met coal mine. "I saw what they go through" at Bessemer, he said. "The union-busters avoided me like the plague."
Conditions changed in Bessemer the second time around. Worker-organizer Jennifer Bates said in-plant "captive audience" meetings this time saw Bessemer workers don RWDSU t-shirts, hats, and buttons and bluntly challenge Amazon's bosses and its union-busters.
"I've been in those meetings. They're designed to manipulate and intimidate" the workers, she added. "We're going to continue to fight."
Amazon Labor Union's campaign to win a majority of votes at JFK8 on Staten Island is notable for another reason. ALU is an independent union from the grass-roots up and the workers there are younger. Young workers aged 16-24 are the least-unionized age cohort of the labor force, Labor Department data shows.
And by not affiliating with an international union, ALU's team could maneuver inside the warehouse for weeks before officially unveiling their organizing drive.
Appelbaum cited other key differences between the two campaigns, besides ALU's independence. "I'm absolutely thrilled" by ALU's lead in the Staten Island count, he said. "And I have to give a lot of credit to ALU President Chris Smalls."
Two other differences helped ALU, Appelbaum added. One is geography: "New York City is a union town, and…Alabama is a right-to-work state" and union-hostile. The other is the difference between mail-in balloting and in-person voting.
Pandemic played a part too
The coronavirus pandemic played a part, too, he noted. In the first campaign, in 2020 and early 2021, the virus's lockdowns prevented RWDSU organizers from going door-to-door to talk with workers one-on-one and field their questions. This time, with the pandemic receding and his organizers—and many workers—vaccinated, they could.
RWDSU also benefited, Appelbaum said, from vocal and actual support, via organizers and members, from other unions nationwide. "They realize Amazon can't become the model" for the future of work in the U.S., he explained. So they came down to door-knock, too.
Younger workers, like those in ALU, are also the moving force behind recent organizing drives in low-paying industries, not just Amazon. They grabbed the reins, later with Workers United aid, in organizing another retail monster, Starbucks, store by store, and eye others.
And unlike established unions—including RWDSU, a semi-independent United Food and Commercial Workers sector—the Amazon Labor Union stays out of politics, shunning endorsements and ties, even in heavily unionized New York City.
The Starbucks workers, also from the grassroots, have won five out of six recognition elections at stores in Buffalo, N.Y., another in Boston, and one in Mesa, Ariz., so far. Now they're unionizing in Portland, Ore., and in Memphis, Tenn.
Besides hiring union-busters in Bessemer, Amazon enlisted prominent pro-Democratic pollster GSG to create anti-union videos and flyers for Staten Island. That may cost it business among Dem candidates. GSG operatives attended mandatory "captive audience" meetings in Staten Island. There, too, company honchos harangued the workers and spread disinformation about the grass-roots union—and hit opposition from vocal and unafraid workers.
And on March 7, Amazon had police arrest Amazon Labor Union President Christian Smalls and two other organizers who were delivering chicken and pasta lunches to workers inside JFK8. They charged the three with trespassing. Amazon illegally fired Smalls in 2020 for leading a lunchtime walkout of JFK8 workers over lax precautions against the coronavirus.
Company labor law-breaking isn't the only problem the Amazon Bessemer workers face. On March 25, RWDSU reported what workers first thought was a fire on the third floor of the four-story warehouse, which is the size of five football fields. But it was a malfunctioning compressor, spraying vaporized oil into an air vent and clouding the floor.
At 1:30 pm, the third floor's workers were ordered to clock out and evacuate, robbing them of paid hours, RWDSU said. The workers on the other floors weren't told about the threat at all, even after the vapor cloud spread to the first floor three hours later.
They learned of the hazard by talking, worker to worker, and finally leaving at 5:45 p.m. The cloud was still hovering in the Bessemer warehouse when the evening shift arrived at 7 p.m. They weren't told either. Amazon workers later notified the Occupational Safety and Health Administration about the hazard.
"At first, I thought my glasses were just smudged, but then the air got thicker, and my co-worker said he thought it was smoke and we should leave," worker Isaiah Thomas told RWDSU. "Everyone was very confused, and the lack of information made us feel very unsafe.
"I was shocked why they would have the rest of us keep working, and why there was no notification or alarm sounded for all those hours. I don't know what I was breathing in for that long, and I don't know if it's still in the air at work today either. I feel very unsafe and I wish management would treat us like humans and care about our safety in a real way."
"Amazon deliberately put the health of their Bessemer, Ala., workers at risk! Their conduct is unacceptable!" RWDSU's Appelbaum tweeted.
"Why is my health less important than a package getting shipped? Yesterday (March 25) was the anniversary of the Triangle Shirtwaist Factory Fire" which killed more than 140 immigrant woman workers at a lower Manhattan sweatshop in 1911, Thomas added. "In 2022 workers shouldn't have to fear dying in a fire at work."