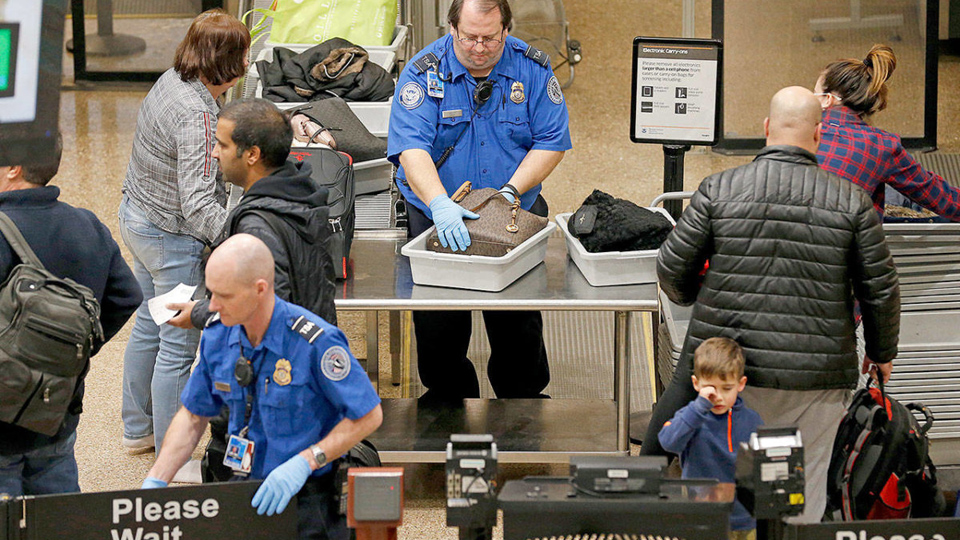 WASHINGTON — Organized labor is not resting on its laurels after the nation's unions led the people power movement that beat down GOP President Donald Trump's partial federal government lockout/shutdown.
Instead, the Federation, its state affiliates, and many other unions are hosting rallies and more to keep the pressure on to prevent the former real estate mogul from rerunning his lockout in mid-February, and to force Trump's GOP toadies to, for once, defy him.
The Federation claimed victory over the right-wing president and his Republican acolytes after Trump gave in and reopened several Cabinet departments and many federal agencies on Jan. 26. Public opinion had long since turned against Trump's shutdown and his "temper tantrum" reason, his Mexico Wall.
"Trump didn't want to end this shutdown — the collective action of working people demanded it," the AFL-CIO said. "By marching, rallying and protesting together, we forced him to the table and ensured the labor and dedication of our public servants will not be taken for granted."
Those marches, rallies, food banks and even free diaper distribution for babies of locked out and unpaid federal workers are continuing, because Trump threatens to lock the workers out again.
And while the 800,000 government workers will eventually be paid, many have already suffered from foreclosure threats, eviction notices and bad credit reports, among other stresses. Transportation Security Officers – the airport screeners – told reporters their first paycheck will have only one week's pay.
The screeners, who are among the lowest-paid federal workers, labored without pay for five weeks, just like the others.
A second catch is that contractors – including janitors, child care workers and fast food workers who toil for firms lodged or serving in federal buildings – may not get paid at all. Democratic Sens. Ben Cardin and Chris Van Hollen, both D-Md., and Tina Smith, DFL-Minn., introduced legislation to pay them, too.
"Five hundred Unite Here cafeteria workers were on furlough for more than a month during the U.S. government shutdown," union President D. Taylor said. "These cafeteria workers are people like Pablo Lazaro, whom the federal government subcontracts to serve food to millions of visitors at a Smithsonian museum for less than $32,000 a year."
"Now Pablo is returning to work, but unlike other federal employees, the government classifies Pablo and his coworkers as subcontractors ineligible for the wages or benefits they miss when the government shuts down. Cafeteria subcontractors didn't recover a dime after the 2013 shutdown and now, they could again sacrifice every penny of lost income from the past 35 days."
Trump's surrender to worker pressure, without winning his own goal — $5.7 billion for his Mexico Wall – came after rising snafus inflamed not just unionists but the rest of the country as well.
A key to breaking his resolve: An hour-and-22-minute shutdown of New York City's LaGuardia Airport for safety reasons on Jan. 25, due to a shortage of air traffic controllers. Officially, they called in sick.
So many of the LaGuardia controllers were unable to report for work that there weren't enough to handle the planes. The LaGuardia shutdown quickly roiled air travel nationwide. The nation's air traffic controllers were 14,000 of the 350,000 federal workers Trump forced to toil without pay.
Trump sent another 450,000 workers home, also without pay, for the 35 days. That, in labor terms, is a management lockout. He plans a rerun unless Congress bows to his demand for a Mexico Wall, which foes call racist, by mid-February. If Congress defies him, Trump may declare an ersatz "national emergency" and grab money and people from the Pentagon, probably illegally, to build his wall.
"This needless and manufactured crisis affected real families with real financial responsibilities and jeopardized the safety of our nation. This debacle could have — and should have — been avoided," the AFL-CIO said, without specifically blaming Trump, who imposed it. "Lives and livelihoods of America's working families should not be chips in a political game."
The lockout is also dangerous, the National Council on Occupational Safety and Health warned. That's because many of the feds in critical jobs scrambled to find second, temporary, paying employment to make ends meet.
"Forcing someone to work a second job after an already demanding shift at an airport or another critical assignment is unsafe and unfair," said Jessica Martinez, the group's co-director. "It's well-documented that fatigue from overwork, with limited opportunities for rest and recovery, can lead to dangerous workplace injuries, illnesses and even fatalities."
"We're being held hostage for political purposes and that just needs to stop," said Government Employees President J. David Cox, whose union, along with the Treasury Employees, represents most of the locked out and/or unpaid feds.
But it was public pressure, from AFGE, NTEU, AFSCME, the Teamsters, the Communications Workers, the Steelworkers, other unions and everybody else suffering problems due to the lockout/shutdown that forced Trump and the GOP to cave.
While Congress passed, and Trump signed, legislation authorizing back pay for those 800,000 workers, Transportation Security Officers – the airport screeners – told passengers welcoming them back that their first paycheck in more than a month will have only one week's wages.
Given the uncertainty of when suffering workers will get another paycheck, unionists have held or are planning events to keep the pressure on Republicans in at least half-a-dozen cities, many of them in "red" states, states with GOP senators, or both.
One of the first events was a "stop the shutdown" rally at the Helena, Mont., field office of GOP Sen.
Steve Daines on Jan. 26. A non-AFL-CIO group, led by Kayla Russell, planned a "ResistTyrannyTuesday – State of DISunion" on Jan. 29 in Albuquerque, N.M. The Florida state AFL-CIO set up a Jan. 29 meeting with GOP Sen. Marco Rubio's district director in Palm Beach and there was an "end the shutdown" rally planned for Boston's City Hall Plaza the day before. There's a "stop the shutdown" picket line planned for the airport in Bangor, Maine, on Jan. 31, to keep pressure on Sen. Susan Collins, R-Maine.