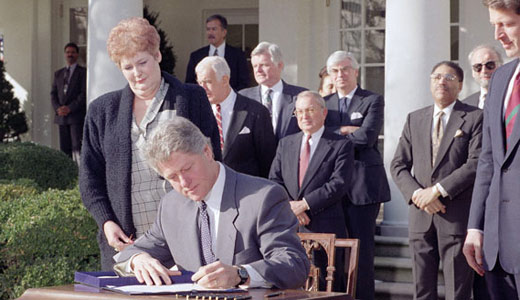 WASHINGTON – Unionists and women's leaders celebrated the 20th anniversary of the Family and Medical Leave Act (FMLA) in early February by lauding the law and campaigning for the next step: paid family leave.
But while they advocate a week of paid leave yearly and for covering even more workers than the present unpaid leave law now does, prospects for such an expansion are uncertain.
A Senate GOP filibuster threat stopped a paid leave proposal in its tracks last year. House Education and the Workforce Committee Chairman John Kline, R-Minn., a right-winger, did not mention paid leave in his statement this year marking FMLA.
Democratic President Bill Clinton signed the FMLA on Feb. 5, 1993. Women's groups and unions campaigned for it for almost 20 years. The FMLA gives workers in firms with at least 50 employees six weeks of unpaid leave yearly to care for ill family members, newborns or themselves with the guarantee workers could return to their old jobs.
The Obama administration's Labor Department marked FMLA's anniversary with a statement, a study of its positive impact on families and firms, and with final rules extending paid leave to military families and unpaid leave to airline flight crews – a group left out of the original law. The Association of Flight Attendants-CWA, which lobbied for that for years, cheered. "It's an exciting day" that gives flight attendants "peace of mind," union President Veda Shook said.
Other unionists, led by the Coalition of Labor Union Women (CLUW), lauded FMLA's anniversary. So did the National Partnership for Women and Families and Rep. Rosa DeLauro, D-Conn. NPWF and DeLauro – then a top congressional aide-wrote the law. And all pivoted to proclaim that now is the time to take the next step, because at least 40% of workers who could benefit from the FMLA can't afford to take unpaid leave.
"Being guaranteed your job upon return to work and having your health insurance covered is wonderful," said Carol Rosenblatt, CLUW's Executive Director. "But even though its passage was a landmark victory," she added, "it is only a first step in addressing the family needs of the American worker.
"Because it is unpaid leave now and those who can't afford to be without a paycheck have to weigh what is most important-caring for oneself or a sick family member or getting a paycheck so their family can eat. Or the LGBTQ community: Are they not a part of the American family? Yet they are not covered. And all the other workers who have been left out: Part-time workers, or those who have not been at a company long enough to have coverage, or who work for a small company that does not fall under the law – just to name a few omissions.
"It is time these holes be fixed. These are real people with real needs. And how about all those minimum wage workers," two-thirds of them women, "who go paycheck to paycheck – many in threat of losing their job if they take off work? So they show up to work sick?"
Those women and families would get more help, Rosenblatt said – and the others agreed – by congressional approval of the Healthy Families Act. DeLauro reintroduced that measure on Jan. 4, to give workers in all firms with at least 25 employees seven days each of paid sick leave yearly.
"Before we passed the FMLA, there was an outcry that the U.S. economy would not survive," DeLauro commented. The outcry was from business, though she did not say so. "Not only did it survive, but it thrived. Smart business leaders know that family and medical leave helps them preserve top talent and cut down on costs in the long run.
"But sadly, we still have a lot of work to do. The FMLA is unpaid leave, and many eligible workers cannot afford to take it – eight out of 10 by the most recent survey. We need to modernize and expand the FMLA. And we need to pass paid leave legislation. Being a working parent should not mean choosing between your job and taking care of yourself and your family.
The FMLA "has been used by women who needed medical care during difficult pregnancies, fathers who took time to care for children fighting cancer, adult sons and daughters caring for frail parents, and workers taking time to recover from their own serious illnesses," said Debra Ness of NPWF. "The FMLA has been an unqualified success. But 40 percent of the workforce is not covered, and millions more simply cannot afford to take unpaid leave it provides. For them, our country is far from family friendly," she continued.
But Labor Department data shows that while the FMLA works well for workers who can afford it, and for firms that must give it, too many workers can't afford it and too many companies -the smaller ones – don't give it. "Being unable to afford unpaid leave is the most common reason workers who are covered by the law say they didn't take leave when they needed it," Ness added.
There is another big way that workers can get paid family leave, CLUW's Rosenblatt says: the union contract.
"By the way, if you are lucky enough to be in a unionized work place you have a much greater chance of having pay when you are on leave and through collective bargaining can negotiate about family and work issues," she concluded.
Photo: Then President Clinton signs the FMLA. AP Photo