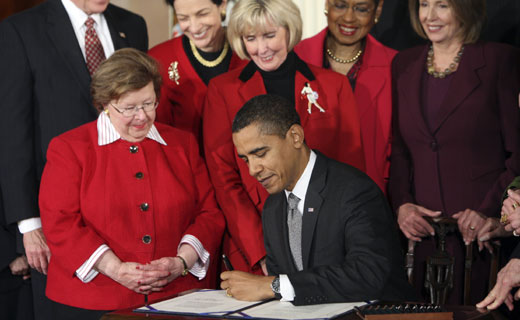 WASHINGTON – A Senate vote on equal pay for equal work for women was blocked by a Republican minority today. Just days before the Paycheck Fairness Act went down to GOP-fillibuster defeat, the steelworkers union and the Teamsters had challenged GOP presidential nominee Mitt Romney to back the legislation.
Steelworkers President Leo Gerard and Teamsters President James Hoffa spoke out for the legislation, pushed by a coalition of Democratic senators led by Barbara Mikulski, D-Md. The Paycheck Fairness Act would make it illegal for firms to discipline or fire workers who ask about pay. Other unions, their allies, and the Coalition of Labor Union Women are waging a national call-your-senators drive in advance of the vote.
The bill also would impose triple damages in pay discrimination cases and would narrow the "business necessity" reasons firms use to discriminate in pay by gender.
"In this environment, when more hard-working women are the sole wage-earners for their families, it is particularly vital we provide them with every tool to fight discrimination by their employers," said Gerard.
"Throughout this primary season, we have seen Republican candidates take aim at women's rights. It is time for Mitt Romney to end his party's despicable war on women and support this bill," Gerard added. Romney has ducked reporters' questions about women's rights, including the legislation.
"It is outrageous that Romney refuses to support fundamental fairness for women by ending pay discrimination," stated Hoffa. "Coincidentally, the U.S. Chamber of Commerce is doing its best to defeat this legislation. Romney is once again beholden to the only thing he understands — the almighty dollar. He would rather allow women's wages to continue to be depressed than bite the hand of his corporate backers."
"Romney's refusal to take a stand for basic fairness shows why unions are so important," Hoffa said. "If Romney won't denounce something as despicable as job discrimination, it's crystal clear he won't stand up for the middle class."
The Paycheck Fairness Act would put teeth into a 1962 equal pay law. It also would build on the Lilly Ledbetter law, which Democratic President Barack Obama signed, restoring the right to sue for pay discrimination. Ledbetter, a supervisor at an USW-represented tire plant in Alabama, suffered pay discrimination for 19 years before finding out. She told Press Associates at a congressional hearing on her law had the contract covered her, the pay discrimination would not have occurred.
Photo: Obama signs the Lilly Ledbetter Bill. Ron Edmonds/AP