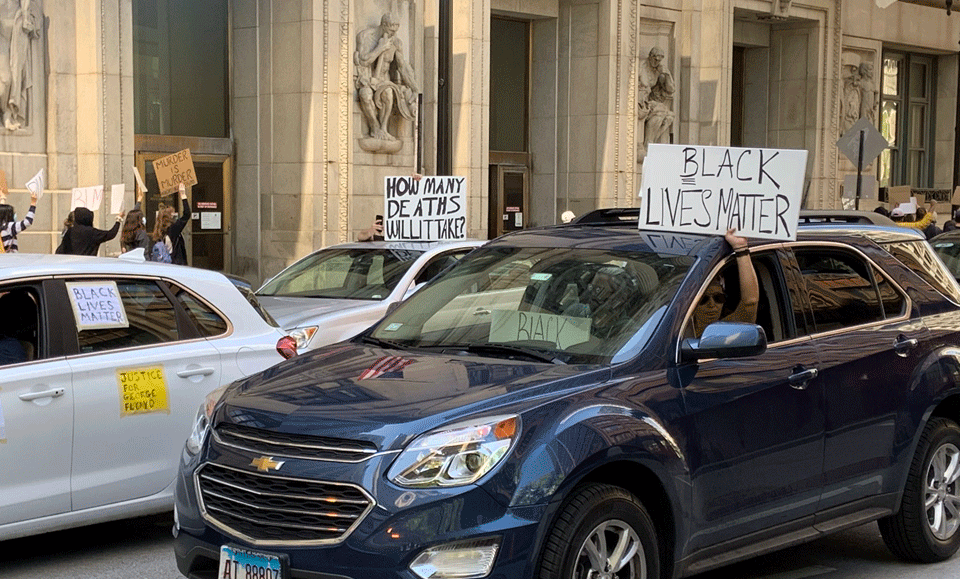 The nation's unions will launch a massive car caravan on June 17 – and not just in the Nation's Capital – for racial and economic justice.
"Facing front line worker deaths, record unemployment and continued racial injustice, working people from coast to coast are demanding action," the AFL-CIO, which led the caravan organizing, says.
From coast to coast, unionists will descend in cars, engage in e-mailing and letter-writing, meet lawmakers and run phone banks to demand lawmakers get off their rear ends and enact legislation – led by the latest House-passed stimulus bill and by a massive police reform bill – to support workers, not bosses.
And they also want Congress to force the GOP Trump administration's Occupational Safety and Health Administration to vigorously pursue and prosecute those firms which refuse to protect their workers against the coronavirus pandemic.
The pandemic now has more than two million sufferers in the U.S. and more than 116,000 dead. And closures to help fight it – from hotels and restaurants to airlines to retailers to factories – have caused the worst economic crash since the Great Depression.
"Representing those employed in health care, public education, public service, and hospitality, workers will call on lawmakers to act now to save our nation, save our economy and save workers' lives," the AFL-CIO's announcement said.
The caravans are supposed to support the "five economic essentials" for workers the federation has outlined and is pushing on both its website and social media: Keeping "front-line workers safe and secure" from the coronavirus pandemic, keeping workers employed and protecting their pensions.
They also will demand "keeping state and local governments, our public schools and the U.S. Postal Service solvent and working," protecting and expanding health insurance for all workers and to "keep America competitive" by hiring "people to build infrastructure."
The save our nation demand incorporates the marches for racial justice and to attack and root out the U.S.'s centuries-old systemic racism, which started after Minneapolis police officer Derek Chauvin murdered unresisting prone African-American man George Floyd on May 25.
Those marches have also been fueled by other murders elsewhere, including two lynchings in Southern California and a police murder of yet another African-American, Rayshard Brooks, in Atlanta.
Unite Here President D Taylor, whose union is among the other lead co-sponsors of the caravants, told the Daily Beast last month, before Las Vegas started to reopen, that "There's no part of our industry that hasn't gotten crushed."
"I mean, there's no stadiums where we have people working, most hotels are closed, or barely open with no workers. Every commercial casino in the United States is closed. Industrial cafeterias are closed, universities and colleges where we have folks are basically closed. So, the workers we represent, the industries we represent, are basically shut down."
Two caravans, one from the Maryland suburbs and the other from Northern Virginia, will converge on Capitol Hill at noon on May 17. They won't be the only ones around the U.S. A spot check of the caravan map shows hundreds of caravans or similar events.
They include caravans in Lansing, Mich., and Toledo, Ohio, including a meeting with Rep. Betty McCollumn, DFL-Minn., in the Twin Cities, at least five caravans in the Los Angeles area, at least three more in New York City, a virtual press conference at the Chicago Federation of Labor, and five caravans from around the St. Louis area descending on the office of Rep. Ann Wagner, R-Mo.
Further information on the caravans is on the AFL-CIO website, including an interactive map to help participants locate a caravan nearby.