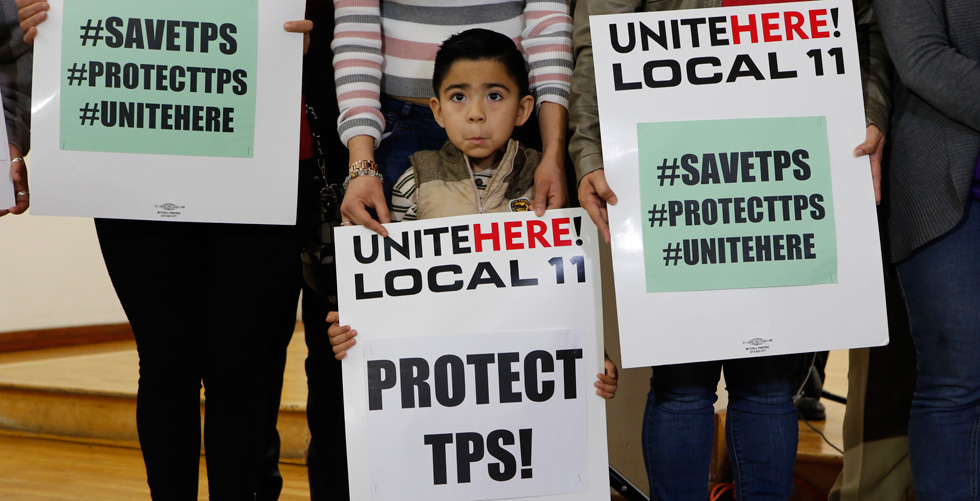 WASHINGTON (PAI)—Unions, including the Painters, the Bricklayers, the Service Employees, and Unite Here, strongly protested GOP President Donald Trump's latest eviction of refugees who have long lived in the U.S. Trump ordered some 200,000 Salvadorans to leave, most of whom have lived and worked here legally for an average of 21 years.
The Salvadorans are the latest group of people—all black or brown—whom Trump has told to get out within 18 months. They're all on Temporary Protected Status (TPS), which is available to refugees from natural disasters or from high crime or widespread violence.
Trump's eviction of the Salvadorans came on Jan. 9, the day he met congressional leaders on another immigration issue, the fate of the "Dreamers." They're the 700,000 undocumented people—now workers, students, and serving in the military—brought to the U.S. as young children. Trump went back-and-forth with lawmakers on the Dream Act, which would let them stay, during the 90-minute meeting (see separate story).
Laborers President Terry O'Sullivan said Trump's eviction "will cause extreme suffering" not just for Salvadoran TPS cardholders, but for their families, including 194,000 U.S.-born children. Some 88 percent of all TPS cardholders, who must pay $500-$700 every six months to renew their "blue cards," work, with one-third of them in construction. Many are union members, O'Sullivan noted.
With one exception—SEIU Vice President Rocio Sáenz—union leaders did not point out both the Dreamers and the TPS cardholders Trump evicted are members of minority groups: Latinos and Asians among the Dreamers, and Salvadorans, Nicaraguans, Haitians, and Sudanese among TPS recipients. Unions strongly support keeping both groups in the U.S.
Trump's eviction of the Salvadorans "is consistent with the pattern set by the administration over the last year," Sáenz said. "The president and his administration rarely miss an opportunity to cause misery for immigrants, people of color, or working people."
"In this case, they have opted to rip one-sixth of all Salvadoran immigrants from the jobs they held lawfully for years and the children they raised as Americans. They have done so despite undisputed evidence that such a mass exodus to El Salvador will be extremely dangerous for those being expelled and destabilizing for the nation they left so long ago."
"We are going to burn up the phone lines" to urge Congress to step in and stop Trump's TPS evictions. If lawmakers don't, "we'll hold them accountable at the ballot box next year," Sáenz said.
Painters President Kenneth Rigmaiden, who put together a coalition of five unions, plus the AFL-CIO, in the $1 million Working Families United campaign to protect the TPS card-holders, said his union started its own education campaign on Jan. 8 among members on the Dreamers, TPS card-holders, the wage theft both groups suffer, and how to protect themselves.
The Painters said the attacks on both groups are "an attack on labor as well as an attack on the economy." Ending TPS for the Salvadorans and others "would have immediate, expensive ramifications for our country and industry," the union said. It would also worsen "an already stressed skilled worker pool" in the building trades.
"These actions against immigrant workers and their families will do nothing more than push hard working members and families back into the shadows and to the vast contractor pool without a voice or representation," Rigmaiden added.
Hotels and restaurants would get hit too, UNITE HERE Vice President Maria Elena Durazo, former executive secretary of the Los Angeles County Federation of Labor, predicted.
Trump "is taking nearly 200,000 law-abiding American immigrants and turning them from legal workers into targets for deportation," said Durazo, whose union includes thousands of TPS card-holders.
"Not only will terminating TPS for 200,000 Salvadoran workers take away their livelihoods and the life they've spent decades building here, but it will tear apart hundreds of thousands of families with mixed immigration statuses, including many with American-born children," she said.