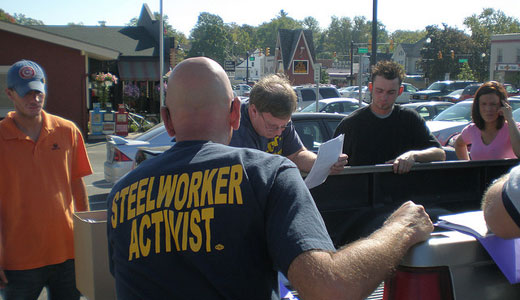 WASHINGTON – Union members scored a big victory Nov. 6 by re-electing president Obama. Equally big for them, however, was the success of pro-worker Democrats who ran for U.S. Senate seats in every one of the states where GOP governors and state lawmakers have been attacking the labor movement over the last two years.
Barely able to catch their breath after the impressive wins, however, union members are fanning out to over 100 cites across the country to demand that lawmakers act to create jobs and to demand no cuts in Social Security, Medicare, and Medicaid. They are also pushing hard for higher taxes on the rich.
"This election was about a choice between two very different visions for our nation," AFL-CIO President Richard Trumka told a Nov. 7 post-election press conference here. "One vision rewards hard work and the people who do it, while the other benefits only those at the top. Voters rejected Romney economics.
"They made clear they want solutions that respect hard work, strengthen the middle class, invest in America, and build upon working together instead of driving people apart. That's the leadership we've seen from Obama for the last four years."
"People sent a clear message that we will stand with a president who stands with all Americans. From the White House to the statehouses, we pulled together to elect leaders who believe that 'we are all in this together,'"AFSCME President Lee Saunders, the AFL-CIO Political Committee chair told that same press conference.
Exit polls showed that an "all peoples front" did indeed turn out to put the president over the top Nov. 6, giving him three million more votes than Mitt Romney and making him the only Democrat since FDR to win reelection with more than 50 percent of the vote.
Women gave Obama a 12-point edge. More than 95 percent of African-Americans and 70 percent of Hispanics backed him. An AFL-CIO poll of 812 union members and 827 Working America members showed two-thirds voted for Obama.
In the key swing state of Ohio, whose electoral votes returned Obama to the White House, unionists were 30 percent of all voters.
"We had the best on-the-ground mobilization in the history of the labor movement," said Steelworker President Leo Gerard. "We had 18,000 volunteer days in the last week, we made one million phone calls, and we passed out 2-1/2 million flyers – and that was just the Steelworkers."
Union leaders say they are determined to avoid mistakes that they have made in the past, when it comes to how they relate to candidates after the elections.
"We won't make the mistake we made in 2008, sitting back and letting Obama carry the ball." Said Gerard. We had 2,900 district coordinators out there, and they're going to stay out there" to mobilize workers to keep the pressure on lawmakers.
Gerard tackled the issue of campaign financing, which he described as a matter the labor movement was going to have to deal with. He indicated that the ability of corporations to flood campaigns with unlimited cash, in the wake of the infamous Citizens United Supreme Court decision, is the reason the Right Wing was able to maintain control of the House of Representatives.
Two candidates, whom Gerard personally campaigned for, Reps. Mark Critz, D-Pa. and Betty Sutton, D-Ohio, were overwhelmed by GOPers backed by $5 million and $7 million in corporate cash, he said.
"I want to talk with other leaders about how to get those (corporate) dollars out," Gerard said.
Press Associates Union News Service contacted numerous other union leaders and got their reactions to the election results:
Coalition of Labor Union Women Executive Director Carol Rosenblatt told PAI that – unlike in 2008 – issues important to working women, including reproductive rights, came to the fore and made a difference for Obama and pro-worker candidates.
"Equal pay and the Lilly Ledbetter Act," which unions and Obama pushed and signed in 2009, restoring the right of women and minorities to sue for pay discrimination, "made a difference" when working women went to the polls, Rosenblatt explained. "And what some consider social issues, which we consider women's health issues, were important, too. Candidates who opposed them – Romney, (Indiana GOP U.S. Senate nominee Richard) Mourdock, and (Missouri U.S. Senate nominee Todd) Akin — lost."
"And Romney's attack on unions, which became more and more obvious late in the campaign," also helped CLUW, Obama and pro-worker candidates mobilize woman workers, Rosenblatt said. Other union leaders' comments included:
Teamsters President James Hoffa: "Working people proved something last night: When they fight, they can win against a corporate, anti-middle-class candidate, even after the Citizens' United decision. President Obama stood up for working families during one of our nation's most difficult economic times. That's why he won wherever unions put their resources." Teamsters' efforts included 500,000 worksite contacts, several million mail pieces, and 400 workers toiling fulltime on politics.
Laborers President Terry O'Sullivan: "Laborers' leaders and members effort was unparalleled" in the union's history. "Their aggressive and unprecedented efforts (were) to make sure the president has the opportunity to complete the job he started – reviving our economy and focusing attention on the basics of America, including our decaying critical infrastructure … Despite the avalanche of corporate cash poured into this election, the presidential and congressional results show the extremist tea party agenda was rejected." The union mailed more than 700,000 pieces of mail, made more than 350,000 phone calls and dedicated more than 400 full-time staff to Obama's drive.
Firefighters President Harold Schaitberger remarked, "The outcome of the presidential election proves that supporting our friends and opposing our enemies is a winning strategy. Because of the grassroots efforts of our affiliates and members, election night proved very successful for our union."
"At the state level, where firefighter pensions and worker rights have been under attack, efforts by IAFF and affiliates to elect firefighter-friendly governors were successful in close races in New Hampshire, Montana, West Virginia, and Washington."
The union said it also "helped pick up fire fighter-friendly majorities in state houses in Colorado and Oregon and held state houses in Kentucky, New Mexico, Nevada, and Washington. In state senate races, IAFF affiliates worked successfully to pick up a labor-friendly majority in New York and held state senates in Nevada, New Mexico, "Colorado, Washington, Oregon, and Iowa."
UFCW President Joe Hansen, who also chairs Change To Win: "President Obama's re-election is a victory for United Food and Commercial Worker members and workers across the nation. Obama stabilized a failing economy, put in place new rules to prevent another financial crisis, and made important investments in the middle class. He reformed health care, made college more affordable, and helped guarantee women equal pay for equal work.
"There is much more to be done in a second term," he continued. "It is time for immediate and bold action to create good-paying jobs. It is time for a tax code that is fair and helps close the gap between the rich and the poor. It is time to strengthen our labor laws so workers can join a union freely and fairly. And it is time to reform our immigration system so those who work hard and play by the rules can become American citizens."
Communications Workers President Larry Cohen said, "Throughout this very long political campaign, at CWA, we've been clear that elections are about choices. Americans who want to ensure a place for working families in our economy made a clear choice in re-electing President Obama.
"Tens of thousands of our members, activists, and volunteers, stepped up and did amazing work, not only in returning President Obama to office but in electing representatives who will stand with working Americans and not look for ways to cut programs that working families count on and more tax breaks for the wealthiest in our nation."
AFT President Randi Weingarten: "Our members and activists took a stand for democracy in many ways in Election 2012. The people voted to create opportunity and shared prosperity by sharing responsibility, and to reject the cynical 'you're on your own' philosophy. The results of this election are a declaration that to rebuild a strong and vibrant middle class and ensure a voice for all, we all have to be in this together.
"Americans voted for a vision for our nation that says government has an essential role that includes protecting our families in times of crisis, investing in public schools as a foundation of our democracy, guaranteeing access to affordable health care, and ensuring retirement with dignity after a lifetime of hard work.
"Election night also was a victory for people power over money power. I witnessed the hard work of our union's volunteers firsthand," she concluded.
Photo: Bernard Pollack // CC 2.0