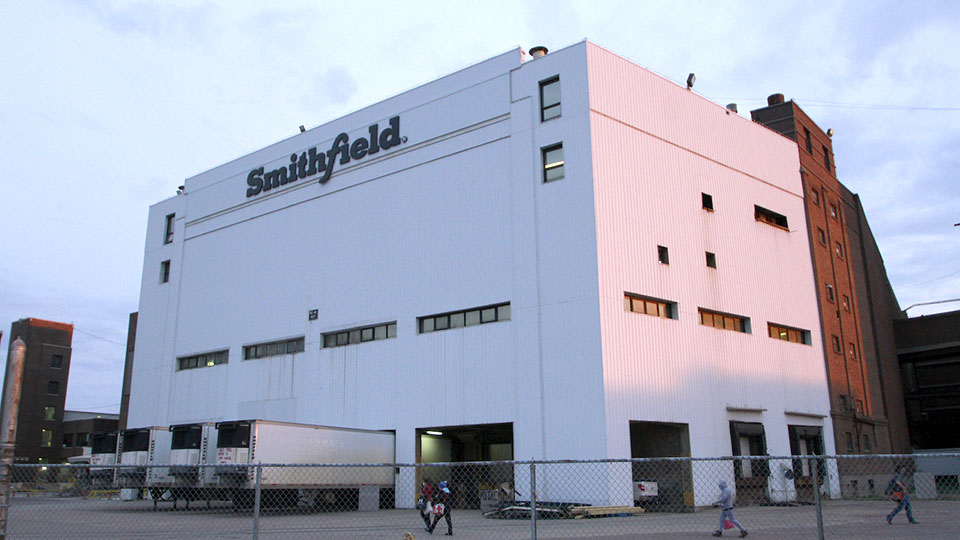 WASHINGTON—The Trump regime's $13,494 fine against the infamous Smithfield pork production plant in Sioux Falls, S.D.—a plant where company failure to protect workers against the coronavirus infected at least 1,300 of them and endangered the whole city—is a "slap on the wrist," says Marc Perrone, president of the workers' parent union, the United Food and Commercial Workers.
But the fine, though Perrone did not say so, also shows how weak the Occupational Safety and Health Administration is in enforcing the 50-year-old law.
That's because the figure is the maximum OSHA could fine Smithfield for "one violation of its general duty clause for failing to provide a workplace free from recognized hazards that can cause death or serious harm," to quote the agency's language—even though four of the infected workers have died.
And Smithfield announced on September 11 that it will contest the fine, imposed the day before.
The dead Smithfield workers are among the 177 dead South Dakotans killed by the pandemic since it was officially recognized on March 13. The coronavirus has killed almost 200,000 nationwide, including 122 meatpacking plant workers UFCW knows about, Perrone adds.
The Sioux Falls Smithfield plant became infamous as a coronavirus hotspot despite efforts of UFCW Local 304, which represents the workers, and the state labor federation, led by Kooper Caraway, to stop the spread of the virus through the workforce and the 36,000-person city beyond it.
The federation and the city's mayor pushed for preventive measures at Smithfield, including personal protective equipment (PPE) for plant workers, hard partitions, a slowdown in pork line speeds, handwashing breaks, and sanitizers.
The workers and the mayor also pushed for citywide anti-viral measures, such as mandatory masks in public places. But pressure from Trumpite GOP Gov. Kristi Noem—who refused to impose statewide protection—and from a crowd of right-wingers in its audience led the Sioux Falls City Council to vote the effort down.
"How much is the health, safety, and life of an essential worker worth?" Perrone asked. "Based on the actions of the Trump administration, clearly not much. This so-called 'fine' is a slap on the wrist for Smithfield and a slap in the face of the thousands of meatpacking workers who have been putting their lives on the line to help feed America since the beginning of this pandemic."
"OSHA has been asleep at the switch throughout this pandemic and this is just the latest example of the agency failing to do their job and take responsibility for worker safety. If we truly care about protecting workers and our nation's food supply during this pandemic, the federal government must take action, beginning with an enforceable national safety standard, increased access to PPE and COVID-19 [coronavirus] testing, and rigorous proactive inspections."
"Smithfield is a multi-billion-dollar corporation that failed to protect its workers, with multiple deaths and more than a thousand infections on their watch. This response by OSHA confirms the company will not face any real consequences. The failure by the Trump administration to hold Smithfield accountable makes clear this White House cares more about industry profits than protecting essential workers."
OSHA Area Director Sheila Stanley responded with the agency's general warning to firms to protect their workers: "Employers must quickly implement appropriate measures to protect their workers' safety and health. Employers must meet their obligations and take the necessary actions to prevent the spread of coronavirus at their worksite."