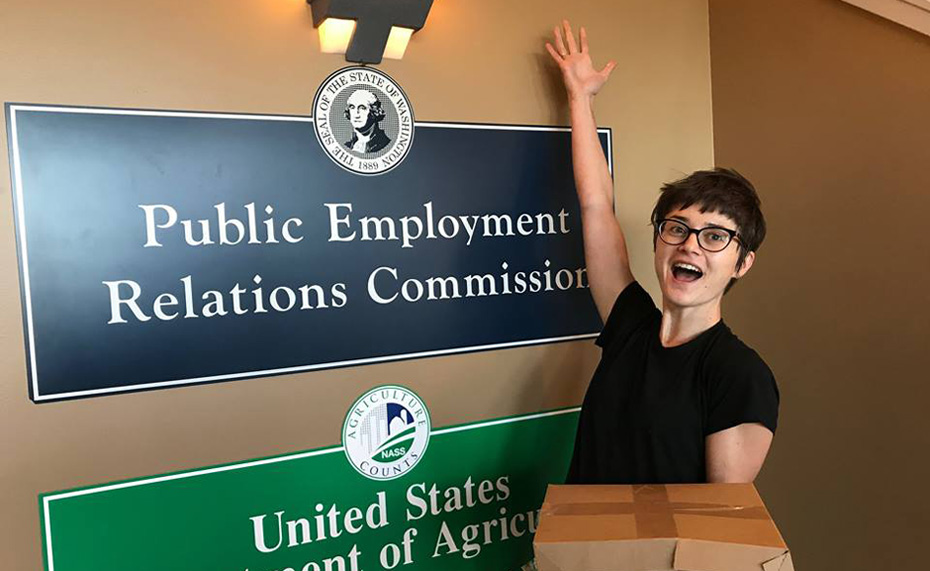 SEATTLE (PAI)—Postdoctoral researchers at the University of Washington are telling their colleagues of yet another reason to unionize: Mobilizing together to protect against sexual harassment on the job.
And even though they have signed union election authorization cards from the majority of the 1,200 postdocs at the university's Seattle campus, the unity against harassment and exploitation gives advocates yet another argument to convince their colleagues.
UW Postdocs United, which seeks to unionize with Auto Workers Local 4121, filed the cards with the state Public Employment Relations Committee in early October. They expect the university bosses to oppose their organizing drive, just as it did when academic student employees, hospital interns and residents and the university faculty unionized.
"Unions make a difference. When university employers fall short, unions give academic researchers a tool to address sexual misconduct and unequal treatment," the organizing committee wrote in a Facebook posting." An empowered workforce can deter arbitrary treatment, and this can help ensure long-term career stability—particularly for women and non-binary employees," the Nov. 27 posting said.
The University of Washington postdocs are the latest group of on-campus employees to unionize following favorable rulings by the National Labor Relations Board, even though their university and their organizing drive comes under the jurisdiction of the state's equivalent board. Several unions nationwide are vigorously organizing such campus workers.
Other recent results include successes at the University of Chicago among TAs and RAs (Illinois Federation of Teachers) and undergrad library workers (Teamsters) and an inconclusive drive at Washington University in St. Louis (Service Employees), to be decided on the outcome of challenged ballots.
The postdoc organizers sent a letter to the university president and other administrators, informing them of the card-check majority and requesting voluntary recognition. They praised the administration's progressive stands against the Trump administration's Muslim ban and plans to deport undocumented people, as the university's opposition to union-hating, teacher-hating, public school-hating Trump Education Secretary Elizabeth "Betsy" DeVos, a GOP big-giver from Michigan.
"We are hopeful that once we form our union, we can work together as allies in areas of mutual interest, such as these," their letter adds.
But that will be difficult, it says, as long as the postdocs are underpaid, have no job security, and suffer arbitrary treatment, the letter adds. The postdocs are "a cutting-edge workforce" at the university who "perform critical research with real-world applications" and will be able to do even better at meeting that goal if they're unionized and have decent pay and job security, the letter said.