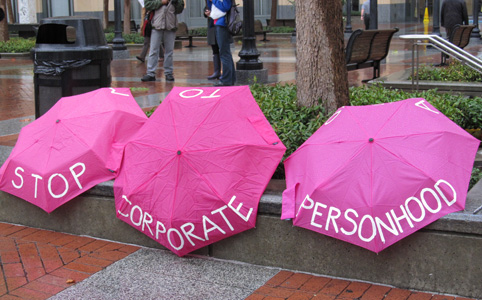 After days of drama, Californians now know something about the origins of a mystery $11 million political donation – the largest anonymous donation in the state's history – but much more is still hidden from view.
The money in question was donated by Americans for Responsible Leadership, an Arizona-based nonprofit group. It was given to the California-based Small Business Action Committee No on 30/Yes on 32, which is fighting to defeat pro-education Prop. 30, and to pass anti-union Prop. 32.
Prop. 30, backed by a labor-community coalition and by Democratic Governor Jerry Brown, would temporarily tax high incomes and impose a small sales tax hike, to assure funds for public education. Prop. 32 would bar unions from using payroll-deducted funds for political purposes, while letting corporations spend freely.
In Arizona the sources of such donations can be kept secret, but under regulations passed earlier this year, the origins must be revealed in California.
The saga began last month, when California Common Cause called on the state's Fair Political Practices Commission (FPPC) to "shine the light on this shadowy group to determine who they are, where their money comes from and what their agenda is for California."
Common Cause pointed out that the law office that incorporated Americans for Responsible Leadership "counts Karl Rove's Crossroads organizations and several organizations tied to conservative billionaires Charles and David Koch among its clients."
Americans for Responsible Leadership had never before spent more than $500,000 on a political campaign, Common Cause said, and this suggested it was a "shell organization" set up to hide the true identity of donors.
The FPPC quickly agreed to take the matter on, filing a lawsuit to compel the Arizona group to reveal the source of the funds, and pressing for the information to be revealed before the Nov. 6 election.
After a series of twists and turns involving a Superior Court judge upholding the lawsuit, an Appeals Court staying it, a unanimous state Supreme Court action again upholding it, and a threatened appeal to the U.S. Supreme Court, Americans for Responsible Leadership Nov. 5 agreed in a late-night conference to finally reveal the donor's identity.
It turned out to be a nonprofit Virginia-based "business league," Americans for Job Security, which in turn channeled the funds through yet another nonprofit, Arizona-based The Center to Protect Patient Rights, earmarking it for the two California initiative campaigns.
Under the U.S. Supreme Court's 2010 Citizens United decision, neither group is legally bound to name its donors.
The FPPC called the initial refusal to disclose the donors "campaign money laundering."
Americans for Job Security has spent heavily on ads opposing President Obama's reelection, while The Center to Protect Patient Rights has given generously for ads to defeat Democratic Congressional candidates.
The Center to Protect Patient Rights has been said to have connections with Koch Industries. Asked by the Sacramento Bee about possible involvement in the scheme, a Koch Companies Public Sector spokesperson denied the Kochs had donated to either of the proposition campaigns.
FPPC chair Ann Ravel said the commission's "persistence and hard work" had won "a significant and lasting victory for transparency in the political process." She said the FPPC will continue working on the current case and others, and called for reform "to make sure true donors are disclosed."
California Attorney General Kamala Harris said her office is continuing to investigate to see if Americans for Responsible Leadership has violated state laws, with possible civil or criminal penalties.
Meanwhile, the latest polls show Prop. 30 might squeak by, and Prop. 32 will probably lose, despite the secretive right-wing donors' best efforts.
Photo: Marilyn Bechtel