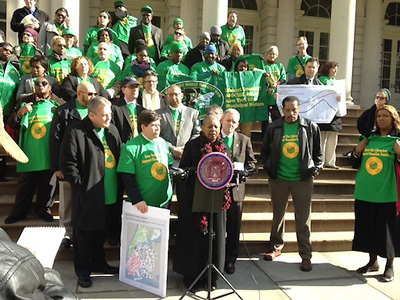 NEW YORK — Library workers announced yesterday the launch of a new campaign to secure regular funding for the city's world-class libraries. Caught up in the cycle of constant budget cuts, the New York Public Library system faces the challenge of meeting an increase in the demand for services with less funding. The public workers' union proposes that the city allocate 2.5 percent of an existing citywide property tax to go to library funding.
"Having a permanent funding stream would free the library systems, staff and patrons from the annual round of budget cuts and restorations that now take place and provide more stable delivery of services to communities citywide, which are using public libraries at an ever increasing rate," said District Council 37 Executive Director Lillian Roberts at the March13 press conference and rally at City Hall.
Presidents of union locals representing librarians, maintenance, administrative and other staff at New York's 206 public library branches and city council representatives joined Roberts in the call for a permanent baseline funding plan. The union points out that public libraries "add value to a neighborhood, with property values going up when a library is located nearby."
In a statement, DC 37 said, "Returning some of this value to maintaining public libraries would provide a consistent funding source and conserve the resources that libraries, staff and patrons must now expend each year to fight for restoration of proposed budget cuts."
More than 40.5 million visitors utilized the New York library system last year.
"At Brooklyn Public Library, circulation has increased 77 percent and program attendance is up 41 percent, but despite this strong community demand for library services we have to campaign year after year for adequate funding," said Brooklyn Library Guild Local 1482 President Eileen Muller. "Dedicating 2.5 percent of existing property tax levies to funding public libraries would offer a way out of this bad situation and set up public libraries with stable budgets for the future."
Public libraries have long been a way to provide educational and cultural "hope and opportunity for millions of New Yorkers," said Council Member Jimmy Van Bramer, chair of the New York City Council's Cultural Affairs and Libraries Committee.
Van Bramer assailed the $106 million budget cut to libraries as "irresponsible" and, in enacted, "devastating."
"Library workers are unsung heroes, educating and caring for children and seniors alike. They deserve better. New York City deserves better," he said.
Cuthbert Dickenson, president of Quasi-Public Employees Local 374, which represents maintenance workers and other critical support staff, said "public libraries are part of the educational fabric of New York City" and as such they need "stable funding so the young, the old and the in-between can visit, do research and benefit from library services in clean, attractive, well maintained facilities."
Photo: DC 37's Lillian Roberts speaks on the steps of City Hall in New York at a March 13 rally and press conference demanding regular funding for public libraries. (DC 37)