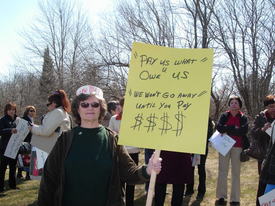 EAST PROVIDENCE, R.I. — Workers who were locked out of their jobs at a local factory two months ago are demanding, "Pay us what you owe us."
Two hundred eighty workers at the non-union Colibri Group, a manufacturer of jewelry, cigarette lighters and clocks, found their workplace doors padlocked with no warning on Jan. 15.
The workers received no advance notice, they said, and were paid only through Jan. 14, the day of the closing. They and their supporters say this is a clear violation of the federal Worker Adjustment and Retraining Notification Act, passed in 1988 and known as the WARN Act, which requires 60 days' notice for layoffs involving 100 workers or more.
The East Providence factory was shut down by Founders Equity, a New York private equity firm that acquired control of Colibri a few years ago. A court-appointed receiver is auctioning off the company's assets, and will use the proceeds to pay off the firm's debts, which amount to more than $30 million.
The Colibri workers say they should be first on the list to be paid.
They have won the backing of the Providence City Council and the Rhode Island General Assembly, which this month passed resolutions supporting their struggle for severance pay and benefits.
The workers, organized as Colibri Workers for Rights and Justice, rallied March 17 in front of the Colibri Group headquarters here, chanting, "We'll go away when we get our pay." Some wore homemade headbands declaring, "Founders Equity broke the law."
"They wiped their feet on us and told us to go away," said 33-year Colibri worker Evelyn Rozzero. "We're not going away." Founders Equity "robbed this company, destroyed it," she said angrily. "They took the money and ran."
Her coworker Joyce Burnham described the "terrible" feeling when she received a phone call telling her the company would close the following day. "I'm going to be 62," she said. "Who's going to hire me?"
"So many times we went to work when we were sick, to help them get rich," Yannery Sarit told the crowd, speaking in Spanish. "They have no respect for our dignity as workers."
Shirley Samayoa, who worked at the factory for 27 years, told how she and others came together to fight for what they are owed. She compared it to "the story we tell our children of the tortoise and the hare." The tortoise "took little steps that get us to the finish line," she declared. "That's what the Colibri workers have to do."
"We have to band together," she said.
They were joined by state AFL-CIO and SEIU leaders, state legislators and other supporters. Mark Mancinho of the state AFL-CIO announced the federation was donating $1,000 to the workers' campaign and said it was "prepared to stand, sit with you until economic justice is achieved."
The court-appointed receiver, attorney Allan Shine, watched silently in the background as a lawyer from his firm filmed the rally — "for the record," Shine said.
Last month, a judge confirmed two big banks, HSBC and Sovereign, as "secured creditors," putting the banks first in line to be paid from Colibri's assets.
Mike Masi, a toolmaker at Colibri and a Vietnam veteran, took the stand on behalf of the workers' group and asked the banks to voluntarily put themselves behind the workers in the order of payment. The judge called the move 'highly unusual.'
Masi handed the banks' lawyers a letter signed by the workers that said, 'We are here today to ask you to cede your position to the workers of Colibri so that we may be paid before you."
The workers' letter continued: "Banks have insurance. We don't. Banks can wait to be repaid. We can't. For some of us, both wage earners in the household were working at Colibri and now we are left with zero income. Others of us struggle with health issues and greatly depended on our health insurance, which was cut off as well. All of us were thrown into chaos by an action that was illegal, namely, Founders Equity's violation of the federal WARN Act, which should have given us 60 days' notice before the closure."
"Providing notice would have been an easy thing to do," the workers noted. "But Founders Equity, based in Manhattan, had no regard for the damage such an abrupt closing would cause to us individually and as a community, as Rhode Island's unemployed rate has exceeded 10 percent."
Both Sovereign and HSBC have operations in Rhode Island, and the workers appealed to their "vested interest in the state" and sense of commitment to its people, asking them to "recognize the power you have to change this situation."
HSBC received more than $3 billion in taxpayer money from the federal bailout of the insurance giant AIG last fall, according to documents released this week by AIG.
The Colibri workers and Rhode Island Jobs with Justice will return for another rally at The Colibri Group headquarters this Thursday, when the auction of the assets is scheduled to take place.
"The courts are auctioning off Colibri's assets — equipment, goods, and licenses — to pay back the banks, HSBC and Sovereign, while Colibri workers have been promised nothing," Jobs with Justice notes.
"It's the same story everywhere today. The banks get bailed out and paid off, while the people who made the products that built the Colibri Group's internationally known name, people who dedicated decades of their lives in service to Colibri, are left with nothing."
At a rally last month outside Shine's office, the workers said they were demanding "what is ours under federal law: 60 days pay and 60 days benefits. We also demand a severance package that honors and respects the years many of us have worked to make Colibri Group great and to continue the long tradition of jewelry making in Providence."
The Colibri workers are very diverse group, including Latinos, whites, Haitians, Southeast Asians, East Asians and Portuguese people.
They are filing claims collectively with the receiver through a pro-bono attorney, said Greg Pehrson, an organizer with Fuerza Laboral, a local worker rights group. He said the lawyer is also preparing a federal WARN Act violation lawsuit against Founders Equity.
"We are constantly trying to build alliances with supportive organizations as well as keep the street-level demonstrations ongoing to keep the public pressure up," Pehrman said.
"This is an example of what will happen with other companies," said Valeria de Leon, a 19-year Colibri worker. "I want people to know that if this happens to them, there's something they can do."
At Providence City Hall earlier this month, Councilman Luis Aponte thanked the workers for taking a stand.
"There is a belief by those in power that workers are a resource that can be done away with — a disposable and dispensable part of the global economy," Aponte said. "The fact that you are standing up and saying that 'we are not,' that workers are the ones who make the wealth and cannot be tossed away like a used up resource — thank you. I am in awe of you and impressed by your willingness to fight for the justice you deserve."
Jobs with Justice has a national online campaign pressing Founders Equity for justice for the Colibri workers. So far 2,500 people from around the country have signed on. The petition is available at www.unionvoice.org.