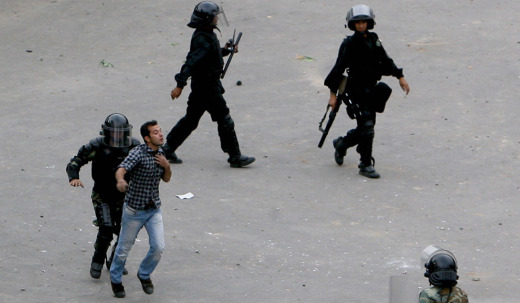 Human rights organizations around the world are combining to call for the release of hundreds of people believed to be held incommunicado following mass arrests in Iran on December 27 and 28, 2009. The arrests followed protests against the regime which took place on the Shi'a Muslim festival of Ashura on Dec. 17.
Amongst those arrested were Leily Afshar, a 29-year-old photographer who was pulled from her car by plainclothes officials near an anti-government demonstration; Atieh Yousefi, a women's rights campaigner arrested in the city of Rasht; and Reza al-Basha, a Syrian national studying in Iran who works as a part-time reporter for Dubai TV.
Leily Afshar has been permitted one phone call to her family in which she confirmed that she was being held in the notorious Evin Prison section 209. Atieh Yousefi was allowed to meet her family on Jan. 1. It is not known where Reza al-Basha is being held.
The three are amongst hundreds of prisoners detained without charge or trial by the government of the Islamic Republic, with little or no access to their families, lawyers or appropriate medical treatment.
These arrests follow a long pattern of arrest and detention without charge or due process following the disputed election of June 12, 2009, which saw Mahmoud Ahmadinejad installed as the Iranian president for a second term. Protests against the election outcome have increasingly become expressions of discontent with the regime and have met with violent responses by the security forces.
The wave of arrests at the end of December was the most extensive yet. The opposition website Jaras suggests that at least 1,300 were arrested across Iran and human rights groups calculate that at least 300 prisoners involved in the protests are being held in Evin Prison in Tehran. Jaras also notes that since the demonstrations over 180 journalists, human rights activists and members of political parties linked to Mir Hossein Mousavi and former president Khatami have been detained.
Speaking on behalf of the Committee for the Defence of the Iranian People's Rights (CODIR), Assistant General Secretary Jamshid Ahmadi expressed his outrage at the actions of the Iranian government.
"It is simply not acceptable that the government of Iran is able to act with impunity and round up opponents in this manner," he said. "The regime is adopting a strategy of both silencing opposition activists and arresting the journalists who can tell the real story of what is going on in Iran. Ensuring that word of their actions reaches the international community is vital. We must make it clear that their behavior is not acceptable and that people around the world will continue to speak out in solidarity with the Iranian campaigners for peace, democracy and social justice."
Ahmadi pledged ongoing activities of CODIR in support of the campaign for the unconditional release of those arrested in the demonstrations in December and all prisoners held without charge in Iran's prisons.
CODIR adds its voice to the call for the public to please write immediately to the relevant offices listed below, including the following points:
* stressing that Leily Afshar, Atieh Yousefi and Reza al-Basha, and all those detained, must be protected from torture or other ill-treatment and allowed access to their families, lawyers and any necessary medical treatment, and should be brought before a judge without delay so they may challenge the lawfulness of their detention;
* calling for anyone held solely for their peaceful participation in demonstrations on or following Ashura to be released immediately and unconditionally, and for others suspected of criminal offences to be tried promptly and fairly without recourse to the death penalty;
* calling on the authorities to ensure that the policing of any further demonstrations meets international policing standards, including the use of firearms only as a last resort where strictly unavoidable in order to protect life, and urging that an impartial investigation be conducted into the deaths of all those killed.
Please send such appeals before Feb. 19 to:
1. Leader of the Islamic Republic
Ayatollah Sayed 'Ali Khamenei
The Office of the Supreme Leader
Islamic Republic Street – End of Shahid Keshvar Doust Street
Tehran
Islamic Republic of Iran
E-mail: info_leader@leader.ir
Via web site: http://www.leader.ir/langs/en/index.php?p=letter (English)
Salutation: Your Excellency
2. Head of the Judiciary
Ayatollah Sadeqh Larijani
Howzeh Riyasat-e Qoveh Qazaiyeh (Office of the Head of the Judiciary)
Pasteur St., Vali Asr Ave., south of Serah-e Jomhouri
Tehran 1316814737
Islamic Republic of Iran
E-mail via web site: http://www.dadiran.ir/tabid/75/Default.aspx
First Salutation: Your Excellency
And send copies to:
Director, Human Rights Headquarters of Iran
His Excellency Mohammad Javad Larijani
Bureau of International Affairs, Office of the Head of the Judiciary
Pasteur St., Vali Asr Ave. south of Serah-e Jomhouri
Tehran 1316814737
Islamic Republic of Iran
E-mail: bia.judi@yahoo.com
Fax: + 98 21 5 537 8827 (please keep trying)
Also send copies to diplomatic representatives of Iran accredited to your country.
Photo: http://www.flickr.com/photos/arasmus/ / CC BY 2.0