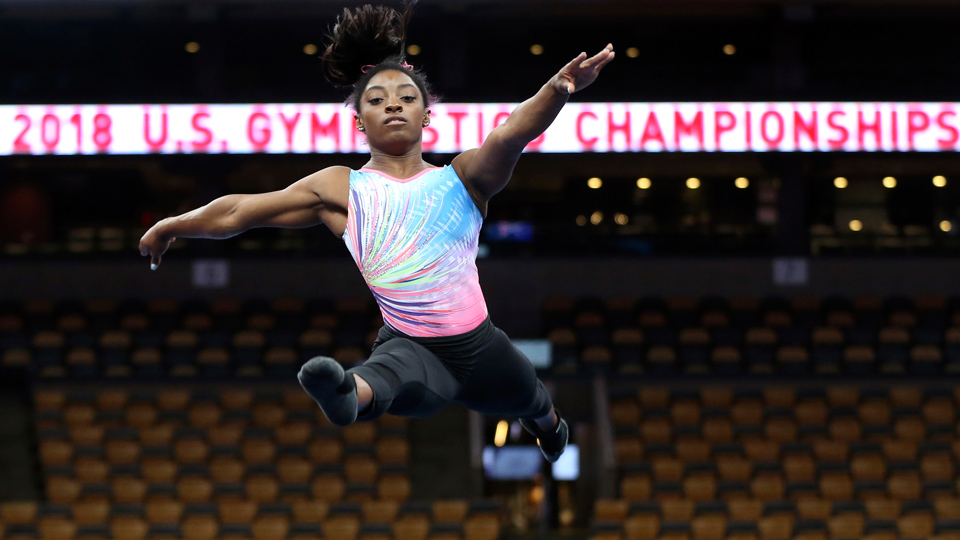 U.S. Olympic gold medalist Simone Biles admonished the new chief of USA Gymnastics Saturday for a September 7 tweet mocking Nike around the time it was announced former San Francisco 49ers quarterback Colin Kaepernick would be the new face of Nike's "Just Do It" ad.
Former U..S. Representative Mary Bono was hired as interim president Friday, October 12 while USA Gymnastics searchers for a permanent replacement after Kerry Perry resigned in September under pressure from the United States Olympic Committee (USOC)after nine months on the job.
Bono, a Republican, posted an image of herself, Sharpie pen in hand, scratching out the Nike logo on her sneakers with the caption: "Playing in a charity golf tournament raising money for our nation's Special Forces operators and their families. Unfortunately had these shoes in my bag. Luckily I had a marker in my bag too…"
Biles retweeted Bono's post and wrote: "(asterisk)mouth drop(asterisk) don't worry, it's not like we needed a smarter USA Gymnastics president or any sponsors or anything."
Bono quickly deleted her original tweet, saying: "I regret the post and respect everyone's views & fundamental right to express them. This doesn't reflect how I will approach my position @USAGGym I will do everything I can to help build, w/ the community, an open, safe & positive environment.
Bono spent 15 years as a U.S. Representative from Southern California from 1998-2013, winning her first term in a special election running as a Republican to fill the vacancy left by the death of her husband, former pop star and lawmaker Sonny Bono.
Biles, a survivor of Nassar's sexual abuse and one among the more than 200 women to come forward over the last two years, won four gold medals at the 2016 Rio Olympics, and is currently sponsored by Nike.
USA Gymnastics is still stumbling from the Nassar scandal and has lost several of its biggest donors, including sports apparel company Under Armour.
And with Bono's recent tweet, critics and athletes are questioning how open or receptive she will be to athlete concerns after being critical of the NFL protests.
Biles disapproved of Perry for not being vocal enough in her support of the survivors.
"Hopefully it's going in the right direction, but nobody can know until Kerry Perry speaks up. So it's kind of hard," said Biles of Perry in August.
Bono has not released any further statements.
Her last tweet regarding the issue (October 13) read: " Hey all, I know the Tweet will live on but have taken it down to move the focus to all I hope to accomplish on behalf of a great sport & those who are dedicated to it."