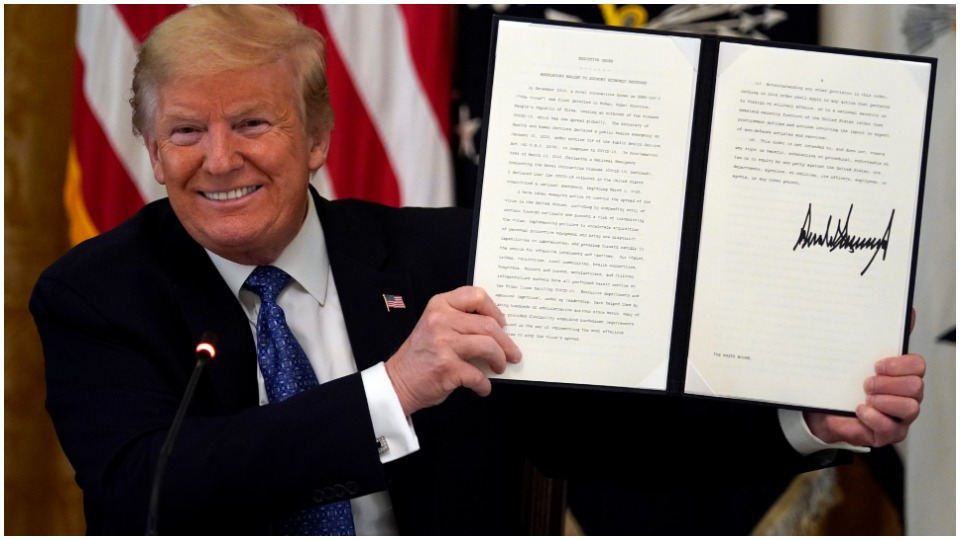 WASHINGTON—Catering to corporate chieftains and right-wing ideologues, GOP President Donald Trump ordered all federal departments and agencies, large and small, to trash rules and regulations, and their enforcement. He used the excuse that doing so would help stimulate the economy to recover from closures due to the coronavirus pandemic.
Trump did not specify which rules should be junked. His dictate had no limits at all. That means agencies could use the "economic recovery" justification to scrap minimum wage and overtime pay rules, job safety and health rules, clean air and water rules, consumer safety rules, civil rights rules, rules to curb shady speculators, curbs on financial finaglers, antitrust rules, and more.
The radical right cheered his executive order, but kept their crowing relatively low-key. One crower: Rep. Virginia Foxx, R-N.C., who, as former chair of the House Education and the Workforce Committee, questioned the need for—and the legality of—labor unions.
"Now, more than ever, we need to create an environment that provides relief and support for our nation's businesses and job creators. Red tape, over-zealous enforcement, and burdensome regulations aren't the answer," Foxx declared on May 20.
Brad Close, president of the so-called National Federation of Independent Business—another key piece of the radical right—called Trump's edict "welcome news for small business owners trying to navigate the various regulations, laws, and guidelines…. The administration has acted swiftly to provide regulatory relief and protect our nation's small businesses."
And the radical right Heritage Foundation, in a report and recommendations to the Trump regime in mid-May, advocated, among other schemes, "review all regulations that have been waived or modified in response to COVID-19 and consider permanent changes," using the official name for the coronavirus.
That's exactly what Trump did—the day before the Labor Department said pandemic-caused lockdowns added 2.44 million people to the jobless rolls in the week ending May 15.
Those newly jobless workers pushed unemployment claims since the pandemic hit to 38.6 million, including those workers DOL admits should be counted as jobless, but aren't because they're on temporary layoff. The official jobless rate is now 17.2% but DOL said the week before the "temporary layoffs" means it should be at least five percentage points higher.
Trump also makes clear he wants the lack of rules and no enforcement to be permanent, again using "economic recovery" as the reason.
With two possible exceptions, progressive groups had no immediate reaction to Trump's edict.
The AFL-CIO, in its May 21 daily brief on how to respond to the coronavirus pandemic and how to prepare to reopen the country, declared "elected leaders…must do the right thing for America's workers and our families. Protect us on the job, keep working people on the payrolls and protect earned pensions, invest in vital public services, ensure health coverage for all workers, and rebuild our infrastructure. The labor movement will not accept anything less."
And Public Citizen added: "Corporate demands to eviscerate environmental protections, consumer safeguards, worker safety rules, wage and hour laws, legal accountability, and regulatory enforcement—along with perpetual appeals for ever more tax cuts—have reached a crescendo during the Trump administration, which is inclined to say 'yes' to requests beyond lobbyists' wildest dreams."
Trump's order exceeds those dreams. First his order blames China for the coronavirus. Then, he pats himself on the back for his "sweeping action to control the outbreak." Then comes the meat of the order:
"Agencies should address this economic emergency by rescinding, modifying, waiving, or providing exemptions from regulations and other requirements that may inhibit economic recovery, consistent with applicable law and with protection of the public health and safety, with national and homeland security, and with budgetary priorities and operational feasibility."
"They should also give businesses, especially small businesses, the confidence they need to re-open by providing guidance on what the law requires, by recognizing the efforts of businesses to comply with often-complex regulations in complicated and swiftly changing circumstances, and by committing to fairness in administrative enforcement and adjudication."
The order later translates "fairness in enforcement" into federal "compliance assistance" to businesses, followed by virtually no enforcement at all. And they don't have to tell us what they're up to.
"The heads of all agencies shall consider whether to formulate, and make public, policies of enforcement discretion that, as permitted by law and as appropriate in the context of particular statutory and regulatory programs and policy considerations…decline enforcement against persons and entities that attempted in reasonable good faith to comply with applicable statutory and regulatory standards, including those persons and entities acting in conformity with a pre-enforcement ruling."
Trump also makes clear he wants the lack of rules and no enforcement to be permanent, again using "economic recovery" as the reason.
The seventh section of his order tells agency chiefs to "review any regulatory standards they have temporarily rescinded, suspended, modified, or waived during the public health emergency" other actions they take to follow his order "and other regulatory flexibilities they have implemented in response to COVID-19, whether before or after issuance of this order, and determine which, if any, would promote economic recovery if made permanent."
They'd then send those decisions to Trump's Office of Management and Budget for review.
Like free stuff? So do we. Here at People's World, we believe strongly in the mission of keeping the labor and democratic movements informed so they are prepared for the struggle. But we need your help. While our content is free for readers (something we are proud of) it takes money — a lot of it — to produce and cover the stories you see in our pages. Only you, our readers and supporters, can keep us going. Only you can make sure we keep the news that matters free of paywalls and advertisements. If you enjoy reading People's World and the stories we bring you, support our work by becoming a $5 monthly sustainer today.