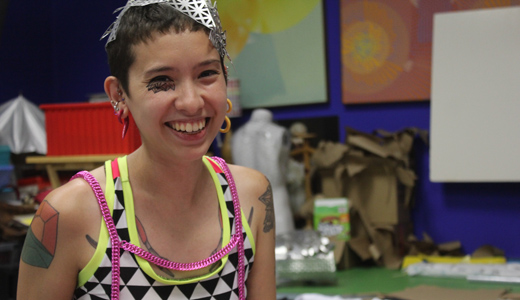 CHICAGO – Sky Cubacub is always working. Since the 2014 launch of the "QueerCrip" clothing line, Rebirth Garments, the Chicago artist and designer (Cubacub, who identifies as genderqueer/gender fluid, uses "they" and "them" pronouns) has found themselves in a whirlwind of constant chaos. "I've got to change the world!" says the 24-year old, meticulously cutting out the lining on a fresh piece of fabric for a plus-sized crop top. In reality, Cubacub considers themselves to be 'rebirthed' and often refers to their actual age as three years, to mark the moment when they first became comfortable with the various disorders and identities that inspired their clothing line. (Cubacub even held a 'birthing ceremony' of sorts, and was "buried" with a group of close friends to help start a new phase in their life.)
Cubacub also identifies themselves proudly as 'Crip' with anxiety and panic disorders. Having these invisible disabilities made their teenage years difficult to navigate: "I always felt like my brain was going to explode, and I never knew how to make it stop," they said. In part, these hardships are what influenced Cubacub to make creative work for themselves and other QueerCrip individuals through art and design.
Before Rebirth Garments came into being, Cubacub was a Chicago Public Schools student trying to find affirmation and acceptance. "I really do think going to [Northside College Preparatory high school] helped me find the confidence in myself."
Cubacub said they first began seriously experimenting with making chainmail armor in high school for various art classes. "I did an 18-piece collection for my senior art project." It was during this time that they began interning with different artists in the mainstream fashion industry in Chicago, and found that there were virtually no designers that created clothing for individuals that fell outside of the standard heteronormative, able-bodied paradigms.
Despite the rising of more recent 'body positive' movements, a majority of clothes manufacturers are still creating garb that is often designed with thinner models in mind. Though the average American woman is a size 14, the models which they promote are normally much smaller. When Cubacub first started designing clothes, they were told repeatedly by fashion veterans that they should hire "professional" models, instead of friends.
In the fashion industry, they explained, models are supposed to act as 'hangers' for the clothes they wear and are not supposed to distract from the attire. "What does that say about the clothes you're designing? If your clothes are so boring that you have to try and find a boring person to make your clothes look better?"
Cubacub describes their pieces as "gender non-conforming wearables and accessories for people on the full spectrum of gender, size and ability." By being so inclusive, Cubacub seeks to create a community where all people can confidently express their individuality and identity. Rebirth Garments embodies the notion of 'radical visibility'; it includes a number of brightly colored spandex textures and see-through mesh fabrics, in addition to the intricately detailed chainmail headpieces and jewelry. Beyond the materials, Rebirth Garments' goal is to challenge queer and gender-nonconforming individuals, and those with visible and invisible disabilities/ disorders, to embrace their bodies as an act of political resistance.
Cubacub has been vocal about their own issues with anxiety and depression in order to start allowing for conversations around mental health. "My anxiety really kind of rules my life in some ways – but at the same time it helps me keep focused on all my work."
Cubacub has held shows in a number of states. They are currently getting ready to show work at Queer Fashion Week in Oakland, Calif. Cubacub hopes that they can eventually spread the movement to different countries. "I'd love do shows in countries where there isn't queer visibility."
Not many designers have tackled inclusivity in the way that Rebirth Garments has. "I feel that within ten years we can really change the fashion industry," said Cubacub. A number of their models have already felt the impact on a personal level. Lucky Stiff, a performer with SADHAUS, a Chicago-based drag performance art collective, spoke on how intimate is being a part of Rebirth Garments network, "Sky makes me feel comfortable and gorgeous, like this body is the only one I need, just as it is – not every designer can make you feel like that."
Sky has also made a conscious effort to include youth in their work and movement. Milenka Bermanová, a 16-year-old Rebirth Garment model, has a condition called alopecia, which is an autoimmune disease that makes your hair fall out. For years Bermanová wore itchy and uncomfortable wigs to school, but eventually discovered the chainmail head pieces that Sky designed. "If it weren't for Rebirth Garments," said Bermanová, "I'd probably still be struggling to accept my alopecia. I would still be hiding behind wigs and I wouldn't know how to summon up the courage to go out without one."
For Cubacub, these stories only further motivate and drive them to continue working. "I hope people keep reaching out to me," they said, cranking up a sewing machine. When asked if they were ever concerned that someone might rip off or copy their brand, Cubacub replied: "I hope people copy me! That would mean that people are actually creating clothes for different types of identities." For Cubacub, Rebirth Garments isn't just a personal venture, it is about creating a space for those who have been erased in society for so long.
Photo: Cubacub at work | Michelle Zacarias/PW