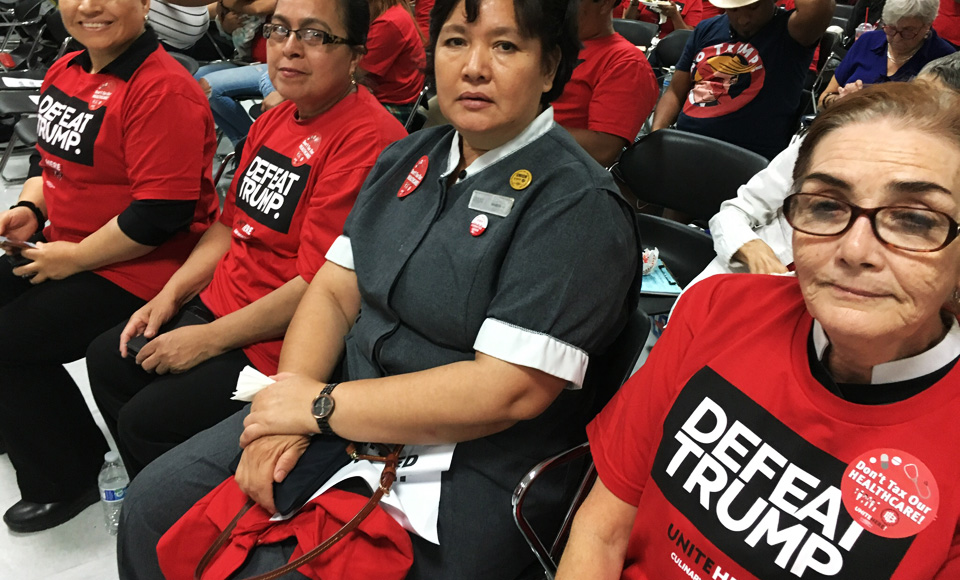 LAS VEGAS – Does presidential candidate Donald Trump plan to respect the outcome of the Nov. 8 elections? He told Americans at the Oct. 19 debate he'd let us know after he sees how the results turn out.
Workers in Trump's golden-glass-covered hotel here have first-hand knowledge of how, when it comes to respecting election results, their boss has a lousy record.
Last December, a federally run election took place involving the Las Vegas Trump Hotel. The 500-member work force voted by secret ballot to become part of Culinary Workers Union Local 226, and the National Labor Relations Board certified the outcome. But management, led by Donald's son Eric, has flat out refused to recognize the employees' decision.
Another "rigged election" charge
For nearly a year, the Trumps have dragged out the process in appeal after appeal, trying to make the case that the workers rigged the election.
"Right now Mr. Trump is legally required to negotiate, but he won't," said union spokesperson Bethany Khan. This means that the 1,200-room upscale hotel is actually operating illegally.
But the Culinary Workers union, whose members include workers from nearly every major casino and hotel in Las Vegas and Reno, "is used to going against multi-billionaire corporations and billionaire bosses," continued Khan, "and we always win."
During debate week in Las Vegas, the 57,000-member Local 226 tapped into its strong bases of support, local and national, to draw attention to and backing for its members' demand that Trump management obey the law and recognize the result of its employees' vote.
Solidarity fest on the Strip
On debate morning, as a fleet of shiny black limos with "Trump Pence campaign" cards in their windshields pulled into the luxury hotel's roundabout, an equal number of taco trucks arrayed themselves into a "unity wall" at the entrance to the luxury hotel.
Hundreds of Local 226 members overflowed the sidewalks. They were joined by representatives from Laborers, AFT, Teamsters, UFCW, Machinists, Steelworkers AFGE, Operating Engineers, IBEW, Planned Parenthood, retirees, immigrant rights and NextGen Climate Action. Grammy award-winning Los Tigres del Norte, longtime union ally, the Rev. Jesse Jackson, and the crowd's favorite, Nevada State Sen. Ruben Kihuen, the son of a union housekeeper, who is running for U.S. Congress, greeted the crowd.
The taco trucks offered their wares to the union supporters in a savory show of brotherhood.  "Our wall is about love," said taco truck operator Juan Guzman, 33.
Nearby, a trio of bagpipe players from the Laborer's union chimed in while the crowd chanted, sang, danced, and signed solidarity pledges on the cardboard extension of the  "Wall of Unity."
Bagpipes?
Why bagpipe players? "Trump screwed over Scotland, so we figured let's bring the pipes and show 'em," laughed Tommy White, business manager of Laborers' Local 872. On a more serious note, White looked forward to the evening's debate, hoping it would address the issue of fairness for workers. "One of my members died building that hotel," he recalled, solemnly pointing to the upper floors of the 64-story building. The laborer, Will Pelayo, fell several stories in 2005 in a cement pour during its construction.
Standing behind the Wall of Unity was Donald Trump impersonator Chad Neanover, 41. Neanover had covered himself in orange make-up to play the villain for the day. "I'll do whatever it takes to get the folks at Trump Hotel their contract," he explained.
Fighting for a union
The union's in-house organizing committee is dominated by a sisterhood of strong-willed middle-aged immigrant women. Over a two-year period, hotel management spent half a million dollars  to defeat them, pulling out all the stops in  a high-pressure campaign to force the workers into a "No" vote. The mostly immigrant work force was put under surveillance, called "traitors" and five organizing committee members were illegally fired for wearing union buttons.  But the committee gained the confidence of the majority of their fellow workers and "union Yes" won the day. The National Labor Relations Board certified the results.
The next step, by law, is supposed to be that management sits down with the workers' representatives and "bargains in good faith."  Like it or not, Trump Hotel is now a union hotel, explains Khan.
The committee is anxious to start bargaining. Unlike workers at Local 226 hotels that have contracts, "We have no health insurance, no retirement," says committee member Celia Vargas. Vargas, 58, says guest room attendants like her make $14.71 an hour, while workers with union contracts earn $18. "If Mr. Trump wants to make America great, he could start with his employees," she says.
Flouting the law and the outcome of the election
"Donald Trump doesn't respect the election, he doesn't respect the law, he doesn't respect the workers," says Local 266 President Geoconda Argüello Kline. A former housekeeper herself, she says she has personally called the billionaire numerous times to make arrangements for the negotiations which he is legally required to enter into. "He just runs away from us."
Guadalupe Barba, 64 might be #1 on the seniority list, when the workers finally get their contract. That would mean a lot to her, since she sees lots of favoritism and uneven work loads.  She started working at Trump hotel on January 28, 2008, weeks before its grand opening. "At first, for me, it was an opportunity," she said in Spanish. But months later, with the excuse of a failing economy and no union agreement in place, "our wages were cut to $12 an hour and we had to start punching out for lunch."
Many workers mention the indignity of an unpaid lunch as a sign of management's disrespect for them.
What comes next?
UNITE HERE, the Culinary Workers' parent union, recently called for a nationwide boycott of Trump facilities in support of the demand to negotiate. Many workers express hope that the attention of the presidential election will bring more pressure on candidate Trump to follow the law.
Addressing the crowd outside the hotel, UNITE HERE President D. Taylor doesn't back away from the possibility of a strike if necessary to win the workers' demands. Taylor is Local 226's former president. He speaks directly:
"If necessary we will fight that a_____e to get our contract. If we have to we'll be outside, we will live on our feet, not beg on our knees." Taylor reviews the union's history of hard-fought strikes, including the Frontier Hotel strike that was finally won in 1998 after six years, four months and 10 days. "We lasted one day longer," says Taylor. The crowd cheers and heads off to a debate watch party at the union headquarters.