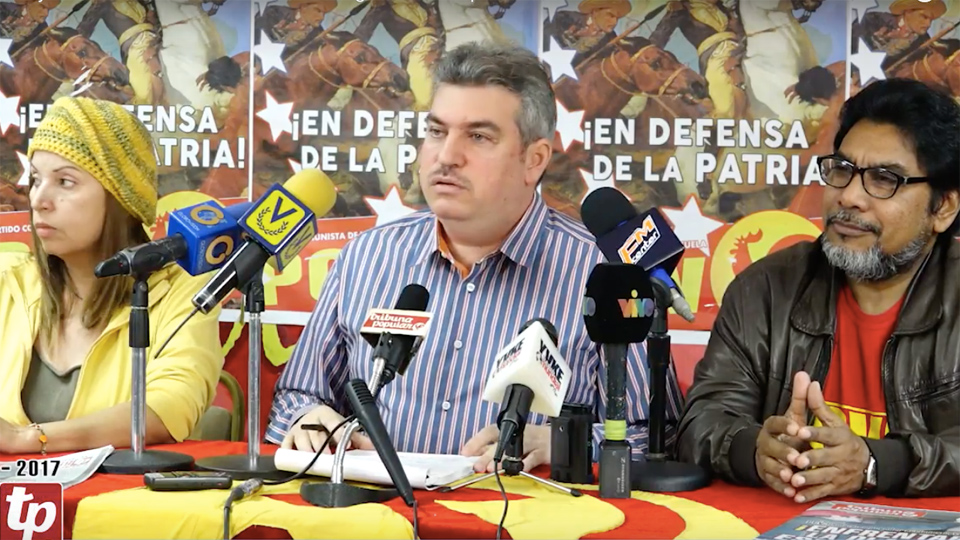 Venezuela's Communist Party is condemning new electoral rules requiring political parties to publish their membership lists.
The new rules from the National Electoral Council (CNE) are aimed at smaller parties which fail to garner more than 1 per cent in each of the country's 12 states. Sources say the intention of the law passed last year was to expose opposition parties whose funds are disproportionate to their small membership. They face being deregistered if they do not submit a list of members for publication on the CNE website.
But the Communist Party of Venezuela (PCV) – which was outlawed under military dictatorships from 1931 to 1941 and 1948 to 1958 and during its insurgency in the 1960s – has refused to comply with the law.
It has announced plans to challenge the new electoral authority rules, which threaten to exclude it from elections, in court this week.
"We know what has happened with lists in Venezuela," PCV general secretary Óscar Figuera said on Saturday. "We have said that we are not going to comply," he said. "We are not going to submit to the rules that the CNE has decided to apply based on a decision of the Supreme Justice Tribunal," he said, referring o Venezuela's highest court.
In a separate radio interview, PCV political bureau member Carlos Aquino confirmed that the party would not participate in the process under "aberrant rules." He said, "The greatest implications are not just that the PCV, for the fourth time in its history, does not have the legal status to stand candidates, but there are also the national and international connotations that it signifies."
PCV member Yul Jabour said on Monday the party would seek an injunction against the rule from the Supreme Justice Tribunal. Mr. Jabour compared the CNE's rule to the 1965 banning of the PCV under elected president Rómulo Betancourt — when known members were rounded up by the security forces.
The PCV holds two seats in the opposition-controlled, 167-member National Assembly, and forms part of the Great Patriotic Pole bloc led by President Nicolás Maduro's United Socialist Party. The Homeland for All party, also a member of the governing Maduro coalition, has objected to the new requirement as well.
Communist Party of Mexico secretary-general Pável Blanco sent a message of "total solidarity with the Communist Party of Venezuela," via social media. He recalled how the PCV had helped dispel distrust by communists of the Bolivarian movement led by late Venezuelan president Hugo Chávez and had "clarified its progressive role," but also its "contradictions and limits."
Mr. Blanco stressed: "Under no argument is it permissible for a communist party to be outlawed and deprived of its electoral rights. It would leave much to desire from the Maduro government if it acted against the PCV."
Earlier versions of this article appeared in Morning Star.