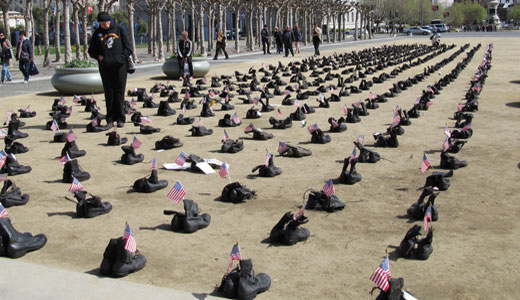 SAN FRANCISCO — Veterans, family members and peace activists gathered at Civic Center Plaza March 19 — the ninth anniversary of the start of the Iraq war — to pay tribute to the thousands of soldiers and many thousands of civilians killed and injured in that war and to demand the U.S. leave Afghanistan and refrain from future wars.
Stretching down the center of the plaza was a display of 481 pairs of combat boots, each representing a California soldier who died in Iraq. The display, Eyes Wide Open, was inaugurated by the American Friends Service Committee in 2004. The California portion of the display has traveled the state; this was its final appearance.
Speaker after speaker, many wearing the tee-shirts of Iraq Veterans against the War, called for proper care for the war's veterans, many of whom suffer the "invisible wounds" of post-traumatic stress disorder and traumatic brain injury as well as physical injuries.
Michael Blecker, executive director of Swords to Plowshares, a community-based veterans service organization providing wraparound care to San Francisco Bay Area veterans, pointed out that Iraq war veterans face unemployment rates 42 percent higher than non-vets, and a quarter of them suffer a military-related disability – far higher than the 13 percent rate for all veterans.
"Aren't we war weary enough?" he asked. "As a society, haven't we had enough of war? The best thing we can do is end this war, and make sure the society understands what the true costs of war really are."
Gazing out at the rows of boots, Iraq veteran Scott Olsen told the crowd, "I walked through here and picked out some of the names I knew. They committed selfless acts of war because they thought it would make our country better, Iraq better. But they were misled."
Last fall Olsen made national headlines when he was gravely injured by police during an Occupy Oakland protest.
"These wars are bankrupting our country morally and financially," he said. "We can try to build a better future now by ending these wars."
Iraqi student Farah Muhsin, with the Iraqi Student Project, recounted the ongoing consequences of the war in her country, including soaring unemployment, rampant corruption, millions of refugees living in dire conditions, control of the country's domestic life by militias and continuing Al Qaida actions.
"Just because there aren't any American troops inside this country doesn't mean the invasion is over," she said. "The existence of American corporations and private contracting companies, as well as the creation of the biggest American embassy in the world – these are examples of the hidden invasion of our country."
Also speaking were Ryan Hollerman, an active duty soldier from Fort Hood, and Paula and Ruben Santos, parents of a soldier who committed suicide after returning from Iraq.
The ceremony opened with the reading of the names of the California soldiers who died in Iraq, and a fraction of the Iraqi civilians killed in the war. It closed with a nearly two-hour-long peaceful blockade of Polk St., in front of San Francisco City Hall. No arrests were made.
Photo: Marilyn Bechtel/PW